Meet Partners in Reading Tutors and Learners
Adults participate in Partners in Reading (PAR) for many reasons. Read some of PAR's tutor and learner stories.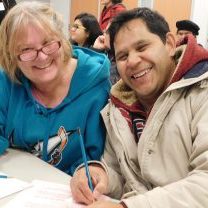 Joan says:
"F. inspires me! Now he goes shopping outside his neighborhood because he feels that he can speak with the clerks and understand when they speak to him. I'm excited because that means his world is now much larger. All of this is due to his motivation and hard work. Thanks for putting us together!"
Mike says:
"This has been an experience that I will always cherish. It is a reward of life and living."
He described how when he was working with two learners together, they were from completely different backgrounds:
"They come from exactly opposite directions. One has wealth, a university education, and has traveled the world. The other is living month-to-month. Yet, they have become good — no, make that GREAT friends. They talk together without me."
Rebecca says:
"I volunteer because I enjoy giving back to my community. The PAR program, which gives me an opportunity to work with someone who wants to learn to read and speak English is, by far, the most rewarding and enjoyable volunteer opportunity I've encountered. For me, volunteering is a win-win situation . . . I can help others and I get back so much from the people I meet. They enrich my life and I hope I am making a difference for them, as well."
Teresa says:
"My tutor is one of the most important people in my life because she gives me her valued time and helps me understand many rules of grammar and analyze articles."
Mayfe says:
"I value and respect my tutor because she makes my goals hers too. She helps me succeed with my reading, writing, comprehension and speaking English skills."
Maribel says:
"I learn a lot when my tutor teaches me. I am happy because she helps me a lot with reading, writing and listening. I want to say thank you to everybody who works in the library, especially the PAR staff and my tutor. They were very patient with me when I started working on comprehension. ☺ "
Gabriela says:
"The PAR instructor is nice to everyone in the classes. She makes classes entertaining and encourages us to participate. This helps me improve my pronunciation when I'm talking, so it is really helpful."
Ashraf says:
"I am very satisfied with my tutors' very good way of teaching. It improves my English and also improves my emotional strength."
Dolores says:
"I liked my tutor because he taught me how to write and our meetings were very nice. Thank you very much to my tutor."
Veronica says:
"I am very thankful that my tutor helps me with a lot of resources. My tutor helps me improve my writing and my reading skills."
Sarah says:
"I really appreciate my tutor. I enjoyed meeting with her, and she helped me improve my English."