ATTENTION: We have important updates for our filtered hotspot and Chromebook users. Please see our Hotspot and Chromebook pages for details.
Request a Chromebook
You can check out a Chromebook with your physical library card. This service is FREE and available to everyone.
We currently have unfiltered Chromebooks and Filtered Chromebooks.
Here's what you need to know to get started: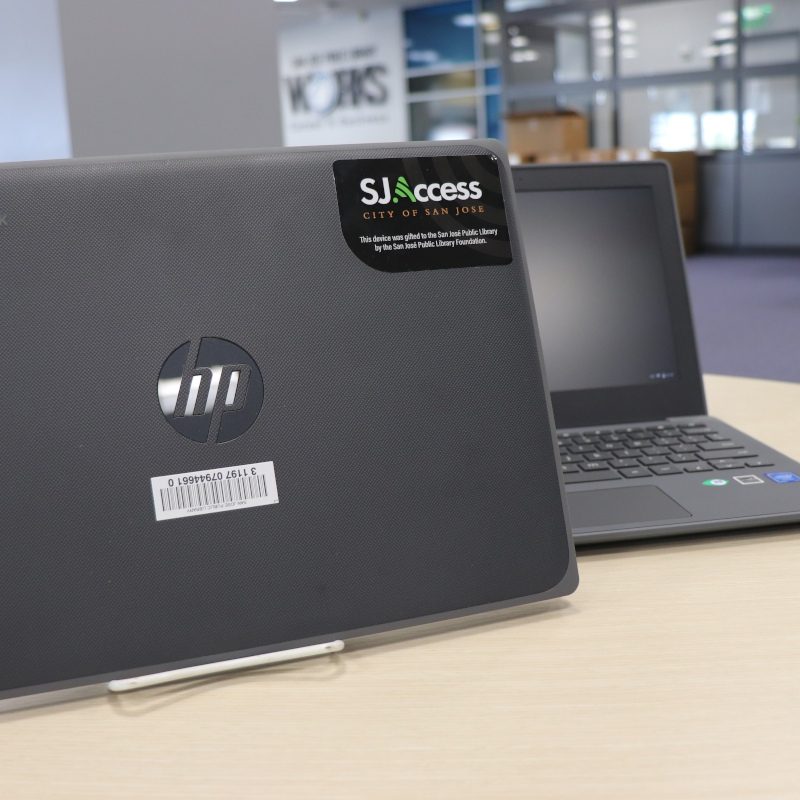 What Is a Chromebook?
A Chromebook functions like a laptop and runs on the Google operating system, Chrome OS. It has cloud storage and built-in Google apps. A Chromebook is best used with a reliable Wi-Fi (wifi) connection.
How to Borrow a Chromebook
STEP 1: Find a Chromebook at your chosen library location and request it.
STEP 2: Wait to be notified by email or phone once your Chromebook is ready for pickup.
STEP 3: When you arrive at the library, let a staff member know you are picking up your Chromebook.
STEP 4: When you pick up the Chromebook, staff will review the Device Policy and User Agreement before you sign it. Here is the agreement if you want to look at it before picking up your Chromebook: English | Español | Tiếng Việt.
Please Note:
Physical Library Card: If you have an eLibrary Card, you will need to convert it to one of our physical library cards. You need a physical library card account to check out devices. You can get your card by visiting any of our 25 library locations. To get your physical card, bring a valid photo ID and proof of address with you. Our library staff can also help you get your device.
Checkout Period: The checkout period is 90 days with one auto renewal of 30 days if there are no other requests on the item.
Ages 17 and Under: Library members ages 17 and under need to be accompanied by an adult to pick up their Chromebook.
Holds Limit: Each member is limited to 2 holds for all SJ Access Devices. This includes hotspots, Chromebooks, iPads, and laptops.
Wi-Fi for Chromebooks: You must use an internet connection for our Chromebooks. Need Wi-Fi (wifi)? Request a Wi-Fi (wifi) hotspot.
Digital Literacy Training: In guest mode on unfiltered Chromebooks, Digital Literacy curriculum is available. These are free, self-paced computer classes. They cover how to use the internet, laptops, and more. You can also take these classes from other devices.
How to Return Your Chromebook
Hand your device to a staff member.
Do not return your Chromebook in the book drop.
Update: Devices with a Web Filter
You might be having trouble connecting to the internet with a filtered hotspot or Chromebook. To resolve this, we invite you to bring your device in for repairs. Our team is dedicated to fixing your device promptly, allowing you to return home with it as soon as possible.
Due to software changes, our devices no longer support filtering services. You are being advised of this change should you have an interest or need to monitor your child's internet access while using this device.
Unfortunately, due to a waitlist of holds, we cannot extend the checkout period of your device. If your device is not due for return, please keep it until you're able to bring it in for servicing.
We appreciate your patience and understanding during this period. You are welcome to utilize the Library's free Wi-Fi, opens a new window and computers, opens a new window as an alternative. Our staff is also on hand to assist with accessing low-cost internet through the Affordable Connectivity Program (ACP), opens a new window.
What Is a Web Filter?
A web filter is designed to restrict which websites users can visit. There are a few more things to know about web filters:
The intent is to block websites considered threatening or harmful.
Web filters are not perfect. They can't block all threatening and harmful websites. They may block access to legitimate research sites.
Web filters do not protect users from cyber bullying, financial crimes, computer viruses, or other illegal activities.
Learn more about protecting yourself and others online with our Virtual Privacy Lab.
Frequently Asked Questions