Resources for Parents & Caregivers
Discover FREE Resources and Information
Help prepare your children for school, support their unique learning abilities, keep them safe online, and boost your child's academic success and achievement.
Your Child's Use of the Library
Please share with your child the importance and the responsibility of being a library card member. We do not restrict any item in the collection or limit access to the internet. Parents or legal guardians must assume responsibility for deciding what library resources (books, internet, and media) are appropriate for their own children. It is the responsibility of the parents and legal guardians to guide their own children's usage of library resources in accordance with individual family beliefs.
Services and Resources
Support for families and all children, including those with disabilities and English learners, in a safe and welcoming environment.
Services for adults and families who are learning English, immigrants, low-income, with different abilities, and active adults/seniors.
Services and Resources
Excellence in school begins at the library. Find out how we help San José students succeed.
Access to free or reduced price tickets to California museums and attraction. Check out the list of venues and reserve your passes today!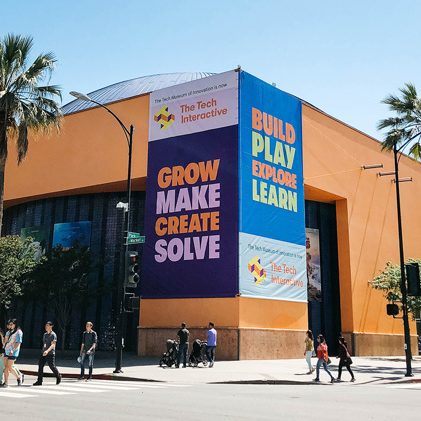 Show your library card at The Tech box office for $3 off the Adult or $2 off the Children & Seniors combo prices. Excludes After Hours, Feature Films, special exhibits. Not valid with other offers.
Santa Clara County Childcare Resources & Services
The Santa Clara County Office of Education offers a great starting point for finding the right childcare facility for your child.
The LPC of Santa Clara County offers resources, training, and more services for parents and local childcare providers.
Santa Clara County Office of Education videos sharing information about early childhood education and early learning programs.
Latest Blogs
A very special Halloween program at the Dr. Martin Luther King, Jr. Library with special performances, giveaways, and a costume parade.
A special read-aloud from acclaimed children's book author, Michelle Sterling.