The San José Public Library appreciates the tremendous contributions and efforts made by all our volunteers. Every year, each of our library locations and units selects an individual volunteer they want to recognize as their Volunteer of the Year. We are truly grateful that you choose to volunteer with the Library. Join us in congratulating the 2019 SJPL Volunteers of the Year.

Almaden Branch Library - Paul Grometer
Paul began volunteering in 2016, for three years he has been a dedicated Library Services volunteer at the Almaden branch as well as a pending ebook tech mentor. Paul kindly greets everyone as he begins his shift every week and is always eager to help out. Paul is very dedicated to his work at the Almaden branch; we appreciate all his hard work!
Get to know a little about Paul:
My first job... was with the Mercury News as a newspaper delivery boy.
My role models... my mother and father, for their continuity, and love of family, engineering, science, history and music.
Libraries are... a safe haven for learning, a gateway into other worlds, history, and the technical world.
---
Alviso Branch Library - Cindy Smith
In her first-year volunteering for the Alviso Branch Library, Cindy Smith's enthusiasm for the library and the Friends of the Alviso Branch has consistently shown through. She selflessly stepped up when asked to serve as the President of the Alviso Friends. Additionally, she initiated and continues to co-lead the monthly Alviso Book Club. Cindy's commitment to improving the Friends' processes, outreaching at local events and striving to benefit the library is always greatly appreciated!
Get to know a little about Cindy:
My fondest memory… was a trip to Medocino with my son when he was 4 years old. We put sand in the back of my small pickup to fill in the ridges, pulled over to the side of the road, and slept in sleeping bags.
I am most proud of... going back to college and starting a career in microbiology at 36.
My community... I live on River Oaks Pkwy, and the community here is growing so fast! Luckily, we are going to get a school soon. I love the Alviso community and the library there because it reminds me of the quieter atmosphere of the town I grew up in (pop. 5000).
---
Bascom Branch Library - Barbara Shev
Bascom nominates Barbara Shev for Volunteer of the Year. She has been volunteering with us since April 2017 as one of our ESL Conversation Club volunteers. One does not need to look very far to see the impact Barbara has had on our library. She has really created a community within the group of patrons who attend her program. Not only are they dedicated to attending every week but they even get together during the program time on the rare occasion that Barbara is, for example, out of town. Her participants have grown to see each other as a sort of family which would not have been possible without Barbara's commitment to the program. It cannot be emphasized enough how dedicated, patient and understanding Barbara is with each and every one of her participants. All those who attend her program gain confidence not only in their English but in their communities.
Get to know a little about Barbara:
As a child… on Wednesdays my dad would take me to the library. I loved to read. Once I started reading that was where I found a place to hide away with my book.
I am most proud of... the work that I did as a teacher. Then when I retired I was asked to come in as a long term sub for reading intervention. There was a little girl at the school who only knew one letter, the first letter of her name. By the time the teacher came back the little girl was reading and that to me just made me feel very proud.
My biggest challenge...is being a caregiver for my parents and husband, just trying to balance all the parts of my life.
---
Berryessa Branch Library - Barbara Fairlie
Barbara became a friend of the Berryessa Library in 2016. As Treasurer, Barbara ensures that the friends' financial records are in order and transparent. She works tirelessly in the book room to keep track of revenues and expenditures, to sort donated materials and to prepare for the book sales. Rain or shine, Barbara shows up and put in a 100+%. Barbara's dedication and hard work serve as an inspiration for both volunteers and staff.
Get to know a little about Barbara:
My role models... my parents.
Libraries are... an inclusive place where everyone has access to the many resources that are available.
I volunteer because… I am happy to be able to support the programs offered by the library because I enjoyed participating in the library programs for myself and my children and grandchildren over the years.
---
Biblioteca Latinoamericana Branch Library - Ursula L. Lara
Ursula has volunteered at the Biblioteca Latinoamericana Branch since 2016. She started as a Reading to Children volunteer sharing her love of books with the children at Biblioteca. Later, continue with us as a Library Services volunteer helping us shelve library media items and assisted our Family Learning Center Coordinator at outreach events.
Her desire to volunteer at Biblioteca was to gain experience working at a public library since she is attending SJSU working on her Masters of Library & Information Science. Her goal is to become a librarian.
Currently, she volunteers at the Biblioteca Latinoamericana Branch as a Homework Club Coach, assisting elementary school age children with their homework. Ursula has become a role model and mentor for the youth which she serves at Biblioteca. The Biblioteca staff is grateful for her dedication and commitment in giving back to the community our library serves.
---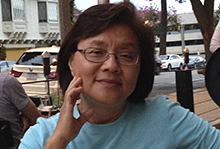 Calabazas Branch Library - Grace Liu
Grace Liu began volunteering with the Friends of Calabazas in June of 2016. Three months later, she also began volunteering as a Library Services Volunteer. Grace juggles both positions with cheer and ease. She works harmoniously with her fellow LSVs, Friends and staff. Grace does whatever is needed, such as sorting donated books and CDs for booksales, arranging library displays to entice customers, and monitoring programs like Read-Away-Your-Fines for children and teens. She makes the library an inviting place to gather for both Mandarin-speaking and English-speaking customers.
Get to know a little about Grace:
As a child… I liked helping my classmates to learn and I would do my best help them.
My favorite book, movie, or song... 'The Hunchback of Notre Dame' is my favorite book, 'The Sound of Music' is my favorite movie and 'Do-Re-Mi' is my favorite song.
If I had a super power it would be… to fly. If I could fly I could see everything from the sky.
---
Cambrian Branch Library - Ashton Liu
Ashton Liu has been volunteering as a Tech Mentor and leader of the Reading Buddies since August 2017. There are many customers and families who come back to Ashton time and time again. They all have wonderful things to say about Ashton's teaching skills and patience. Ashton's friendly demeanor, reliability, and ability to mentor a diverse population make him a wonderful asset to the Cambrian community.
Get to know a little about Ashton:
My first job… has yet to come. I have been volunteering with the San José Public Library since 2017.
I am most proud of… my awards from piano competitions and the high school I am currently enrolled in.
I volunteer because… I feel that everyone should have a good understanding of how to use a computer, no matter what circumstances may ensue.
---
Dr. Martin Luther King, Jr. - Youth Services - Jiayu Jiang
Jiayu Jiang's positive presence has endeared her to the staff in the Children's Room. Whenever we need extra help, she is there –often bringing her younger sister along to help as well. Jiayu is also highly capable. Her intelligence and strong work ethic make her the perfect fit for Homework Club Supervisor. We breathe a little easier, knowing she will use all her skills to ensure that the children, families and tutors feel welcomed, supported and safe.
Get to know a little about Jiayu:
Libraries are... a luxury. I was born in the countryside of China. There weren't any libraries in my small town. The nearest library from my house in China took me more than one hour to get there by bus. I was surprised by how convenient public libraries are after I came here. It was also surprising that most public libraries here are well-maintained. The place where I live right now is small for my family of four, so it is noisy most of the time. Also, it doesn't have sufficient lighting and any heating facility. It was super cold indoors during the winter. The library provides me a perfect environment to study for my schoolwork. It is spacious, bright and warm.
I volunteer because... many of my peers volunteer. It seems like a popular trend that students volunteer for community service. I think part of the reason is that many schools require students to meet a certain amount of community service hours. Even though the classes I've taken so far made it mandatory to engage in community service, it is still a good idea to give back to the community. Volunteering gives me a chance to build connections with people in my community, learn new skills and boost my confidence. One motive for me to volunteer in a public library is that I really appreciate all the kind hospitality I received from two of the library clerks in the Joyce Ellington library.
If I wasn't volunteering… I'd be running errands for my family, working on my schoolwork, practicing qigong, watching movies, reading books, or hanging out with my friends.
---
Dr. Roberto Cruz - Alum Rock Branch Library - Anupma Mangla
Anupma loves to give back to the community. She is so generous with her time and kind with the staff and patrons. From day one she has been open and flexible with her program. She freely provides yoga and mindfulness trainings to the local community. What's more, she opens the class to all patrons modifying the experience as needed. This could mean seated movements for a senior citizen as well as welcoming in young children and parents with little ones. 
The opportunities Anupma provides to patrons have made a real impact in the community.  For example, a local family going through a difficult situation shared that they were able to find help and support, particularly for a child, through attending Anupma's weekly class.  
She has been volunteering to lead our Movement and Mindfulness program for over 2 years now. This year Anupma has begun to incorporate a quarterly theme into her classes offering additional learning opportunities. She is hoping to connect with regular participants to create a deeper understanding of the effects of yoga beyond the physical benefits of stretching and balance. 
---
East San José Carnegie Branch Library - Manjubalas Talekar
East San José Carnegie Branch is fortunate that Manjubalas Talekar chose to teach a beginning ESL class here in the summer of 2018, then agreed to also serve as an ESL Conversation Club facilitator substitute. By the end of the summer, Manju began offering a Yoga & Meditation class on Tuesday mornings. Manju is a treasure who shares her gifts with our community in many venues. On Tuesdays after yoga, she heads over to King to facilitate an ESL group there. She returns here later in the week as a PAR tutor. Her 142+ hours logged at East Branch in the past year and a half only begin to represent her volunteering, as she has logged over 135 hours each for King Library as a Partners in Reading tutor and as a PAR ESL class assistant. Her reputation has spread; now Manju also teaches a yoga class at the Portuguese Community Center across the street from the library
Get to know a little about Manju:
My biggest challenge... would be, how to bring more people from the community to the 'mat', so that they can benefit from Yoga and excel in their pursuit of health & happiness in their life.
My favorite song... I like to listen to music by Abida Parveen, a Pakistani Muslim and popular mystical singer, and by Nusrat Fateh Ali Khan, who sang primarily Sufi devotional music, and by Nat King Cole, an American jazz singer and pianist.
If I wasn't volunteering... I'd be cooking.
---
Edenvale Branch Library - Richard Le
Richard Le has been assisting our branch in several different capacities since 2016 and has logged nearly 300 total volunteer hours at SJPL.
Richard has offered a unique blend of outgoing, passionate and energetic volunteer service in his years at Edenvale, whether it's serving in our Homework Club, registering people during Summer Learning, distributing meals during Summer Lunch or finding various library service projects to keep the branch looking neat, tidy and organized all over. Whenever staff needs him, Richard is there to help, wherever help is needed.
Richard also regularly demonstrates complete consistency and quality mentorship when assisting newer volunteers in settling into their work, especially library services tasks in the children's area—the library wing which often needs the most volunteer attention.
Get to know a little about Richard:
My fondest memory… ​was going to the SF Zoo and getting chased by a peacock the whole time.​
My role model… my grandparents. They experienced many things to get my family here.
My community… caring, intuitive, and curious.
---
Educational Park Branch Library - Elizabeth Hughes
Elizabeth (Liz) Hughes is one of Educational Park Library's dedicated Friends of the Library volunteers. Without her weekly volunteer service, which keeps our lobby book sales organized and the sales shelves stocked, our community would miss out on many fantastic adult and children's programs we provide thanks to the financial support of our Friends of the Library organization. We are so lucky to have Liz with us, and come to find out, she feels the same way about us too. A long-time resident in San José, Liz has had a lifetime of unique experiences, many of which most of us will never face. Before Liz found her way to Educational Park Library, she struggled through homelessness, health issues and despair. She's was and is no stranger to the cruelties of discrimination that comes when people see you as "homeless," and lump you into all the stereotypes that come with that word. However, this fact never prevented her from wanting to give back to her community. Today, she is a resident in our local, section 8 housing neighborhood, and she exemplifies what amazing gifts you can offer to society, regardless of your living situation. We are very lucky to have Liz as one of our Friends of the Library volunteers.
Get to know a little about Liz:
My first job… besides babysitting, was working at Frontier Village when I was 16. I worked at the fish pond where I would have to gut and clean fish for park visitors. Not a job I was very fond of.
My biggest challenge… is accepting the inspections we must go through living in section 8 housing.
My role models… are library staff who get to work with books.
---
Evergreen Branch Library - Camie Piccolo-Nicholson
Camie began volunteering at Evergreen in October of 2017. In that time, she has given more than 425 hours of volunteer service. In her work, she has helped many children discover the joy of reading and helped support our teen homework club volunteers. She has sorted and moved hundreds of donated books and made sure our Friends of the Library book sales are always successful. Camie's willingness to help and hard work are appreciated by everyone at Evergreen Branch.
Camie has been a volunteer since October, 2017 volunteering over 425 hours. Camie serves as a Friends of the Library volunteer sorting books and helping with our quarterly book sale. She also serves as a weekly Reader to Children and Homework Club Coordinator. Camie especially enjoys working with children and helps them develop a love of reading and learning. We appreciate the work Camie does to help our branch meet our goals and better serve our patrons.
Get to know a little about Camie:
My first job… I was an explorer. If I wasn't outside exploring, I was reading.
I am most proud of... working as an elevator electrician alongside my dad. This was something no women did.
If I wasn't volunteering... I'd be at the end of my life.
---
Hillview Branch Library - Patricia Mena
Patricia is a super volunteer! She leads our ESL Conversation Club / ESL Club de Conversación every Saturday. She is warm, friendly, and committed to her volunteer work, and she also enjoys sharing her Salvadoran cultural heritage with the ESL group. She has even thrown special celebrations for her ESL group and shared Salvadoran food (which is delicious). Patricia loves libraries and is passionate about helping our community through teaching English as a Second Language, as well as other activities. In fact, she volunteers her ESL expertise elsewhere in the community, too, so she is always on the go! However, even though she has a busy schedule, Patricia always makes time for her ESL group as well as others in the library with her quick smile and her giving, can-do attitude.
Get to know a little about Patricia:
As a child… Spanish was my first language and Sesame Street and music lyrics helped me learn English quickly. I was raised in Arizona with a strong Salvadoran culture, learning how to cook traditional dishes, listening to and dancing to salsa, merengue, and cumbia music, and having close familial ties to relatives near and far.
I am most proud of... volunteering with different organizations that help immigrants, asylees, and refugees.
Libraries are... awesome! There are so many resources that people don't know about that can help anyone from a child to an adult learning to read, or an adult who is new to the country. There is lots to do here, lots of programs, and the staff is always super friendly and happy! They are always smiling, in a good mood, and always willing to help.
---
Joyce Ellington Branch Library - Magda Zielinska
Joyce Ellington has nominated teen volunteer Magda Zielinska for Volunteer of the Year. Madga has been volunteering since January of 2018 as a Reading Buddy, providing much needed literacy support for school age children in our community. Magda has proven to be patient and kind in her role and we value her contribution to Joyce Ellington Library and our community.
Get to know a little about Magda:
My biggest challenge... was taking summer classes because it taught me responsibility and realizing how much education will be a priority.
My role model... is Laurie Hernandez because she is only 17 and she's done dancing with the stars, Olympics and has accomplished a lot as a young individual.
If I had a superpower, it would be... helping people become a better version of themselves.
---
King Public Reference Resources - Inessa Ismagilova
Inessa Ismagilova volunteers at the Dr. Martin Luther King, Jr. Library both as a Tech Mentor and as a Russian instructor, with the Conversation Café language learning series.
Joining us in September of 2017, Inessa recently celebrated her one year anniversary as a volunteer for the San José Public Library. In the 112 hours of volunteer service she has accumulated, Inessa has helped a myriad of our customers with their technology woes and ushered many others into a world of Russian vocabulary, expressions and culture. We so appreciate Inessa's joyful nature and the commitment she has in providing our customers with care and kindness as she shares her knowledge of technology and language with the community.
Get to know a little about Inessa:
My first job... was in college, where I served as a translator for an international collegiate sky diving competition. It was thrilling to watch the jumpers and their mid-air choreography, from ground level.
My fondest memory from volunteering... As a Russian instructor in the Conversation Café Series watching the efforts of my students as they progressed from simple words to speaking in complete sentences.
If I wasn't volunteering... I would like to work as a teacher or translator.
---
Partners in Reading - Nancy Adrian
For the past six years Nancy has served as a volunteer adult literacy tutor. Currently she is working with two learners. She meets with each learner twice a week to work on their literacy-related goals.
Nancy's professional background makes her an incredibly valuable asset to PAR. Nancy is a retired elementary and special education teacher. The experience she brings to the table is invaluable for our learners who may have a learning disability and / or who may have missed the foundations for literacy. Time and again PAR has paired Nancy with some of our most challenging learners and she always does an outstanding job. Her learners have nothing but praise for her skills, patience and dedication.
Recently Nancy was asked to take on her second learner. The learner could not travel to a branch that was convenient to Nancy, so Nancy agreed to drive across town (no small feat in San José!) to tutor this learner. Nancy is an awesome representative of the kind of volunteer who comes to SJPL to truly make a difference. She uses her valuable skills to build up the confidence and literacy skills of her learners and gives them something that no one can take away.
---
Pearl Avenue Branch Library - Allison Hagin
Allison has been a wonderful addition to our volunteer family. She came to us about 2 years ago, and has done a great job with merchandizing the Children's Area at Pearl Avenue ever since. She really comes into her own by meeting the challenge of new tasks. She leaps in to help with the pull list and to do special projects. She is steady and persevering, and so dependable – we wish we had more of her.
Get to know a little about Allison:
As a child... My dad built a small playhouse in my Grandmother's backyard. I played "house" with my dolls. I'd cook dinner for them using the extensive colorful flowers that made up her garden.
I'm most proud of... I've been married for over 40 years to my best friend. And even through breast cancer, miscarriages, adoption of our daughter and death of our son, our love continues to grow stronger each and every day.
Libraries are... I wish more people knew about the vast variety of services as well as reading and viewing materials the library has to offer.
---
Rose Garden Branch Library - Donna Perry
Donna has been a library services volunteer since 2017 and has been a dedicated shelver since she started. The staff at Rose Garden look forward to Donna's can-do attitude each week and regularly laud her ability not only to shelve the many carts she completes, but that she does it correctly and with a smile! "I love it when someone mistakes me for a librarian, and, if I can, I will help them to find what they're looking for." Donna is a born helper: not only giving back to her community by being a library services volunteer with us, but is also a PAR tutor and volunteer school librarian in the Moreland District.
Get to know a little about Donna:
My community... is growing and getting more interesting by the year.
I volunteer because... I love libraries and the people who frequent libraries and I want to help them out. I love it when someone mistakes me for a librarian!
If I wasn't volunteering... I'd be bored out of my mind.
---
Santa Teresa Branch Library - Marvin McCrary
Marvin McCrary began volunteering with Santa Teresa Branch as a Library Services Volunteer, then as a Tech Mentor and ESL Conversation Club & Class leader. His students in his ESL Conversation offerings are dedicated and always attest to Marvin's warm, friendly and caring character. Marvin has recently started a new creative writing program for veterans, which is unique to the San Josè Library System. Marvin's dedication to his community and original approach to programming is why we have selected him as our Volunteer of the Year.
Get to know a little about Marvin:
I am most proud of... the work I do here [at the library]. I enjoy it, when they leave I know they have achieved their goals. Sometimes I see my former students out in the community and I learn that they have done things like get a job thanks to what they learned in the ESL Club.
My favorite book and movie are... favorite book is The Analects of Confucius and my favorite movie is Grand Hotel.
I volunteer because... I enjoy it and meeting new people. In ESL Club, we have many people from all over the world and many cultures with many stories.
---
Seven Trees Branch Library - Jasmine Shone
Jasmine Shone has continually offered her support and devotion to the library, staff, and people in the community. As the leader of the Friends of the Library, she has supported multiple programs this past year including Lunar New Year, Moon Festival, and many other holiday programs. The Friends have also held multiple Books Sales which were a huge success! Jasmine hosts Game Zone for kids every week, and her joy and enthusiasm shines through every time she steps foot inside the library. We could not ask for a better person to share her time with us, and we are forever grateful for the kindness and support Jasmine has offered.
Get to know a little about Jasmine:
My first job… an accountant at a bottle manufacturing factory in India.
My biggest challenge… learning to manage time.
I am most proud of... my cooking, garden, and pets.
---
Tully Community Branch Library - Alex Mathew
Tully nominates Alex Mathew, the 2018-2019 Teens Reach President for Volunteer of the Year. He has been extremely committed and reliable in assisting the library's weekly and annual holiday programs, including taking the lead during our annual Halloween Haunted House. Since 2015, he has logged almost 600 volunteer hours. He has spearheaded Teens Reach fundraising efforts, which have helped to pay for several teen-led programs, including after-school tutoring, teen crafts, and Virtual Reality equipment purchase.
Get to know a little about Alex:
As a child… I thought I was going to be a Power Ranger.
I am most proud of... my imagination.
If I had a super power, it would be... to teleport.
---
Vineland Branch Library - Carol Paivinen
Carol has been a HUGE part of our Friends' group, since 2010. She has helped at our book sales from the time she joined. She works tirelessly to help with counting books when the customers arrive at our cashier table; she keeps tally sheets; and she is always a willing worker at cleanup time. Carol is 92 years young, very energetic and always busy and cheerful. she helps with all our book sales – working at the big Spring and Fall sales, the Holiday sale, as well as the mini-lobby sales. She does it all with a smile, and is a welcoming, cheerful presence to all around her.
Carol also attends all the Friends Member Meetings to assist with the decision making of the group. Vineland Friends functions better with the help that Carol provides. In addition to being a dedicated member of the Friends, Carol is also a volunteer at Vineland in other areas, such as monitoring the "Wii Wednesday" teen group. We are so grateful for all the time and energy Carol donates to the Vineland Library. Carol is a true "Friend" of the Vineland Library.
---
Village Square Branch Library - Rukhsana Diwan
As homework club coordinator, she supervises our teen volunteers and distributes supplies to facilitate studying. She brings a great passion and dedication to her volunteer work. Always happy to help in a pinch, Rukhsana sets an amazing example for our other volunteers. We've come to count on and admire Rukhsana as an essential part of our team here at Village Square. With that in mind, we would like to proudly submit her as Village Square's Volunteer of the Year.
Get to know a little about Rukhsana:
My first job… I was a Montessori-trained teacher. I loved it!
My biggest challenge... was coming to America and adjusting to a new culture, language, and environment.
Libraries are... more than just books; they foster the next generation. I love libraries; they give so much to our children and communities.
---
West Valley Branch Library - Sue Williams
Sue Williams started to volunteer at West Valley Library as book sorter for Friends of the Library group back in 2011. Her lifetime amount of hours so far is 4198! She enjoys working as a book sorter and also is an expert in selling most valuable of donated books on Amazon. West Valley staff members see Sue working in a small Friends book sorting area almost every day. They enjoy sharing Library news with her and treat her as one of co-workers. Sue Williams is an amazing person in many ways and West Valley staff really appreciates her hard work by nominating her Volunteer of 2018 year!
Get to know a little about Sue:
My fondest memory… is how I became an advocate for the San José Library. It must have been 1982, and a budget proposal called for cutting our library branch down to 2 ½ days a week. That proposal caused me to make a sandwich board for the first time in my life, and go out with my toddler to do informational picketing outside the West Valley and Calabazas libraries. I think what we did was a distraction that almost caused some traffic accidents and also prompted a number of calls to City Hall.
Libraries are... places to meet up with interesting ideas and with nice people, including staff, volunteers, and patrons.
If I wasn't volunteering... I'd probably be reading more!
---
Willow Glen Branch Library - Dr. Christie Egnatuk
Christie has been volunteering at the Willow Glen Library since 2017 as a Tech Mentor – assisting library customers with learning how to use technology (computers, mobile devices, email, website searching, how to access library e-books and other library e-resources and more). Her friendly and patient demeanor help the customers who interact with her feel welcome and also less intimidated about dealing with technology.
Despite her busy schedule as a Research Scientist at Lawrence Livermore National Laboratory, Christie regularly comes in for her shifts at the library twice a month and is always happy to help out with other programs where her talents can be of use. A few months ago she led a program in "Getting Started with e-Books".
Christie has helped the library grow the One-on-One Computer Assistance for library users by helping new Tech Mentor volunteers become familiar with the program. With her help, the library now has 5 Tech Mentor volunteers taking turns to offer Computer Assistance twice a week on Thursday evenings and Saturday mornings.
Get to know a little about Christine:
As a child… I was always reading, and my parents would take me to the public library once a week to take as many books as I could carry. I was very good friends with the librarians, and even now the librarians see my parents around town.
My biggest challenge… To balance work and life outside of work, and to not be defined by my job, which is easy to fall into.
If I had a super power, it would be… Probably flying, so I could avoid Bay Area traffic.