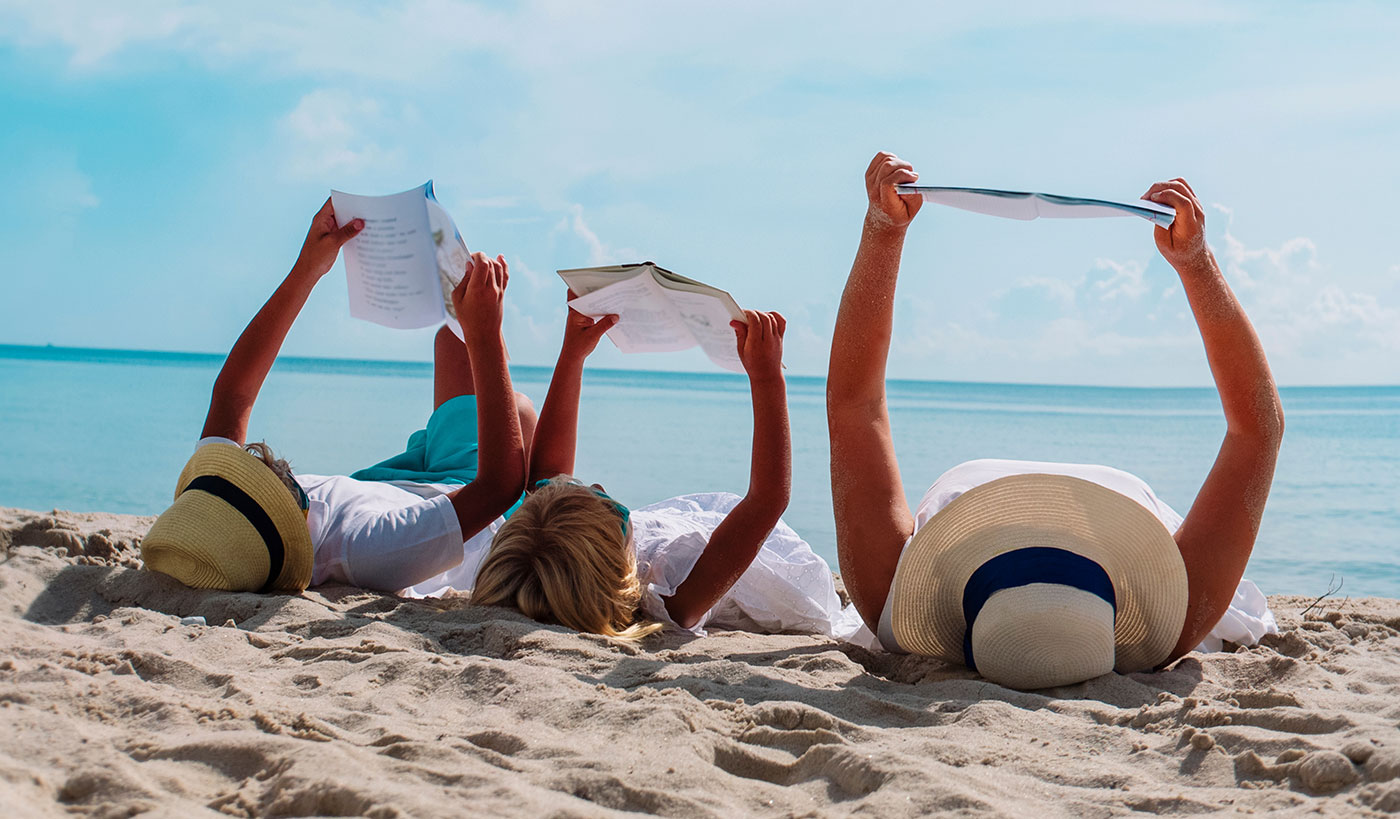 It's hard to believe, but summer is almost here! You may be thinking, "OH NO, it came so fast!" Like a great book once said, "DONT PANIC!" SJPL has got you covered. Get prepared in three easy steps with our summer survival guide.
STEP ONE: Join Summer Learning
Pre-registration for Summer Learning has begun! Level up your reading goals this summer with this wonderful program. Not sure how to prepare? Read our latest blog about getting ready for Summer Learning, and make sure you've taken care of all the library essentials.

STEP TWO: Take Your Reading on the Road
Whether you are staying home this summer or traveling the world, you can take books along and read in new and different ways! Try one of these suggestions to change up how you read. You just may find a new favorite:

Read Outdoors
It's not called a beach read for nothing! Books are the perfect companion to a beautiful day outside - whether it's the park, on vacation, or your own front porch! Check out some of the library's newest books this summer
Read With Someone
Make your own book club with friends or read out loud to your family, dog, cat, or lizard. Reading a new book together is a bonding experience. Check out some of the always available ebooks on Hoopla for instant access with no waiting!
Read While You Move
Did you know SJPL has eAudiobooks that you can download directly to your phone? There are even "always available" collections in Overdrive. Try out an audiobook on a run, or while you're driving to a summer BBQ.
Read Differently
Read a book from a country you've never been to or by an author you've never read before. Check out the suggested reading lists in SJPL Staff Picks or try the 5forU Reading Recommendations program for some inspiration. Read a play, a book intended for a different age group, or one of the SJPL Graphic Novel Making Contest winners.
STEP THREE: Plan Your Summer Schedule
The library has a ton of summer activities for the whole family starting with Summer Learning Kickoff events beginning June 1, both in person and online, as well as books and resources to inspire something fun.


Visit the Library
Check out a book club, storytime, or other great summer learning event at one of our branch libraries. Visit one of the many public art installations at the different library locations.
Take a Local Trip
Get free access to local museums and attractions through Discover & Go or visit one of the California State Parks with a free pass from the library.
Keep Busy Hands Engaged
Are you interested in gardening or planning to do a home renovation this summer? Check out a book from the Home & Garden collection for ideas, try out a new cuisine with a cookbook, or explore some arts & crafts books to keep kids learning and growing all summer long.
Choose Your Own Adventure
Make a playlist based on your favorite reads, add a review to your favorite book or an award winner in the library catalog, jump start your business with SJPL Works, learn a new skill through LinkedIn Learning, or take a stab at writing and upload your work to the Indie Author Project.
Whatever you're doing this summer, SJPL has you covered. Just follow these 3 simple steps and you will not just survive but thrive all summer long! Don't forget to pre-register for Summer Learning now and let the library help you have a great summer!