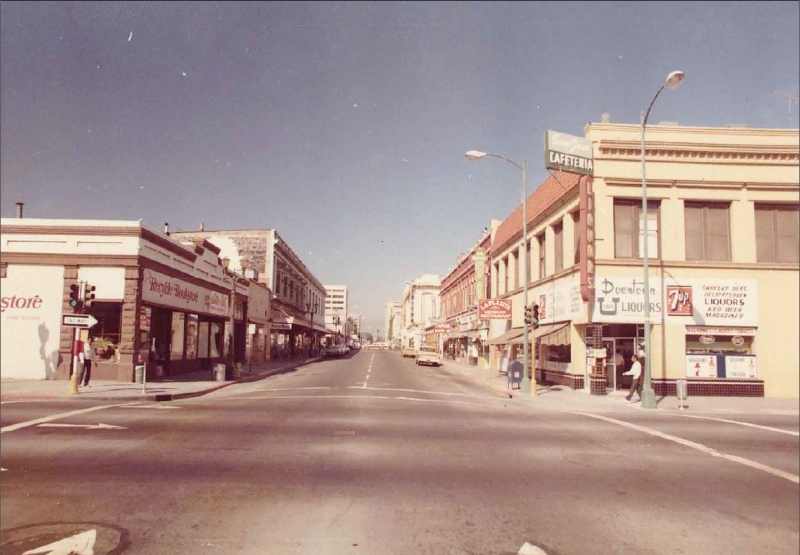 San Fernando and Third Streets Looking West in the mid-1970s. Photo by City of San Jose Redevelopment Agency.
In 1978, I began working part time in a used bookstore near the corner of Lincoln and Curtner Avenues called Myron's Books (later Lincoln Avenue Books).  Myron was loosely related to Pat and Joan Hayes, the owners of Recycle Books on the southwest corner of San Fernando and Third Streets (at left in photo above), and in 1979 he arranged for me to work there too.   Working at Recycle was a lot of fun with an interesting variety of both staff and customers.  One day the manager, a San Jose State student named Jim Zook, offered to take me up onto the roof.  Our journey began in the customer bathroom.  We climbed onto the toilet tank and into the attic access in the ceiling.  Then we climbed a ladder in the attic that led up to the roof.  From the roof, we climbed up another ladder on the side of the neighboring building onto its roof, and then down into the second story of that building.
The second story of the adjoining building had been apartments, but was then vacant as the block was slated for eventual demolition.  Entering from the attic, we somehow lowered ourselves into the lobby at the top of the street level staircase.  Like a scene from the Twilight Zone, there was a clerk's desk piled with papers, receipt books and rubber stamps that seemed to have been suddenly abandoned decades earlier.
And all around this eerie scene strolled pigeons, apparently entering from the occasional open window.  Jim had brought with him an empty Quaker Oats container that he'd fashioned into a homemade camera.  His plan was to leave a frame of exposed film in the window of one of the rooms during the night to pick up the lights of passing cars.  While he set this up, I explored the other apartments.  In one, I found a very decrepit looking Persian rug.  Lifting a corner of the rug, I saw that it had been padded with newspapers from the 1930s.  Even in 1979, these papers were already nearing fifty years old, laid down before my parents were born. As I lifted them to read I noticed that, because they'd been stepped on so many times, they were more like cloth than paper.

San Fernando and Thirds Streets looking west in 2015.  
A short time after this little adventure, Recycle Books had to leave this location and relocate to Santa Clara Street near the corner of Fourth Street.  The business was sold many years later, and continues to do business on The Alameda near Race Street.
Further reading in the California Room: