Written by Rebekah Gonzalez
Let's face it.  Decorating can be expensive.  Luckily, there are creative ways we can make beautiful (and often functional) décor out of upcycled furniture and goods.  Whether it be your indoor living space or outdoor oasis, you can create stylish and affordable pieces that are likely to steal the show.  Oh, and did I forget to mention that upcycling helps keep usable items out of landfills?  If that doesn't inspire you, I don't know what will!
Here are some reading recommendations to get you started on your creative endeavors.
Recommended Reading
From Craig's List, your basement, and estate sales, you can salvage what you need to upcycle all kinds of cool things. You can build tables, install vintage hardwood floors and salvaged windows, mason reclaimed stone walls, and do much more using free or very inexpensive, high-quality, reconditioned materials.
You'll encounter opportunities to upcycle usable building materials everywhere. By using Building with Secondhand Stuff, 2nd edition, good judgment, and a few salvage tricks, you can take advantage of these chances to gather free (or nearly free) supplies and put them to work in your projects.
---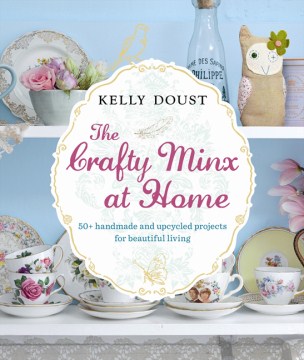 Sharing her passion for the joys of a home-made life, Kelly Doust will show you how to make and collect the treasured family heirlooms of tomorrow. Featuring over 50 craft projects and advice on how to source vintage items and materials in markets, charity shops and auction houses, this is an inspiring and practical guide to making, collecting and transforming handmade and vintage objects.
---
Upcycle by Rebecca Proctor
24 international product designers show you how to recreate their upcycled designs. Inspired by the trend for recycling and craft, readers can follow the designers' step-by-step instructions and create their very own piece of high-end upcycled design for the home. Projects include a clever waterproof mat woven from marine rope, a geometric lampshade made of strips of Tetrapak carton, a hanging rail using leftover copper plumbing pipe, decorative floral arrangements made from old plastic bottles, a cane chair upcycled as a cross-stitch canvas, and many more.
---
Provides instructions for transforming Mason jars into a variety of home decor items and gifts, including a lamp, clock, terrarium, cake stand, piggy bank, and ornaments.
---
Discover your inner genius and learn how to transform unwanted junk into unique and creative garden designs with designer, upcycler and entrepreneur Max McMurdo. Following the success of his first book Upcycling, Max has turned his thoughts to the outdoors with this truly inspirational collection of inventive projects, each built from recycled materials and unwanted 'spare parts'. Whether you want to create a firepit from bicycle wheels, an outdoor plant display from a painted dressing table, or fashion a potting shed from three vintage doors, Max provides invaluable know-how on the tools, techniques and materials required to take you on an outdoor creative journey. Some of the projects involve only a few simple steps and can be completed within an hour, while others require a weekend of outdoor activity. Above all, every one of the 20 projects is designed to get you upcycling and recycling as you create designs that bring hours of pleasure to your garden.
---
Further Reading