Written by Rebekah Gonzalez
Saving and planting seeds is a sustainable and cost-efficient way to cultivate a garden year after year.  To learn more about how to properly harvest and store seeds for later use, please refer to the recommended resources below.
Recommended Reading
Filled with advice for the home gardener and the more seasoned horticulturist alike, The Seed Garden: The Art and Practice of Seed Saving provides straightforward instruction on collecting seed that is true-to-type and ready for sowing in next year's garden. In this comprehensive book, Seed Savers Exchange, one of the foremost American authorities on the subject, and the Organic Seed Alliance bring together decades of knowledge to demystify the time-honored tradition of saving the seed of more than seventy-five coveted vegetable and herb crops―from heirloom tomatoes and long-favored varieties of beans, lettuces, and cabbages to centuries-old varieties of peppers and grains.
---
Are you ready to become a seed-starting and -saving champion? Author and gardening expert Julie Thompson-Adolf will walk you through every step of the journey, making the entire process a joy. In this book you'll find: Extensive plant entries that cover all the most popular vegetables, fruits, herbs, and flowers; Tips and hints, such as how to encourage stubborn seeds to germinate; Lists to help you find the best plants to add to your garden, whether you want heirloom tomatoes for hot, humid climates or a rainbow of eggplants; Simple DIY projects to aid your seed-starting and -saving adventure; And much more! Whether you're an experienced gardener new to seed starting and saving or a brand-new grower, you'll soon have health, productive, beautiful plants for your garden.
---
An illustrated introduction to saving seeds—how to harvest seeds from your own garden, set up a seed library to share with your community, and grow plants from your own seed stash. With a directory of plants and easy-to-follow instructions, this is the perfect book for first-time gardeners.
---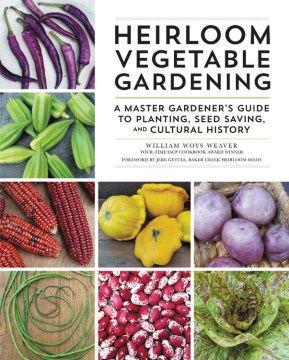 Heirloom Vegetable Gardening has always been a book for gardeners and cooks interested in unique flavors, colors, and history in their produce. This updated edition has been improved throughout with growing zones, advice, and new plant entries. Line art has been replaced with lush, full-color photography. Yet at the core, this book delivers on the same promise it made two decades ago: It's a comprehensive guide based on meticulous first-person research to these 300+ plants, making it a book to come back to season after season.
---
Save vegetable seeds as you harvest so your favorite plants can grow again next season. In this Storey BASICS® guide, Fern Marshall Bradley covers everything you need to know to successfully save seeds from 20 popular garden vegetables, including beans, carrots, peas, peppers, and tomatoes. Learn how each plant is pollinated, where to store your collected seeds through the winter, and how to test their replanting viability in the spring. Now you can grow the delicious varieties you love year after year.
---
Additional Reading