From attending eye opening panels, meeting our favorite authors, and obtaining a ton of free book swag, our second year at YallWest Book Festival in Santa Monica was definitely bigger than ever!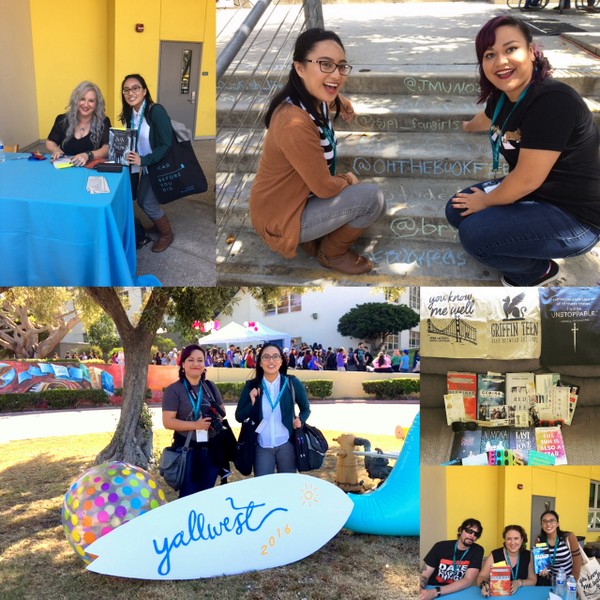 Hello bookworms, fangirls and fanboys! Thanks for joining us on another episode of Fangirls Unleashed where we went to our idea of literary heaven, YallWest Book Festival in Santa Monica. We went last year and we can definitely tell you that this year the festival was bigger than ever. The amount of authors present literally tripled from last year, and so have the sponsors, from Penguin Teen to Owl Crate. Weren't able to go? No problem! Watch our video to feel as if you're right there with us, while we list the highlights of the festival for us this year.
1. Panels



There were so much more panels this year, and all of them were amazing. From attending the opening Keynote with Rainbow Rowell and Holly Black to understanding Mental Health with some top YA authors such as Veronica Roth and Melissa de la Cruz, there is definitely a panel for you. We left being inspired and falling in love with some new authors.
2. Authors



As we previously mentioned, the amount of authors present to conduct panels and sign books were staggering. Since more authors means more people attending, there were definitely a few times were we were waiting for over an hour just to meet authors such as Leigh Bardugo and Jessica Khoury.
3. Book Swag



Book Swag is any book related items from pins with Shadowhunter runes that we got from the Riveted Booth to the highly coveted Advanced Reader Copy, or ARCS. ARCs are books that are unedited and haven't been published yet, and we definitely left with some gold mines. A few that we acquired were Gemina by Amie Kaufman and Jay Kristoff and The Sun is Also a Star by Nicola Yoon, both of which are not available to the public until at least October.
4. Food Trucks



Since us Fangirls use up a lot of energy literally fangirling over our favorite authors and walking all over the venue, we have massive appetites. That's where food trucks come in, and the selection was more diverse than last year. They had everything from the Grilled Cheese truck, where they served mac and cheese in sandwich form to the Boba Truck, which we sipped on Thai Tea from to beat the massive SoCal heat. As you can see, Alyssa approves.
5. Line Control



Since there were an estimated 20,000 people and over 100 authors in attendance, line control was a must have. It was definitely more organized this year, where they had volunteers holding signs for authors to make sure you were in the right line to checking that you had a wristband for some of the more popular panels and author signings.
Thanks for joining us on another edition of Fangirls Unleashed. Did you see any of your favorite authors in the video? Comment below some of your favorite authors, since we're always on the lookout for new authors to read. Keep an eye out on our next episode where we tackle Fanime, Northern California's biggest anime convention. If you're impatient and need your daily Fangirl fix, follow us on our social media accounts for a behind the scenes look at our blogging process to sneak peeks at our next blog. Until next time, happy readings.
Fun Fact: Did you know that San Jose Public Library offers free online test prep for anything from SAT Preparation to Career Exams such as NCLEX? Yes we do! All it takes is a few steps and from there you'll be able to prepare for the next test in your life. First you'll go on the homepage, on sjpl.org. Near the top you'll see a menu called Books & eLibrary. Underneath it select Test Prep in the eLearning column. Then select on the option, Learning Express Library Tutorials, Test, Ebooks. From there, all you have to do is select the test preparation of your choice and create an account and you're all set to go. Easy right?
A HUGE thank you to our team!

From carrying the camera equipment to taking a behind the scenes look at our vlogging process, this episode of Fangirls Unleashed was created with the help of a few of our friends. I swear we're all normal.
Photos: Brittany Balajadia & Yesenia Orosco
Camera equipment: Michael Garcia
Fangirls Unleashed Social Media Accounts
This blog has been a collaboration between Adilene Rogers and Alyssa Mendoza.