Welcome to another episode of Fangirls Unleashed!
Anime and manga lovers, rejoice! We're back once again for FanimeCon 2023.
FanimeCon is San Jose's very own anime convention.
Couldn't make it? No worries, I've rounded up the top 6 highlights from this con.
Stick around to the very end, you may see a very familiar organization.
Sit back, relax, and enjoy

Panels
This year's panels were amazing as always. The best part is that they all were located at the San Jose McEnergy Convention Center. This saves you time and energy from walking to several hotels offsite as in previous years.
My favorite panels were Vintage Anime-Name that Year and Cosplay Makeup 101 with special guest Yashafluff.

Dealer's Hall
Dealer's Hall is your one-stop-shop for all your anime and fandom needs.
Build your own Gundam kits? Check. Pokemon plushies? Check. Nezuko Funko pop? Check.

Gaming Hall
This hall is a gamer's delight.
There's everything from tabletop games to Dance Dance Revolution.
My favorite part was watching the Gaming Tournaments, with Super Smash Bros. and Monster Hunter being played on the gaming stages.
The crowd was electric, cheering and gasping throughout the entire time.

Artist Alley
Artist Alley was a HUGE hit this year.
This is where artists and anime come together into this unique space.
Attendees can check out cool retro posters inspired by their favorite movies or stunning creative compilations of their favorite anime.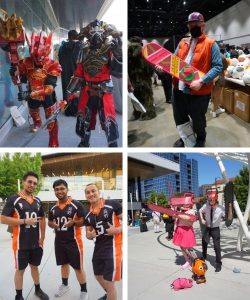 Cosplayers
One thing you can 100% count on at Fanime are the cosplayers.
Cosplayers came in from all corners of the anime and fandom corners, from Final Fantasy to Haikyu.
As a fellow cosplayer myself, I was definitely geeking out at how some of them were movie-quality levels.

San Jose Public Library
Yes dear reader, your very own San Jose Public Library had their very own table at Fanime!
Staff were promoting our Graphic Novel Making Contest and Cosplay on Display programs.
Not only did we have nearly 1000 people stop by our table, but we debuted awesome photo drop backgrounds to highlight these two programs.

That's a wrap for FanimeCon 2023!
What was your favorite part? Comment below.
Until next time, take care dear friends!
FUN FACT
Are you a middle or high school student or know of one? Then have them stop by TeenHQ! It's an amazing interactive space designed by San Jose teens, for teens. This space features everything from a Gamer Lounge with the newest gaming systems around, a Makerspace that includes 3-D printers, and board games to play with your friends. It's located on the first floor of the Dr. Martin Luther King Jr., Library.

Who Am I?
Alyssa is a founding member of Fangirls Unleashed. Our mission is to show our patrons what's trending in the young adult world and local conventions along with how to explore those interests through the San Jose Public Library. Her work has included presenting on the Graphic Novel Making Contest at the California Library Association Conference, presenting on SJ Engage at the Young Adult Library Services Association Conference, and as both a Guest and Guest Cosplayer at the Santa Clara City Library Comic Con. When she's not blogging you can find her sipping on an iced coffee and reading the latest YA book. Follow her on her Fangirls Unleashed social media channels down below to see her combine YA books with her Book Cover Cosplays and Lipstick and Books series.
Fangirls Unleashed Social Media
End Credits
Host: Alyssa Mendoza
Editor: Alyssa Mendoza
Photographer: Alyssa Mendoza
Videographer: Alyssa Mendoza
Assistant Videographer: Aaron Mendoza
Sound Editor: Alyssa Mendoza