Welcome to another episode of Fangirls Unleashed!
I've always been fascinated with the dark and macabre imagery that comes with birds and ravens. This led me to discover that there are actually a number of YA books that feature these mysterious birds in their titles.
To get into the mood with these dark birds, I threw on my black feathered cape and channeled my inner darkness. Shout out to my fellow blogger Jessica Novak for sending me this feather trim! You can check out the final photo down below in the "Who Am I?" section.
To highlight these amazing books I have included my favorite quotes from each one.
Are you ready for this dark adventure? Then come fly with me as we delve into YA Books with Ravens and Crows in their titles.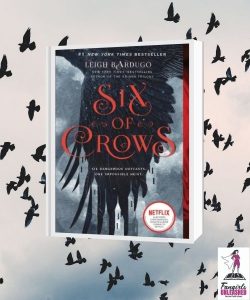 "Six dangerous outcasts must learn to work together after they are offered a chance to perform an impossible heist that can save the world from destruction."
Quote: "No mourners. No funerals. Among them, it passed for 'good luck."
---
"Fie, a sixteen-year-old chieftain from a lowly cast of mercy-killers, must rely on her wits and bone magic to smuggle the crown prince of Sabor to safety."
Quote: "The most powerful people in the kingdom can't even say the problem is real." "They know it is," Fie said grimly, scanning the dark for torches. "Otherwise they wouldn't be so hell-bent on pretending it isn't."
---
"Isobel is a prodigy portrait artist with a dangerous set of clients: the sinister fair folk, immortal creatures who cannot bake bread, weave cloth, or put a pen to paper without crumbling to dust. They crave human Craft with a terrible thirst, and Isobel's paintings are highly prized. But when she receives her first royal patron--Rook, the autumn prince--she makes a terrible mistake. She paints mortal sorrow in his eyes--a weakness that could cost him his life. Furious and devastated, Rook spirits her away to the autumnlands to stand trial for her crime. Waylaid by the Wild Hunt's ghostly hounds, the tainted influence of the Alder King, and hideous monsters risen from barrow mounds, Isobel and Rook depend on one another for survival. Their alliance blossoms into trust, then love--and that love violates the fair folks' ruthless laws. Now both of their lives are forfeit, unless Isobel can use her skill as an artist to fight the fairy courts. Because secretly, her Craft represents a threat the fair folk have never faced in all the millennia of their unchanging lives: for the first time, her portraits have the power to make them feel."
Quote: "The ability to feel is a strength, not a weakness."
---
"Though she is from a family of clairvoyants, Blue Sargent's only gift seems to be that she makes other people's talents stronger, and when she meets Gansey, one of the Raven Boys from the expensive Aglionby Academy, she discovers that he has talents of his own--and that together their talents are a dangerous mix."
Quote: "My words are unerring tools of destruction, and I've come unequipped with the ability to disarm them."
---
"After their mother's death when the Illucian empire invaded, Princess Anthia and her sister Princess Caliza start a rebellion to bring back the magical elemental crows that were taken from her people."
Quote: "Books are very underrated weapons."
---
Did you have fun soaring through these reads?
I hope you've enjoyed this journey through YA books titled Ravens or Crows.
What are some of your favorite YA books with these key words in their titles? Comment below, I'm always on the lookout for more books to add to my TBR (To Be Read) pile.
Until next time, happy readings! Or in bird language: "caw-caw!"
Fun Fact
Have you heard of our digital resource called Digital Sanborn Maps? This is an exciting resource that was used to help fire insurance companies look at building information in order for them to analyze the risk associated with insuring a certain property. It covers the years 1867-1970 and it has information from a vast number of cities in California. I clicked on San Jose and got transported to January 1928. This resource offers a glimpse into history. For example, there was a street called Alum Rock Ave. Do you know what it's modern day name is now? E. Santa Clara St. Pretty cool, huh?
Who am I?
Alyssa is a founding member of Fangirls Unleashed. Our mission is to show our patrons what's trending in the young adult world and local conventions and how to explore those interests through the San Jose Public Library. Her work has included presenting on the Graphic Novel Making Contest at the California Library Association Conference, presenting on SJ Engage at the Young Adult Library Services Association Conference, and as both a Guest and Guest Cosplayer at the Santa Clara City Library Comic Con. When she's not blogging you can find her sipping on an iced coffee and reading the latest YA book. Follow her on her Fangirls Unleashed social media channels down below to see her combine YA books with her Book Cover Cosplays and Lipstick and Books series.
Fangirls Unleashed Social Media