New year, new blog!
Welcome back to another Fangirls Unleashed blog post. I went on a hiatus but I'm coming back strong for 2022.
January is my birth month. To celebrate I've gathered a list of YA Books featuring a Goblin King, inspired by my all-time favorite movie, Labyrinth.
Are you ready to explore this magical list?
Don't forget to say the magic words:
"ALL HAIL THE GOBLIN KING!"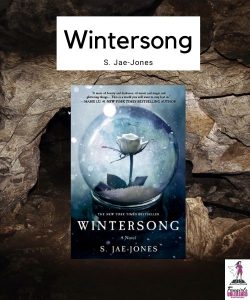 All her life, Liesl has heard tales of the beautiful, dangerous Goblin King. Now eighteen and helping to run her family's inn, Liesl can't help but feel that her dreams and fantasies are slipping away. But when her sister is taken by the Goblin King, Liesl must journey to the Underground to save her. Drawn to the strange, captivating world she finds--and the mysterious man who rules it--she soon faces an impossible decision. And with time and the old laws working against her, Liesl must discover who she truly is before her fate is sealed.
---
After a century of service to goblin lord Soren, Janneke, seventeen, the only mortal in the Permafrost, clings to her humanity as she faces difficult choices.
---
Soon after the mysterious and alluring Finn arrives at her family's home, sixteen-year-old Teagan Wylltson and her disabled brother are drawn into the battle Finn's family has fought since the thirteenth century, when Fionn MacCumhaill angered the goblin king.
---
Callypso Lillis is a siren with a very big problem, one that stretches up her arm and far into her past. For the last seven years she's been collecting a bracelet of black beads up her wrist, magical IOUs for favors she's received. Only death or repayment will fulfill the obligations. Only then will the beads disappear. Everyone knows that if you need a favor, you go to the Bargainer to make it happen. He's a man who can get you anything you want ... at a price. And everyone knows that sooner or later he always collects. But for one of his clients, he's never asked for repayment. Not until now. When Callie finds the fae king of the night in her room, a grin on his lips and a twinkle in his eye, she knows things are about to change. At first it's just a chaste kiss-a single bead's worth-and a promise for more. For the Bargainer, it's more than just a matter of rekindling an old romance. Something is happening in the Otherworld. Fae warriors are going missing one by one. Only the women are returned, each in a glass casket, a child clutched to their breast. And then there are the whispers among the slaves, whispers of an evil that's been awoken. If the Bargainer has any hope to save his people, he'll need the help of the siren he spurned long ago. Only, his foe has a taste for exotic creatures, and Callie just happens to be one.
Plot Twist: This is actually an Adult book. Didn't you know that Goblin Kings love tricks, dear reader?
---
In 19th-century England, Kate and her sister Emily return to the family estate after their father dies. There, under the guardianship of a distant uncle, they live in a small lodge with two great-aunts. One evening while out late and unable to find their way home, they encounter a nest of goblins. Clare Dunkle unites the human realm and the underworld of the goblin in a fascinating and exciting tale.
---
Thank you dear reader for celebrating my birth month with the beloved Goblin King.
Which book are you excited to read? Comment below, I'd love to hear your thoughts.
For 2022, all Fangirls Unleashed blogs will be posted on the third Mondays of the month. Don't miss next month's blog, I'll be featuring Shapeshifters.
Until next time, happy readings book worms!
Fun Fact
Leave your internet connection woes behind by requesting a hotspot. These little devices enable you to have an internet connection to your mobile and smart devices anywhere you go. The best part? I use less data on my cell phone when I'm out and about, which actually helped me save money. Just one of the many examples of just how cool libraries are.
Who am I?
Alyssa is a founding member of Fangirls Unleashed. Our mission is to show our patrons what's trending in the young adult world and how to explore those interests through the San Jose Public Library. Her work has included presenting on the Graphic Novel Making Contest at the California Library Association Conference, presenting on SJ Engage at the Young Adult Library Services Association Conference, and as a Guest Cosplayer at the Santa Clara City Library Comic Con. When she's not blogging you can find her sipping on an iced coffee as she studies at SJSU for her MLIS. Follow her on her Fangirls Unleashed social media channels down below to see her YA Lipstick & Books and Book Cover Cosplay series.
Fangirls Unleashed Social Media