From seeing big time actors to a very special guest appearance from a fellow blogger, Heroes and Villains Fan Fest is another reason to get your geek on in San Jose.



Super heroes and villains rejoice! Recently we attended Heroes and Villains Fan Fest in downtown San Jose, which describes itself as a Fan Fest by Fans. There were so many celebrities from both the small and big screen, hilarious panels and unique cosplays. This was an exciting experience for us, since we collaborated with fellow San Jose Public Library blogger Enna Penglin. Enna attended last year, and she showed us her favorite aspects of the convention while adding her own touch to this blog. To see the highlights of this convention, put on your nerdy glasses and discover another reason to let your inner geek out in San Jose.
1.Celebrities



The amount of celebrities that attended this convention was staggering, with a total of 36 actors in attendance! There were actors such as Stephen Amell from Arrow, to Michael Rooker from Guardians of the Galaxy.

2. Panels



The panels were some of the most entertaining ones we have ever been to, with the Guardians of the Galaxy cast being our favorite. Michael Rooker, who played Yondu, got the crowd excited by calling Sean Gunn's brother to ask about details of Guardians of the Galaxy 2 movie. They finished filming, but couldn't give us any details other than saying Chris Pratt is a beautiful specimen of a man. He was also 2 feet away from us as he answered crowd questions with his wicked sense of humor.
3. Cosplayers



We have attended many conventions in the past and HVFF has probably the most unique amount of cosplayers that we have seen to date. What we loved is that these cosplayers put their own spin on characters, such as a gender-bending Hawkeye to a Steampunk Robin. There were also a surprisingly large amount of families with small children cosplaying, such as the Marvel family above.
Need more reasons to attend? Take it away Enna!


Enna's Heroes and Villains 2016 Review
Last month Addie, Alyssa, and I had the privilege of attending Heroes & Villains Fan Fest and experiencing everything and anything nerdy! We had the pleasure of meeting cosplayers, celebrities, and attending some very interesting panels. And compared to last year's fanfest, this time around it was bigger and better! The number of celebrities who made appearances doubled and we were treated to panels from a variety of tv shows and movies such The Walking Dead, Arrow, and even Guardians of the Galaxy (Michael Rooker was a hoot!).
Aside from their panels and regularly scheduled events, HVFF did a really good job improving in space management and allowing for more breathing room in the convention center. One of my main complaints from the first fanfest was how compact and congested the event was. This year the event was very spacious and much more organized, making HVFF a great experience for comic lovers, cosplayers, adults, kids, and individuals of all ages!
We also had the chance to ask some attendees, who dressed up in the most impressive cosplay by the way, who their favorite book hero or villain was!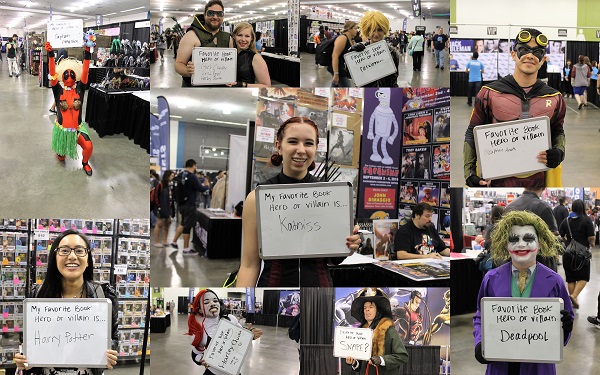 Following the event, I had a chance to reach out to some friends and colleagues who attended HVFF this year and asked them about their experienced compared to HVFF last year. A majority of them were satisfied and had pleasant experiences this year; thus, it would be no surprise for San Jose to see Heroes & Villains Fan Fest return and bring out the inner nerd in everyone.
As you can see, Heroes and Villains Fan Fest is another reason to dress up in cosplay and be up close and personal with some of your favorite actors. Did you attend Heroes and Villains Fan Fest? If you did, comment below your personal highlights of the convention and if you met any of the celebrities at the convention. We would also like to say a HUGE thank to you to Enna for collaborating with us on everything from taking pictures to her awesome whiteboard idea.  Until next time, in the words of Enna, "Fangirls Out!"
Fun Fact: Are you addicted to reading Young Adult books and are always on the hunt for the newest book to get your hands on? Well we have a solution for you! If you go on the sjpl.org website and look under the Children & Teens menu near the top, you enter a goldmine for young adults in the Pre-Teens & Teens section. In addition to multiple fun activities to do at all of our branches such as volunteering, you can also see the newest books available to check out or request at your nearest library. I highly recommend A Torch Against the Night, the highly anticipated sequel to the best seller An Ember in the Ashes by Sabaa Tahir and one of Alyssa's all-time favorite books.
Fangirls Unleashed Social Media Accounts
This blog has been a collaboration between Enna Penglin, Adilene Rogers, and Alyssa Mendoza.