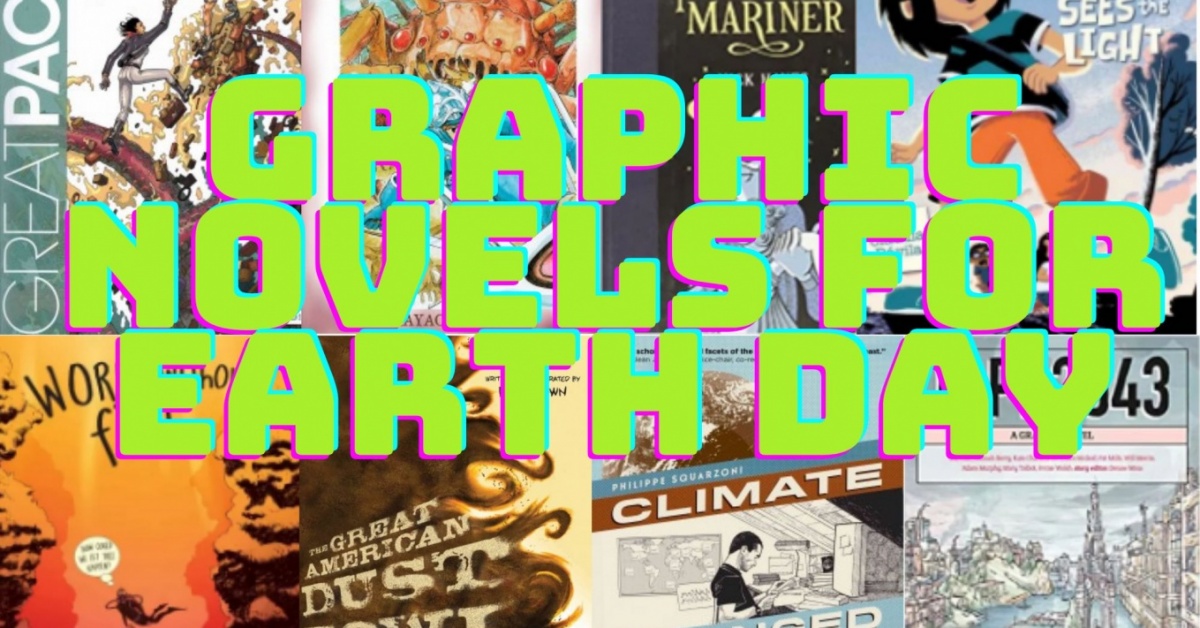 Celebrated annually on April 22, Earth Day is dedicated to environmental education, preservation and conservation. Graphic novels and comics can tackle serious topics, present research and science, and have the power to instill empathy and a more urgent call to action than words or pictures alone. From natural disaster and post-environmental collapse, environmental education, protection and stewardship, from real events to fictional scenarios, the environment plays a leading role in these titles.
Global Warning
Written by a master storyteller, World Without Fish connects all the dots—biology, economics, evolution, politics, climate, history, culture, food, and nutrition—in a way that kids can really understand. It describes how the fish we most commonly eat, including tuna, salmon, cod, and swordfish, could disappear within 50 years, and the domino effect it would have—oceans teeming with jellyfish and turning pinkish orange from algal blooms; seabirds disappearing, then reptiles, then mammals. It describes the back-and-forth dynamic of fishermen and scientists. It covers the effects of industrialized fishing, and how bottom-dragging nets are turning the ocean floor into a desert.

---
Climate change is no laughing matter - but maybe it should be. The topic is so critical that everyone, from students to policy-makers to voters, needs a quick and easy guide to the basics. The Cartoon Introduction to Climate Change entertains as it educates, delivering a unique and enjoyable presentation of mind-blowing facts and critical concepts.

---
When the city starts to be hit by regular blackouts, and Luz's mother has trouble affording gas and groceries, Luz decides that she will do what she can do in her own neighborhood, with her friends and neighbors, to become less reliant on fossil fuels.

---
What are the causes and consequences of climate change? When the scale is so big, can an individual make any difference? Documentary, diary, and masterwork graphic novel, this up-to-date look at our planet and how we live on it explains what global warming is all about. With the most complicated concepts made clear in a feat of investigative journalism by artist Philippe Squarzoni, Climate Changed weaves together scientific research, extensive interviews with experts, and a call for action. Weighing the potential of some solutions and the false promises of others, this groundbreaking work provides a realistic, balanced view of the magnitude of the crisis that An Inconvenient Truth only touched on.

---
In this series from 2000, writer Brian K. Vaughan kicked off a new Swamp Thing series that starred Tefé Holland, daughter of Swamp Thing and Abigail Arcane. As a human/plant elemental hybrid, Tefé has incredible power--but as a hot-headed teenager, can she learn to control those powers and use them for good? Vaughan's sensitive stories send Tefé across the globe to play an unexpected role in remote regions threatened by ecological disasters.
---
Post Environmental Disaster
In a long-ago war, humankind set off a devastating ecological disaster. Thriving industrial societies disappeared. The earth is slowly submerging beneath the expanding Sea of Corruption, an enormous toxic forest that creates mutant insects and releases a miasma of poisonous spores into the air. At the periphery of the sea, tiny kingdoms are scattered on tiny parcels of land. Here lies the Valley of the Wind, a kingdom of barely 500 citizens; a nation given fragile protection from the decaying sea's poisons by the ocean breezes; and home to Nausicaä.
Nausicaä, a young princess, has an empathic bond with the giant Ohmu insects and animals of every creed. She fights to create tolerance, understanding and patience among empires that are fighting over the world's remaining precious natural resources.

---
When fugitive oil heir Chas Worthington settles the infamous Great Pacific Garbage Patch, plants a flag, and declares it his own sovereign nation, the reality of the environmental catastrophe is only the beginning of his odyssey.

---
Don Brown brings the Dirty Thirties to life with kinetic, highly saturated, and lively artwork in this graphic novel of one of America's most catastrophic natural events: the Dust Bowl.

---
In this first volume of Brian Wood's new, sprawling postapocalyptic epic, follow the crew of the Kapital from the flooded remnants of Hong Kong to Unalaska, with stops in Antarctica and Mogadishu, as post-Crash ethics and economics are explored across a broken world.

---
A stunning graphic novel that makes plain the undeniable horrors and humanity triggered by Hurricane Katrina in the true stories of six New Orleanians who survived the storm.
---
More