It's finally starting to feel like autumn. October has brought us longer, spookier nights, (a little bit) cooler weather, crisp fallen leaves, and a TON of new YA books! October is one of publishing's biggest months for new releases as it ramps up for the gift giving season.
There are new stand-alone titles, continuations of series, epic fantasies, brutal coming-of-age stories, and returns to worlds that we never thought we'd be lucky enough to see again. Plenty to last well into the holiday season. So grab a mug of apple cider, place a hold on one of the titles below, and enjoy autumn the way it is intended: curled up in a good book.
October 2019 Releases
When Frankie's mother died and her father left her and her siblings at an orphanage in Chicago, it was supposed to be only temporary—just long enough for him to get back on his feet and be able to provide for them once again. That's why Frankie's not prepared for the day that he arrives for his weekend visit with a new woman on his arm and out-of-state train tickets in his pocket. Now Frankie and her sister, Toni, are abandoned alongside so many other orphans—two young, unwanted women doing everything they can to survive. And as the embers of the Great Depression are kindled into the fires of World War II, and the shadows of injustice, poverty, and death walk the streets in broad daylight, it will be up to Frankie to find something worth holding on to in the ruins of this shattered America—every minute of every day spent wondering if the life she's able to carve out will be enough.
---
War Girls by Tochi Onyebuchi
In the year 2172, a civil war rages in Nigeria as the Republic of Biafra fights for independence in battles using advanced tech and giant mechs. War Girl Onyii, a Biafran rebel and former child soldier with a bionic arm, has made a safe place away from the war with her comrades and younger sister, Ify, a brilliant hacker who has created an Accent, a tiny technological wonder that "reveal the series of lines and nodes of net connectivity that bind everything—and everyone—together." When their camp is attacked, Onyii is left alive and drawn back into the fight; Ify, captured, is taken to the glittering glass city of Abuja. Four years later, Ify is a trusted confidant to her now powerful kidnapper but questions the treatment of young Biafran prisoners, while Onyii has become a killing machine known as the Demon of Biafra. Their divergent paths, forged in violence, shape them indelibly, ensuring they will never be the same.
---
Addamsville, Indiana, may be Zora Novak's home, but the townspeople sure aren't her biggest fans. Her mother was the town weirdo before she disappeared, and her father was a con man who charmed half of Addamsville's residents out of their savings before he was sent to prison. But Zora, unlike her older sister, knows a little about why their mother vanished. Like her, Zora can see ghosts, and she hunts the monstrous firestarters who stalk their town. This has the downside, however, of giving Zora, who's been found near a few fires, the reputation of an arsonist. When the school janitor—one she'd fought with—dies in a house fire, everyone points the finger at Zora, and she has to join forces with her obnoxious, rich-girl cousin Artemis, the only person who knows her secret, to clear her name and find the real killer.
---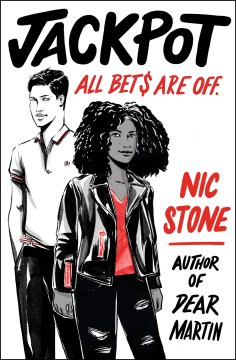 Seventeen-year-old Rico's family is living paycheck to paycheck and way beyond their means, even with Rico's practically full-time job and her mother's long hours. When a customer purchases the winning ticket at the Gas 'n' Go where she works but doesn't claim it, Rico begins searching for the elderly woman she believes to be the winner. She enlists the help of Zan, the superrich heir of Macklin Enterprises in their hometown of Norcross, Georgia. Rico tentatively begins to hope in the future as her feelings for the privileged and complex Zan and her camaraderie with new friends finally start balancing out her family's struggles.
---
Sophie wants one thing for Christmas-a little freedom from her overprotective parents. So when they decide to spend Christmas in South Louisiana with her very pregnant older sister, Sophie is looking forward to some much needed private (read: make-out) time with her long-term boyfriend, Griffin. Except it turns out that Griffin wants a little freedom from their relationship. Cue devastation. Heartbroken, Sophie flees to her grandparents' house, where the rest of her boisterous extended family is gathered for the holiday. That's when her nonna devises a (not so) brilliant plan: Over the next ten days, Sophie will be set up on ten different blind dates by different family members. Like her sweet cousin Sara, who sets her up with a hot guy at an exclusive underground party. Or her crazy aunt Patrice, who signs Sophie up for a lead role in a living nativity. With a boy who barely reaches her shoulder. And a screaming baby. When Griffin turns up unexpectedly and begs for a second chance, Sophie feels more confused than ever. Because maybe, just maybe, she's started to have feelings for someone else . . . Someone who is definitely not available. This is going to be the worst Christmas break ever... or is it?
---
Madrid, 1957. Under the fascist dictatorship of General Francisco Franco, Spain is hiding a dark secret. Meanwhile, tourists and foreign businessmen flood into Spain under the welcoming guise of sunshine and wine. Among them is eighteen-year-old Daniel Matheson, the son of a Texas oil tycoon, who arrives in Madrid with his parents hoping to connect with the country of his mother's birth through the lens of his camera. Photography--and fate--introduce him to Ana, whose family's interweaving obstacles reveal the lingering grasp of the Spanish Civil War--as well as chilling definitions of fortune and fear. Daniel's photographs leave him with uncomfortable questions amidst shadows of danger. He is backed into a corner of decisions to protect those he loves. Lives and hearts collide, revealing an incredibly dark side to the sunny Spanish city.
---
Further Reading