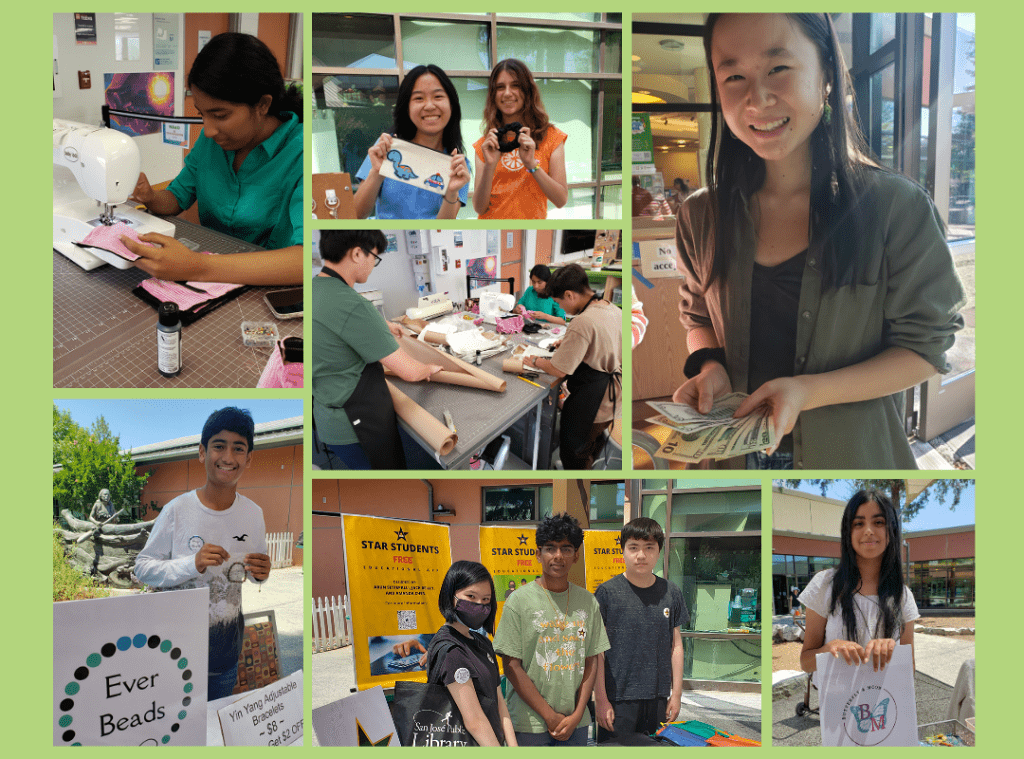 Hey, future entrepreneurs! Have you ever thought about starting your own business or becoming a problem-solver in your community? The 2024 Winter WeThrive High School Entrepreneur Camp is just the place to transform that idea into a reality. It's not about lectures; it's about taking action and making your ideas come alive. And it's happening at the downtown Dr. Martin Luther King, Jr. Library's TeenHQ.
Who Can Register
High Schoolers, It's Your Time to Shine!
Freshmen through Seniors — this is for all of you! You don't need to have a business idea already. Just bring your curiosity and enthusiasm.
Your First Step: Register
Sign Up and Show Up
Registration: Opens December 16, 2023, and closes January 5, 2024. 

Accepted and waitlisted participants in the camp will be notified by Friday, January 5, 2024, at 4:00 PM, with information on how to attend.
Maximum capacity limit for the camp is 20 high school students.

First Day: You need to show up on the first day: Tuesday, January 9, 2024, 5:30–7:00 PM. It's mandatory, so make sure you're there!
Waitlist: If you end up waitlisted, we encourage you to attend the First Day. You might be able to get a spot if there is a no-show. Be sure to register though.
What You'll Do
Create, Learn, and Market
Create Your Business: Whether you're flying solo or in a team, you'll examine a problem that faces your community and build a business from the ground up., then promote and sell your product or service at a Pop-Up Market.
Learn by Doing: Get hands-on experience by creating a business model and plan to solve your community problem, purchase supplies, and create your product or service.
Market Your Idea: Cap it all off with our Pop-Up Market where you'll sell your product or service. At the end of the campl, the money you make from the Pop-Up Market will be split among members of your business.
When and Where
Register, Then Mark Your Calendars: January 9 – March 2, 2024
Registration: December 16, 2023 – January 5, 2024
Kickoff: January 9, 2024
Location: TeenHQ at the Dr. Martin Luther King, Jr. Library
Camp Schedule (See Full Schedule for More Details): 

January: Tuesdays, 5:30–7:00 PM
February: Tuesdays, 5:30–7:00 PM & Saturdays, 2:00–5:00 PM
Pop-Up Market: Saturday, March 2, 2:00–4:00 PM 

Setup time: 1:00 PM
Cleanup time: 5:00 PM.
How Does It Work?
Tools, Tech, and Support
Learning Style: We've got a web and app-based platform to guide you every step of the way. 

It will walk you through lessons and guides to help you understand the ins and outs of a small business.
As you finish lessons, you will participate in group discussions and activities to further your understanding and produce deliverables, such as a logo design and a supply order form.

Where You'll Work: Lessons will be self-guided and reviewed outside of meetings, as homework. Other deliverables and product work may need to be completed outside of meetings as well as business group communication and collaboration. You are encouraged to work on product creation at home but are also welcome to utilize TeenHQ during scheduled meeting days and times.
Seed Funding: Yep, you get up to $75 to start your project.
Tech Tools: With access to TeenHQ's state-of-the-art facilities and trained staff, you're well-equipped to bring your business vision to life. We encourage you to bring your own tablet or laptop to meetings, but laptops will be available as needed to participate in group discussions and activities on-site. We will be utilizing several collaborative online platforms such as: Google Drive, Google Docs, Google Jamboard, Padlet, andCareer Village.
Questions?
We're Here to Help
If you are still curious, we encourage you to read about our last WeThrive Camp. You can also email to Jessica Lundin at jessica.lundin@sjlibrary.org for any additional info you need.
Thanks to Our Sponsor
Big Shoutout to the San Jose Public Library Foundation
The San José Public Library Foundation is a partner and sponsor of this program.
Accommodation Requests
To request an accommodation under the Americans with Disabilities Act for library-sponsored events, please call 408-808-2355 or emailAccessibility@sjlibrary.orgat least three business days prior to the event.
---
Full, Tentative Camp Schedule
Tuesday, January 9, 5:30–7:00 PM: First Day Program — Introductions, Access & Set-Up 

Homework:

Introduction to Entrepreneurship
Expectations, Vision, Passions, Social Impact, Identifying Opportunities, & Solving Real Problems
Pre-Program Survey Lesson
Demographic Survey

Tuesday, January 16, 5:30–7:00 PM:Social Impact, Solving Real Problems, Business Formation 

Homework:

Products & Services
Defining Your Target Audience
Differentiation
Product Brainstorming by Business
Start Supply Order Form

Tuesday, January 23, 5:30–7:00 PM:Products & Services, Defining Your Target Audience, Differentiation 

Homework:

Logo Creation
Costs
Suppliers
Supply Order Form
Brainstorming Logo Ideas

Tuesday, January 30, 5:30–7:00 PM:Cost, Suppliers, Logo Creation, Business Partners 

Homework:

Marketing & Outreach
Channels of Distribution
Pitching & Pitch Deck Creation
Supply Order Form Submitted by Saturday, February 3, 2024
Work on Payment Strategy

Saturday, February 3, 2:00–5:00 PM: Marketing & Outreach, Channels of Distribution, Pitch Deck Creation, MakerSpace Tour & MakerSpace Time 

Homework:

Submit Logo & Business Blurb
Determine MakerSpace Supplies
Plan Product Creation
Work on Pitch Deck
Submit Payment Strategy

Tuesday, February 6, 5:30–7:00 PM: Check-In & MakerSpace Time — As Needed
Saturday, February 10, 2:00–5:00 PM: Check-In & MakerSpace Time — As Needed
Tuesday, February 13, 5:30–7:00 PM: Check-In & MakerSpace Time — As Needed
Saturday, February 17, 2:00–5:00 PM: Check-In & MakerSpace Time — As Needed
Tuesday, February 20: NO MEETING — President's Holiday — staff unavailable
Saturday, February 24, 2:00–5:00 PM: Check-In & MakerSpace Time — As Needed
Tuesday, February 27, 5:30–7:00 PM: Final Check-In & MakerSpace Time — As Needed
Saturday, March 2, 1:00-5:00 PM: Pop-Up Market (2:00-4:00 PM) at Dr. Martin Luther King, Jr. Library — TeenHQ - Mandatory