As a kid, my father told me that Babe Ruth referred to my hometown as "the little burg in the orchards." This elusive quote has sent me chasing a Ruthian myth; the most sensational variety of stories in the baseball universe.  Upon searching for this quote, waves of San Jose's local history have washed up along the long tables of the California Room at the Dr. Martin Luther King, Jr. Library.  By delicately handling clipping files and spinning reels of microfilm, the story of San Jose is told at the California Room at the Dr. Martin Luther King, Jr. Library.
"All players may come and they may go, but here is the king of them all, in the batter's box… Babe Ruth." Three thousand baseball fans, old and young, watched Babe Ruth pull an old bat up and down, knock the dust off his shoes at Sodality Park in San Jose, California in 1927. (Adapted from Graham McNamee, All Star Game Radio Broadcast 1934)

Sodality Park was a small baseball diamond located off of West San Carlos Street and Royal Avenue, where Orchard Supply Hardware stands today. Sodality Park stretched along the east bank of the Los Gatos Creek.  Before the Bambino's Bustin' Babes played at Sodality Park on Wednesday October 26,1927, Sanborn Maps indicate that the field was oriented so the pitchers faced south west and dead-center field was north east.

By the time the New York Yankees swept the Pittsburgh Pirates in the 1927 World Series and Sultan of Swat departed on a historic barnstorming tour with Lou Gehrig and Lefty O'Doul, the orientation of Sodality Park had shifted to where pitchers faced north and batters to the south.  Since the ballpark was reoriented, the right field fence was significantly shorter, favoring left handed pull hitters.  This feature of the ballpark dimensions assisted the Babe in hitting a walk-off homerun, allegedly landing into or across the creek to the California Packing Corporation Cannery site on the west bank of the Los Gatos Creek.  According to my rough estimation, the right field foul pole stood well short of 300 feet.

Sodality Park also hosted Ty Cobb for a few innings, before he let a ground ball roll between his legs.  Cobb did not bother to chase after his error, he instead sprinted directly toward his hotel while the ball was still live.  Sodality Park is in the record books for holding one of the longest games in history.  In 1909, the Junior Outlaws defeated the Sodality Stars by a score of 11-9 in a 22 inning showdown. Sodality Park was eventually closed in the mid-1930s for the railroad expansion along the Los Gatos Creek, and the infield diamond became the old Orchard Supply Hardware store near Royal Avenue and West San Carlos Street. Here's what that are looks like today from the San Carlos Street overpass: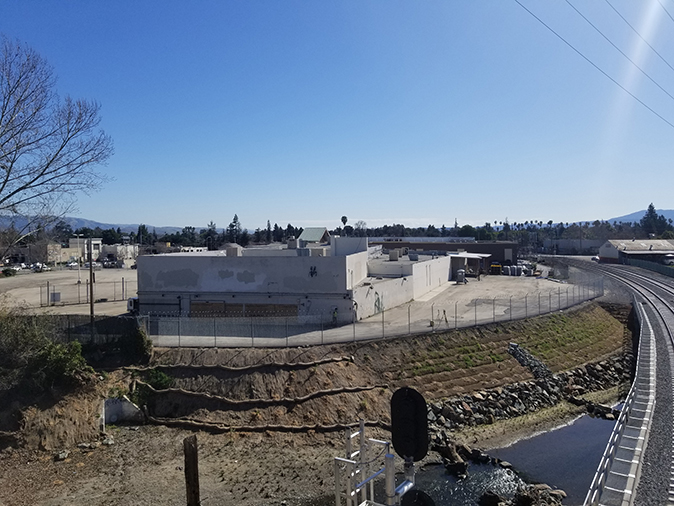 Learn More
To learn more about the stories of San Jose, have a look at these California Room resources: