Welcome to another Fangirls Unleashed blog post!
May is Asian-American and Pacific Islander Heritage Month.
To celebrate this special month, I have compiled a list of YA books inspired by Asian mythology.
From the Chinese moon goddess tale to the Hindu vetalas, there is a variety of books for you to choose from.
Ready to enter the wonderful world of Asian mythology?
Let's go!
An enthralling debut fantasy inspired by the legend of Chang'e, the Chinese moon goddess, in which a young woman's quest to free her mother sets her on a dangerous path and pits her against the most powerful immortal in the realm.
---
To keep her kingdom from being invaded, Princess Amrita offers her hand in marriage to the conqueror, but when this offer is rebuked, she finds herself a fugitive and befriends Thala, an oracle who leads them on quest to find a mystical library that may help them reverse their fates.
---
Eighteen-year-old Xifeng is beautiful. The stars say she is destined for greatness, that she is meant to be Empress of Feng Lu. But only if she embraces the darkness within her. Growing up as a peasant in a forgotten village on the edge of the map, Xifeng longs to fulfill the destiny promised to her by her cruel aunt, the witch Guma, who has read the cards and seen glimmers of Xifeng's majestic future. But is the price of the throne too high? Because in order to achieve greatness, she must spurn the young man who loves her and exploit the callous magic that runs through her veins--sorcery fueled by eating the hearts of the recently killed. For the god who has sent her on this journey will not be satisfied until his power is absolute.
---
During a once-in-a-generation competition to find the new empress, Mari, who hides a terrible secret, Taro, the prince who would denounce the imperial throne, and Akira, a half-human outcast, will decide the fate of Honoku.
---
Fifteen authors of Asian descent reimagine the folklore and mythology of East and South Asia, in short stories ranging from fantasy to science fiction to contemporary, from romance to tales of revenge.
---
Discovering her power for necromancy after accidentally resurrecting her brother from the dead, Tea is ostracized by her community but partners with an older bone witch who trains her as a wielder of elemental magic.
---
The daughter of a prominent samurai, Mariko has long known her place--she may be an accomplished alchemist, whose cunning rivals that of her brother Kenshin, but because she is not a boy, her future has always been out of her hands. At just seventeen years old, Mariko is promised to Minamoto Raiden, the son of the emperor's favorite consort--a political marriage that will elevate her family's standing. But en route to the imperial city of Inako, Mariko narrowly escapes a bloody ambush by a dangerous gang of bandits known as the Black Clan, who she learns has been hired to kill her before she reaches the palace. Dressed as a peasant boy, Mariko sets out to infiltrate the Black Clan and track down those responsible for the target on her back. Once she's within their ranks, though, Mariko finds for the first time she's appreciated for her intellect and abilities. She even finds herself falling in love--a love that will force her to question everything she's ever known about her family, her purpose, and her deepest desires.
---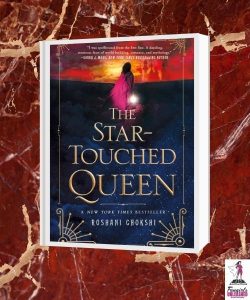 Sixteen-year-old Maya's arranged marriage turns out much better than she expected, but her husband's magic--and her curiosity--may threaten more than her life.
---
The exiled Princess Shiori must unravel the curse that turned her six brothers into cranes, and she is assisted by her spurned betrothed, a capricious dragon, and a paper bird brought to life by her own magic.
---
Dear reader, thank you for celebrating my heritage with me this month.
Did any of these books catch your eye? Comment below, I would love to hear your thoughts.
Join me next month where I will be highlighting YA Sapphic picks.
Until next time, happy readings bookworms!
Fun Fact
If you have been following my social media pages, then you know that I love combining my love of cosplay and YA books. Did you know that we have an amazing Cosplay on Display program coming up for the summer? If you have a SJPL card, show it off by combining it with your favorite cosplay! Did I also mention that you will see a familiar face when you click on the link?
Who am I?
Alyssa is a founding member of Fangirls Unleashed. Our mission is to show our patrons what's trending in the young adult world and how to explore those interests through the San Jose Public Library. Her work has included presenting on the Graphic Novel Making Contest at the California Library Association Conference, presenting on SJ Engage at the Young Adult Library Services Association Conference, and as a Guest Cosplayer at the Santa Clara City Library Comic Con. When she's not blogging you can find her sipping on an iced coffee as she studies at SJSU for her MLIS. Follow her on her Fangirls Unleashed social media channels down below to see her YA Lipstick & Books and Book Cover Cosplay series.
Fangirls Unleashed Social Media