Happy Asian American & Pacific Islander Heritage Month!
I am 100% Asian and this month is one of my favorites to celebrate. After everything that has been affecting my community in the past year, the meaning of this month holds more depth than in the past.
Representation is extremely important to me, and I've got a great list of book recommendations in the form of Book Cover Cosplays for this month.
To further highlight this month, I'd like to share the Asian and Pacific Islander populations of San Jose compiled by AAPI Data, who focus on policy research and demographic data on Asian Americans & Pacific Islanders.
In San Jose, our Asian population is made up of those who identify as Asian Indian, Bangladeshi, Bhutanese, Burmese, Cambodian, Chinese, Filipino, Hmong, Indonesian, Japanese, Korean, Laotian, Malaysian, Mongolian, Nepalese, Okinawan. Pakastani, Sri Lankan, Taiwanese, Thai, and Vietnamese.
San Jose's Pacific Islander population is made up of those who identify as Native Hawaiian, Samoan, Chamorro, Tongan, Fijian and Marshallese.
Note: These groups have been organized in alphabetical order in order to not imply that one group has more importance over another.
Are you ready to celebrate Asian American & Pacific Islander Heritage month? Then let's get this reading party started and read on!
When seventeen-year-old Jay Reguero learns his Filipino cousin and former best friend, Jun, was murdered as part of President Duterte's war on drugs, he flies to the Philippines to learn more.
---
1890, Atlanta. By day, seventeen-year-old Jo Kuan works as a lady's maid for the cruel Caroline Payne, the daughter of one of the wealthiest men in Atlanta. But by night, Jo moonlights as the pseudonymous author of a newspaper advice column for 'the genteel Southern lady'.
---
When new-girl Cirrus mistakes self-described nerd Sunny Dae as the lead in a rock band, Sunny rolls with it forming a fake band with his friends, but as the lies continue he risks losing both Cirrus and his friends.
---
When the notorious I.A. Cōcha is captured by the Olympus Commonwealth and revealed to be a sixteen-year-old girl, she is sentenced to correctional rehabilitation at a training ground for the elite Star Force where she forms unlikely alliances.
---
Anna K by Jenny Lee
Told from multiple viewpoints, while seventeen-year-old Anna K seems above the typical problems of her Manhattan friends and siblings, finding love with a notorious playboy changes everything.
---
Told in two voices, sisters Row and Ariana are frozen by grief over their mother's death, years before, until Ariana leaves for reasons Row does not understand.
---
Simran "Simi" Sangha comes from a line of Indian matchmakers, so when she accidentally sets up her cousin with an aspiring lawyer her family thinks she has the gift, but when she tries her skills at school she upsets the high school hierarchy.
---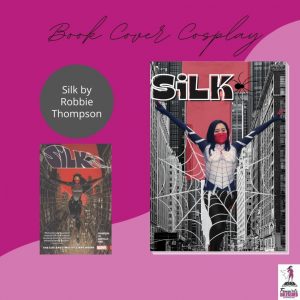 Silk by Robbie Thompson
Cindy Moon exploded out of her bunker and into the Marvel Universe when we first learned that she had been bitten by that same radioactive spider in the first arc of AMAZING SPIDER-MAN. She then went on to save Peter Parker's life (more than once!) and traverse the Spider-verse alongside Spider-Woman. Now, as SILK, Cindy is on her own in New York City, searching for her past, defining her own future, and webbing up wrong-doers along the way!
---
Skye Shin has heard it all. Fat girls shouldn't dance. Wear bright colors. Shouldn't call attention to themselves. But Skye dreams of joining the glittering world of K-Pop, and to do that, she's about to break all the rules that society, the media, and even her own mother, have set for girls like her.
---
When budding actress Gemma Huang flies to Beijing to star in a film of M. Butterfly, she is mistaken for a notorious socialite, kicking off a series of revelations her parents had carefully concealed from her.
---
Alas, we have reached the end of this cosplay journey.
Which Book Cover Cosplay was your favorite? Comment below, I'd love to hear your thoughts.
Until next time, happy readings!
FUN FACT
Did you notice a fun new feature about your favorite bloggers? We now have bios! On the bottom of each blog is a blogger's name. When you click on the blogger's name, it takes you to that blogger's landing page. It's got fun facts such as what they are currently reading, fun tidbits, and all of the blogs that they have previously written. Not everyone has written something, so it's fun to click around and learn more about the bloggers of San José Public Library. So far I've learned that Megan likes trashy reality television and Michelle is focused on LGBTQIA+ issues and parenting. My co-workers are so cool.
Who Am I?
Alyssa is a founding member of Fangirls Unleashed. Our mission is to show our patrons what's trending in the young adult world and local conventions and how to explore those interests through the San Jose Public Library. Her work has included presenting on the Graphic Novel Making Contest at the California Library Association Conference, presenting on SJ Engage at the Young Adult Library Services Association Conference, and as both a Guest and Guest Cosplayer at the Santa Clara City Library Comic Con. When she's not blogging you can find her sipping on an iced coffee and reading the latest YA book. Follow her on her Fangirls Unleashed social media channels down below to see her combine YA books with her Book Cover Cosplays and Lipstick and Books series.
Fangirls Unleashed Social Media