What's ABCmouse?
Prepare your child for academic success with the click of a mouse!
Children can learn and explore with their parents, or on their own (depending on age and ability), in a safe, secure, comprehensive, and engaging online educational environment with ABCmouse. It's called ABCmouse.com because children can learn important educational basics (often referred to as "the ABC's") through the use of a computer mouse.
San José Public Library has been offering access to ABC Mouse at its library locations, but now you and your child or children can access ABCmouse from home!
Use this link to sign up for a four week checkout: abcmouse.com/home-check-out.
ABCmouse is easy to use at home, but it may be a bit different than you're used to. Follow these steps, and your child will be having fun and learning in no time!
1. Fill in the online Home Checkout form.
Once you have this done, you won't have to do it again. You'll need a library card.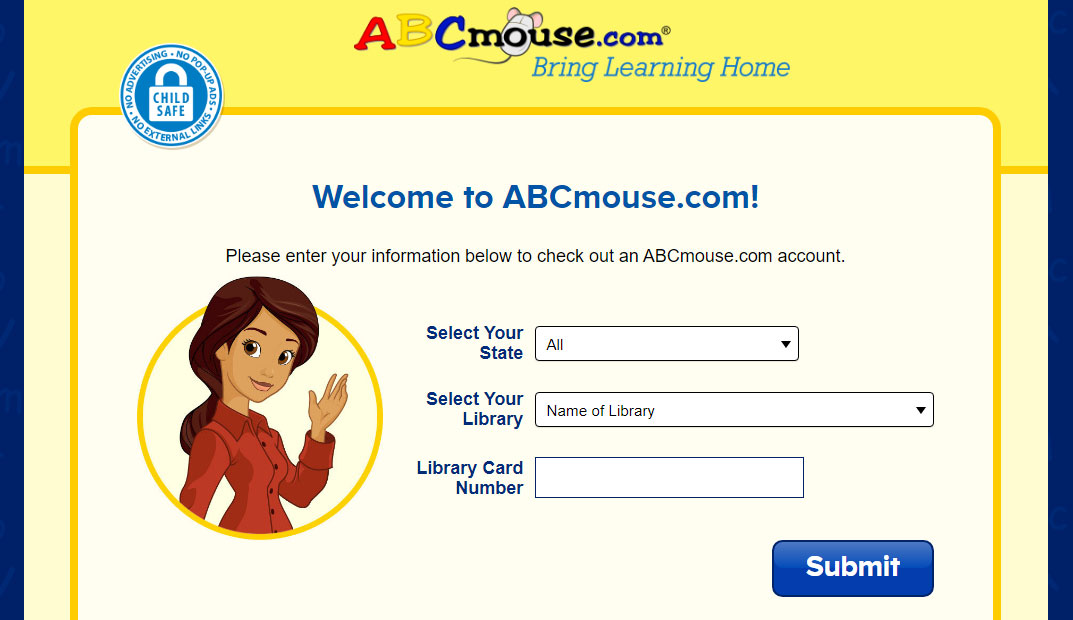 2. Save your login information.
Once you've filled in the Home Checkout form, you'll see a screen with your email and password. Save this information so that you can log in later. If there are no seats available, you may see a screen that asks if you want to be added to a waiting list. You will receive an email when there is space.

3. Build a profile for you and your child.
You will have the opportunity to watch a short, introductory video, and then you will be walked through a series of pages. These pages will allow you to create avatars for you and your child/children. You can add up to three children to your account.
4. Assessment
At the end of set up, you will be given the choice of having your child take an assessment. It is recommended that you do so. This will help you to determine what your child needs to work on in ABCmouse. You will have an opportunity to do another assessment at the end of the four weeks to track progress.



5. Start learning!
When the assessment is complete, it will be time to play! Explore the various games, activities, and features of ABCmouse from the home dashboard.



After Your 4-Week Checkout
When your four weeks are up, you will have an opportunity to sign up for another four week check out if there are seats available. If not, you can get on the waiting list! Your child's profile and progress will be saved. You can also go into any of San José Public Library's locations and use ABCmouse from the public internet computers or from your own computer or device when it is connected to library WiFi. All of your progress will be saved.
NOTE: Please note that there are a limited number of checkouts available at one time. You can always use ABCmouse at any SJPL library location during open hours. If you have questions, please feel free to email us or call 1-408-808-2104.