About Diwali
Diwali (also called Deepavali), the festival of lights, is a major holiday celebrated in various traditions by Hindus, Sikhs, Jains, and some Buddhists. India is the country where Diwali is most celebrated, but it is also celebrated around the world in various ways by communities from these religious traditions. For 2023, the holiday will last from Friday, November 10 to Tuesday, November 14, with the main day of celebration being Sunday, November 12.
The central day of Diwali, the one of greatest celebration, is always the fifteenth day of the month of Kartika in the Hindu lunisolar calendar, during which the night is the darkest of the month. Originally a harvest festival, Diwali symbolizes the victory of good over evil and wisdom over ignorance. People celebrate this holiday with decorating, shopping, gift-giving, feasting, eating mithai (sweets), setting off fireworks and firecrackers, and prayers.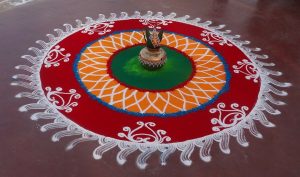 Celebrating Diwali
The word Diwali comes from Sanskrit words meaning "row of lights." Lights and colors are a significant feature of Diwali celebrations, which feature many diyas, or oil lamps, such as those shown above. Sometimes these lamps are set adrift on streams or rivers. The holiday also commonly features rangoli, which are temporary, colorful designs made with rice flour, powders, sand, and/or flowers on floors and surfaces. Rangoli designs are often passed down the generations in a family, and are intended to welcome good luck and wealth into a household. Rangoli can be very elaborate and colorful.

Local Diwali Events
San José Public Library has Diwali events, including rangoli art activities. See all SJPL events.
The Children's Discovery Museum of San Jose will be holding a Diwali celebration on Saturday, November 11, 2023.
See also more Diwali events in the Bay Area!
SJPL Books for Children
Interested in learning more about Diwali? Below are some fun SJPL resources for children about this exciting holiday.
Nonfiction Books for Children

Fiction Books for Children