The San José Public Library is committed to connecting and listening to San Jose residents. One way we do this is by visiting public events and talking to our residents and neighbors. What kind of community would you like to live in? What concerns do you have about your neighborhood? What kind of services and programs would you like to have at the library? These are the questions we've been asking and we've been learning a lot about the communities we serve.
6 SJPL Library Branches Share
SJPL library staff members share what they have been learning from the communities they are serving.
Berryessa Branch | Evergreen Branch | Tully Library | Pearl Avenue Branch | Cambrian Branch | Joyce Ellington Branch
Berryessa Branch Library
Berryessa library staff attended the Family Literacy Night at Ruskin Elementary School in March where more than 200 community members attended. Both the Berryessa Branch and the Maker[Space]Ship. Shih Fa Kao, Susan Huynh, and Tam Lam from the Berryessa Branch welcomed 250 patrons to spin their prize wheel, learn more about programs and services, and respond to their community conversation. Participants were offered a giveaway bag and 2 books for participating.
Shih Fa Kao was interviewing patrons by handing out post-its for them to fill out in response to the 4 Ask Questions. He also stood by with a notepad if patrons wanted to tell him more than what they could fit on a post-it. On the table, was information about library resources and programs, and he answered any questions that patrons had. Meanwhile, Susan Huynh told patrons about the library's World of Pokémon program while helping Tam Lam with the prize wheel.
From our conversations, we learned that patrons want a kind, clean, collaborative, diverse, supportive, kid-friendly, responsible, open-minded, loving, caring, educational, and inclusive community that encourages growth and more diversity. When asked how that is different than what they see now, they replied that there is trash in the community, isolated families, people who are afraid of those who are different from them and not very open-minded, break-ins, and a lack of community events. In response to what the library could do to create the community they want, their response varied greatly. Responders said that they thought the library could practice PBIS/Character Counts! with youth, have more books about recycling and trash, more events for kids of all ages, and more books with diverse characters and written by diverse authors. When asked whether they face any challenges with accessing the Internet, most said no.
Evergreen Branch Library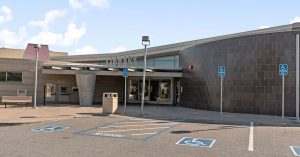 SJPL Librarians attended STEM Day at the Vietnamese American Cultural Center on March 11, 2023 which attracted more than 300 participants and more than 10 organizations and educational units.
Binh Tran from Village Square Branch Library and Binh Quan from Evergreen Branch Library welcomed 250 customers to participate in their lantern-making activities, community conversations, goody bag giveaways, and prize raffling. While Binh Tran was busy interviewing patrons and marking down what they shared with us, Binh Quan promoted library services, activities, and programs for the communities. "Life-long learning and fun events for the whole family" was the slogan for SJPL. We welcomed people from all walks of life and ethnicities to our booth.  Many children and their grandparents spent time with us and they showed their interest in our fun activities.
From our conversations, we learned that patrons want safety, diversity, and good education and opportunities for their kids. Safe and affordable housing is also one of their concerns. They wished that we can provide more children's educational programs for technology, sciences, and arts. They were surprised to learn that we are lending hotspots, Chromebooks, and iPads to patrons.
A number of patrons registered for the next Digital Literacy Workshop in Vietnamese which is organized monthly. One patron expressed her gratitude to the library to organize such classes for seniors.  She said, when she was young, she couldn't find time to learn about technology.  Now, technology is developing so quickly, and she wanted to manage her online activities and expand her knowledge through learning and practicing.
Tully Branch Library
On March 15, 2023 the Tully Branch Library hosted a Family Literacy Night for four Family Resource Centers (FRC) Educare, ICAN, ROOTS, and Shirakawa.  Families from these four FRCs were invited to join our event because the San Jose Public Library has Bridge Libraries at their center.
Over 150 people from the Bridge Libraries came to enjoy delicious food, make crafts, play games, and enjoy some entertainment. About 80% of the families were Spanish and Vietnamese speaking and said it was the first time they have been to the Tully Library.
During the program we used paper forms of the engagement questions translated into different languages. We learned that families want to live in a community where people know their neighbors, help each other out and are more connected. Families want to be more connected to resources in their community and would love to have more events where the community is brought together.
Overall, families were thankful to be invited to our Family Literacy Night. They said they were thankful to have a library so close by with so many resources. They will be using the library more often from now on.
Pearl Avenue Branch Library
Pearl Avenue staff, upon talking with their community this quarter learned some of the following things:
Neighbors want a community that is safe and clean, where people care for one another.  They want health & happiness for all and want to know how to make this happen. They are interested in having a trusting community where you can leave your doors unlocked and kids can play even after dark. It would be safe and fun, happy, and just a safe place for their kids.
Upon talking to neighbors about what they currently see, they heard that there are more shopping carts where I live that people use for personal belongings. They see homelessness everywhere in their neighborhood. They pass by mentally ill and ask themselves. How do we help?
Can the library do anything to help achieve the kind of community they want to live in?  The response was to provide more info on how to report safety, cleanliness, problem, sanitary. Provide more tutoring for kids that need help. Upper graders help lower grades. Younger kids could read to elderly. We would love exercise classes held in your community room like Tai Chi & Line Dancing.
The Pearl Avenue community also shared comments about the library and how it could best serve it's neighborhoods. This included: Not sure how the library can help having more computers, more community events, classes for kids 8 and above, and more volunteer work for the kids. Someone said, "If you can open at 7am that would be great."  In terms of collections, they would like more computer, science books & study habit for people. such as Java, C++, Python. More new Chinese books such as the top seller books in Chinese for 2022/2023. More books on coins and currency and more books on the history of the world, specifically citing India. Someone suggested adding post office boxes at libraries.
Cambrian Branch Library
Cambrian Library has two separate areas inside their library to engage with the community.  Some of the common themes they have heard from their users are generally positive and uplifting.  They include comments such as, "I like to live in a safer, friendly, kind, respectful community." "Thank you for being open, kind, and peaceful." "More senior programs."
There are often requests for different kinds of materials and staff let patrons know that it is okay to request materials from other branches, if you can't find what you want at a local library!
Other common requests are for different programs such as, "Your educational programs are great!  More educational programs for kids." "More food programs!" "Computer programs for adults"
Library staff let their community know that staff will read the comments they receive and they will then forward common themes to Library management for further review and possible action. If there are requests for programs, Library Staff will try to accommodate. For instance, the request for senior programs resulted in the Tour of the Camden Community Center, which has vibrant classes for active adults 50+.
It's been great hearing from the community.
Joyce Ellington Branch Library
On the sunny spring Friday morning of March 24, 2023, Joyce Ellington librarian Marc went to nearby Backesto Park to speak to members of the community. If you visit Backesto Park on any day of the week, you will likely find people playing tennis, soccer, basketball, wall ball, cricket, and sometimes bocce ball. On this morning, Marc set up a table with resources and free books to give away and engaged people out for their morning walks, people finishing their sports games, and people passing through the park. It is always great to bring library information and services beyond the library building and into other community spaces.
While informing community members about lesser-known library services and giving away free books, Marc utilized SJPL's 4 Ask Questions to hear directly from community members what they would like to see in their communities and at their library. Many people responded that their ideal community was one that is friendly, helpful, nice, fun, inclusive, educational, and supportive. Many respondents also mentioned that the library supports people of all ages in their learning, interests, and social life. Some respondents suggested creative ideas for libraries to support community members through music and dance programs for all ages, as well as supportive resources for families experiencing difficult situations.
Hearing directly from community members is one of the best ways to learn how to better SJPL's programs, resources, and services. Fostering lifelong learning is a part of SJPL's mission and we love to learn from you!