I love you. I love you.
If you haven't figured it out yet, I'm kind of obsessed with love and romance books. And I love a good romance trope. One of my absolute favorites is enemies-to-lovers but there is another that can be just as wonderfully agonizing and tension-filled: friends-to-lovers.
Two mutual friends who realize that they care for each other maybe just a little bit more. Or the friend who has pined for the other and shoves those romantic feelings aside in fear of losing the other person. It takes a serious amount of bravery to make the jump from friends to more-than-friends. If things don't work out, you might lose the other half of all your inside jokes. If they do, you get the comfort of being in a relationship with someone who already gets your weird sense of humor. Or you might wind up in the rare third category, where you decide you're better off as friends and everything continues as normal.
So for this Tropes Sprint Eternal, we've highlighted a bunch of our favorite friends-to-lovers YA fiction.
Henry "Monty" Montague was born and bred to be a gentleman, but he was never one to be tamed. The finest boarding schools in England and the constant disapproval of his father haven't been able to curb any of his roguish passions—not for gambling halls, late nights spent with a bottle of spirits, or waking up in the arms of women or men.
But as Monty embarks on his Grand Tour of Europe, his quest for a life filled with pleasure and vice is in danger of coming to an end. Not only does his father expect him to take over the family's estate upon his return, but Monty is also nursing an impossible crush on his best friend and traveling companion, Percy.
Still it isn't in Monty's nature to give up. Even with his younger sister, Felicity, in tow, he vows to make this yearlong escapade one last hedonistic hurrah and flirt with Percy from Paris to Rome. But when one of Monty's reckless decisions turns their trip abroad into a harrowing manhunt that spans across Europe, it calls into question everything he knows, including his relationship with the boy he adores.
---
Top Ten by Katie Cotugno
Ryan McCullough and Gabby Hart are the unlikeliest of friends. Introverted, anxious Gabby would rather do literally anything than go to a party. Ryan is a star hockey player who can get any girl he wants—and does, frequently. But against all odds, they became not only friends, but each other's favorite person. Now, as they face high school graduation, they can't help but take a moment to reminisce and, in their signature tradition, make a top ten list—counting down the top ten moments of their friendship:
10. Where to begin? Maybe the night we met.
9. Then there was our awkward phase.
8. When you were in love with me but never told me…
7. Those five months we stopped talking were the hardest of my life.
6. Through terrible fights…
5. And emotional makeups.
4. You were there for me when I got my heart broken.
3. …but at times, you were also the one breaking it.
2. Above all, you helped me make sense of the world.
1. Now, as we head off to college—how am I possibly going to live without you?
---
Birthday by Meredith Russo
Eric: There was the day we were born. There was the minute Morgan and I decided we were best friends for life. The years where we stuck by each other's side--as Morgan's mom died, as he moved across town, as I joined the football team, as my parents started fighting. But sometimes I worry that Morgan and I won't be best friends forever. That there'll be a day, a minute, a second, where it all falls apart and there's no turning back the clock.
Morgan: I know that every birthday should feel like a new beginning, but I'm trapped in this mixed-up body, in this wrong life, in Nowheresville, Tennessee, on repeat. With a dad who cares about his football team more than me, a mom I miss more than anything, and a best friend who can never know my biggest secret. Maybe one day I'll be ready to become the person I am inside. To become her. To tell the world. To tell Eric. But when?
Six years of birthdays reveal Eric and Morgan's destiny as they come together, drift apart, fall in love, and discover who they're meant to be--and if they're meant to be together.
---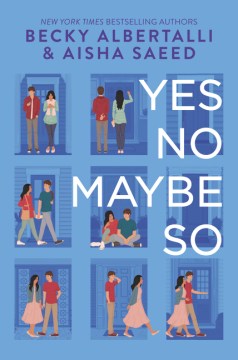 Yes No Maybe So by Becky Albertalli & Aisha Saeed
YES
Jamie Goldberg is cool with volunteering for his local state senate candidate—as long as he's behind the scenes. When it comes to speaking to strangers (or, let's face it, speaking at all to almost anyone), Jamie's a choke artist. There's no way he'd ever knock on doors to ask people for their votes…until he meets Maya.
NO
Maya Rehman's having the worst Ramadan ever. Her best friend is too busy to hang out, her summer trip is canceled, and now her parents are separating. Why her mother thinks the solution to her problems is political canvassing—with some awkward dude she hardly knows—is beyond her.
MAYBE SO
Going door to door isn't exactly glamorous, but maybe it's not the worst thing in the world. After all, the polls are getting closer—and so are Maya and Jamie. Mastering local activism is one thing. Navigating the cross-cultural romance of the century is another thing entirely.
---
Nathan Bird doesn't believe in happy endings.
Although he's the ultimate film buff and an aspiring screenwriter, Nate's seen the demise of too many relationships to believe that happy endings exist in real life.
Playing it safe to avoid a broken heart has been his MO ever since his father died and left his mom to unravel—but this strategy is not without fault. His best-friend-turned-girlfriend-turned-best-friend-again, Florence, is set on making sure Nate finds someone else. And in a twist that is rom-com-worthy, someone does come along: Oliver James Hernández, his childhood best friend.
After a painful mix-up when they were little, Nate finally has the chance to tell Ollie the truth about his feelings. But can Nate find the courage to pursue his own happily ever after?
---
Charlie likes to stand out. She's a vlogger and actress promoting her first movie at SupaCon, and this is her chance to show fans she's over her public breakup with co-star Reese Ryan. When internet-famous cool-girl actress Alyssa Huntington arrives as a surprise guest, it seems Charlie's long-time crush on her isn't as one-sided as she thought.
Taylor likes to blend in. Her brain is wired differently, making her fear change. And there's one thing in her life she knows will never change: her friendship with her best guy friend Jamie—no matter how much she may secretly want it to. But when she hears about a fan contest for her favorite fandom, she starts to rethink her rules on playing it safe.
---
Further Reading