With the recent confirmation of alien lifeforms at Congress' UFO hearing, we thought a list of YA books featuring extraterrestrial encounters, out-of-this-world friendships, and thrilling intergalactic escapades was just what we needed.
Whether you're an avid sci-fi enthusiast or new to the genre, you are sure to find some truth in these novels featuring aliens and outer space.
Sci-Fi Recommendations
Pedro, Luna, and Rafa may attend Fairfax High School together in Los Angeles, but they run in separate spheres. Pedro is often told that he's "too much" and seeks refuge from his home life in a local drag bar. Luna is pretending to go along with the popular crowd but is still grieving the unexpected passing of her beloved cousin Tasha. Then there's Rafa, the quiet new kid who is hiding the fact that his family is homeless.
But Pedro, Luna, and Rafa find themselves thrown together when an extraterrestrial visitor lands in their city and takes the form of Luna's cousin Tasha. As the Visitor causes destruction wherever it goes, the three teens struggle to survive and warn others of what's coming--because this Visitor is only the first of many. But who is their true enemy--this alien, or their fellow humans? Can Pedro, Luna, and Rafa find a way to save a world that has repeatedly proven it doesn't want to save them?
---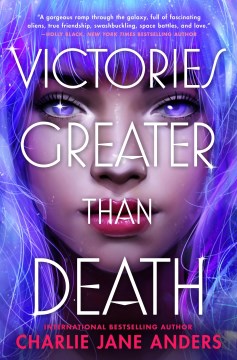 Tina has always known her destiny is outside the norm—after all, she is the human clone of the most brilliant alien commander in all the galaxies (even if the rest of the world is still deciding whether aliens exist). But she is tired of waiting for her life to begin.
And then it does—and maybe Tina should have been more prepared. At least she has a crew around her that she can trust—and her best friend at her side. Now, they just have to save the world.
---
Almost everyone in the small town of Splendor, Ohio, was affected when the local steel mill exploded. If you weren't a casualty of the accident yourself, chances are a loved one was. That's the case for seventeen-year-old Franny, who, five years after the explosion, still has to stand by and do nothing as her brother lies in a coma.
In the wake of the tragedy, Franny found solace in a group of friends whose experiences mirrored her own. The group calls themselves The Ordinary, and they spend their free time investigating local ghost stories and legends, filming their exploits for their small following of YouTube fans. It's silly, it's fun, and it keeps them from dwelling on the sadness that surrounds them.
Until one evening, when the strange and dangerous thing they film isn't fiction–it's a bright light, something massive hurdling toward them from the sky. And when it crashes, and the teens go to investigate…everything changes.
---
It's been three years since ICE raids and phone calls from Mexico and an ill-fated walk across the Sonoran. Three years since Sia Martinez's mom disappeared. Sia wants to move on, but it's hard in her tiny Arizona town where people refer to her mom's deportation as "an unfortunate incident."
Sia knows that her mom must be dead, but every new moon Sia drives into the desert and lights San Anthony and la Guadalupe candles to guide her mom home.
Then one night, under a million stars, Sia's life and the world as we know it cracks wide open. Because a blue-lit spacecraft crashes in front of Sia's car…and it's carrying her mom, who's very much alive.
As Sia races to save her mom from armed-quite-possibly-alien soldiers, she uncovers secrets as profound as they are dangerous in this stunning and inventive exploration of first love, family, immigration, and our vast, limitless universe.
---
Paige Miller is determined to take her basketball team to the state championship, maybe even beyond. But as March Madness heats up, Paige falls deathly ill. Days later, she wakes up attached to an IV and learns that the whole world has perished. Everyone she loves, and all of her dreams for the future—they're gone.
But Paige is a warrior, so she pushes through her fear and her grief. And as she gets through each day—scrounging for food, for shelter, for safety—Paige encounters a few more young survivors. Together, they might stand a chance. But as they struggle to endure their new reality, they learn that the apocalypse did not happen by accident. And that there are worse things than being alone.
---
Starling by Isabel Strychacz
Strange things have always happened in the small town of Darling…Yet Delta Wilding and her sister Bee are familiar with the peculiar. Raised by an eccentric father always on the hunt for the spectacular, they're used to following weather patterns that twirl onto strange paths, a car that refuses to play any artist but one, and living in a sentient house with whims of its own. But when a mysterious boy falls from the stars into the woods behind the Wilding sisters' farmhouse, nothing can prepare them for the extraordinary turn their lives are about to take.
Extraordinary, and dangerous.
Starling Rust is not from this world and his presence in the Wilding home brings attention. As the terrified locals, Delta's ex-boyfriend, and the unscrupulous mayor descend onto the Wilding's home, both Delta and her sister go to incredible lengths to protect their mystical visitor--especially as Delta's growing feelings for Starling could prove the greatest risk of all.
---
Further Reading