The beginning of September turns our attention to an important and sensitive topic: Suicide Prevention Awareness Month. It's a time when communities unite to shine a light on the often-shrouded issue of suicide and offer support to those who need it most. Young adult literature has always been a powerful tool as books possess a unique ability to connect with readers, especially teenagers, on a deeply personal level, making them an invaluable resource for raising awareness about mental health issues and offering hope to those in need.
This post explores books that not only tackle the sensitive subject of suicide prevention but also inspire resilience, foster understanding, and nurture compassion. Stories have the power to connect with readers on a deeply personal level. These YA books not only address the critical subject of suicide prevention but also encourage dialogue, raise awareness, and offer solace during Suicide Prevention Awareness Month.


Recommendations
Maybelline Chen isn't the Chinese Taiwanese-American daughter her mother expects her to be. May prefers hoodies over dresses and wants to become a writer. When asked, her mom can't come up with one specific reason why she's proud of her only daughter. May's beloved brother, Danny, on the other hand, has just been admitted to Princeton. But Danny secretly struggles with depression, and when he dies by suicide, May's world is shattered.
In the aftermath, racist accusations are hurled against May's parents for putting too much "pressure" on him. May's father tells her to keep her head down. Instead, May challenges these ugly stereotypes through her writing. Yet the consequences of speaking out run much deeper than anyone could foresee. Who gets to tell our stories, and who gets silenced? It's up to May to take back the narrative.
---
Two teenagers, strangers to each other, have decided to jump from the same bridge at the same time.
Aaron and Tillie don't know each other, but they are both feeling suicidal and arrive at the George Washington Bridge at the same time, intending to jump. Aaron is a gay misfit struggling with depression and loneliness. Tillie isn't sure what her problem is -- only that she will never be good enough.
On the bridge, there are four things that could happen:
Aaron jumps and Tillie doesn't.
Tillie jumps and Aaron doesn't.
They both jump.
Neither of them jumps.
---
It's the summer before senior year. Reid is in the thick of Scofield High's in-crowd thanks to her best friend, Hattie, who has been her social oxygen since middle school. But summer is when Hattie goes to her family's Maine island home. Instead of sitting inside for eight weeks, waiting for her to return, Reid and their friend, Sam, enter into a pact—to live it up, one party at a time. But days before Hattie is due home, Reid finds out the shocking news that Hattie has died by suicide. Driven by a desperate need to understand what went wrong, Reid searches for answers. In doing so, she uncovers painful secrets about the person she thought she knew better than herself. And the truth will force Reid to reexamine everything.
---
Seventeen-year-old Jules grew up in her mother's spotlight. A "parenting influencer," Britt shares details of her daughter's life-pictures, intimate stories, insecurities, all-to a point that becomes unbearable to Jules.
And suddenly she's gone.
Natalie has only barely begun to grieve her best friend Jules's death when Britt announces her plans to publish a memoir that will dissect Jules's life and death. But Nat knows the truth behind Britt's "perfect" Instagram feed-Jules hated the pressure, the inauthenticity, the persona. There's so much more to Jules than Britt and her followers could ever know. As Nat connects with Jules's boyfriend, Carter, and their shared grief and guilt bonds them, she becomes determined to expose Britt, to understand what really happened, and who is to blame.
---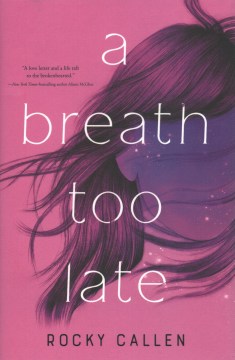 Seventeen-year-old Ellie had no hope left. Yet the day after she dies by suicide, she finds herself in the midst of an out-of-body experience. She is a spectator, swaying between past and present, retracing the events that unfolded prior to her death.
But there are gaps in her memory, fractured pieces Ellie is desperate to re-assemble. There's her mother, a songbird who wanted to break free from her oppressive cage. The boy made of brushstrokes and goofy smiles who brought color into a gray world. Her brooding father, with his sad puppy eyes and clenched fists. Told in epistolary-like style, this deeply moving novel sensitively examines the beautiful and terrible moments that make up a life and the possibilities that live in even the darkest of places.
---
Eighteen-year-old Del is in a healthier place than she was a year and a half ago: She's sober, getting treatment for her depression and anxiety, and volunteering at a suicide-prevention hotline. Her own suicide attempt is in the past, and living in San Francisco with her beloved aunt has helped her see a future for herself. But when Aunt Fran is diagnosed with terminal cancer, Del's equilibrium is shattered. As she struggles to care for her aunt, along with a looming first semester of college, and a visiting childhood crush, she has no choice but to prepare herself for the inevitable. Del must confront her own demons and rethink everything she thought she knew about life and death.
---
Further Reading