In anticipation of Taylor Swift's tenth studio album, Midnights, we have matched books to six of her earlier songs that all mention the word 'midnight.'
The album concept is focused on music written at night that grapples with fears, worries, and other things that keep you from a peaceful sleep. Swift called the album the "stories of 13 sleepless nights" throughout her life and encouraged her fans to meet her at midnight.
22 (Taylor's Version)
It feels like a perfect night

For breakfast at midnight

To fall in love with strangers

Fresh by Margot Wood
Some students enter their freshman year of college knowing exactly what they want to do with their lives. Elliot McHugh is not one of those people. But picking a major is the last thing on Elliot's mind when she's too busy experiencing all that college has to offer—from dancing all night at off-campus parties, to testing her RA Rose's patience, to making new friends, to having the best sex one can have on a twin-sized dorm room bed.
But she may not be ready for the fallout when reality hits. When the sex she's having isn't that great. When finals creep up and smack her right in the face. Or when her roommate's boyfriend turns out to be the biggest a-hole. Elliot may make epic mistakes, but if she's honest with herself (and with you, dear reader), she may just find the person she wants to be. And maybe even fall in love in the process . . . Well, maybe.
---
Style
Midnight

You come and pick me up, no headlights

Long drive

With and Without You by Emily Wibberley and Austin Siegemund-Broka
If high school seniors Siena and Patrick were a superlative, they'd be the Couple Most Likely to Marry. They've been dating for three solid years, and everyone agrees they're perfect for each other. But with college on the horizon, Siena begins to wonder whether staying together is the best idea. Does she really want to be tied down during possibly the most transformative years of her life?
So she makes a decision to break up with Patrick, convincing herself it's for the best. Before she can say the words, though, he beats her to the punch: his family is moving out of state. Caught off guard by the news, Siena agrees to stay with Patrick, believing their relationship will naturally fizzle out with time and distance. But over a series of visits throughout the school year, Siena begins to see a different side of Patrick--one that has her falling in love with him all over again.
---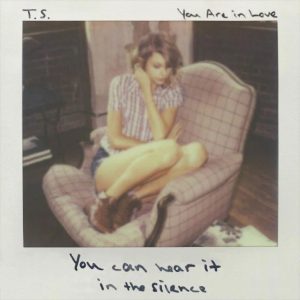 You Are In Love
Small talk, he drives

Coffee at midnight

Blackout by Dhonielle Clayton, Tiffany D. Jackson, Nic Stone, Angie Thomas, Ashley Woodfolk, & Nicola Yoon
A summer heatwave blankets New York City in darkness. But as the city is thrown into confusion, a different kind of electricity sparks...
A first meeting.
Long-time friends.
Bitter exes.
And maybe the beginning of something new.
When the lights go out, people reveal hidden truths. Love blossoms, friendship transforms, and new possibilities take flight.
---
New Year's Day
I want your midnights

But I'll be cleaning up bottles with you on New Year's Day

What does it really mean to be kind . . . and why does it sometimes feel like the hardest thing in the world to do? High school senior Kendall, who just returned from a life-changing semester in Europe, and Max, who is drifting his way through a gap year before college, struggle with these questions when they witness a tragic accident in New York City during the holiday season. Racked with guilt, the two accept a dare to perform random acts of kindness to strangers. The challenge pulls these two teens, who have a history together from back home, closer and closer as they explore a vibrant city filled with other people's stories and secrets.
Kendall and Max can't deny their growing bond, even though they both have other romantic entanglements and uncertain futures. As the clock counts down on New Year's Eve, will they find themselves together at midnight?
---
The Last Great American Dynasty
They say she was seen on occasion

Pacing the rocks, staring out at the midnight sea

Meet Daisy Winters. She's an offbeat sixteen-year-old Floridian with mermaid-red hair, a part-time job at a bootleg Walmart, and a perfect older sister who's nearly engaged to the Crown Prince of Scotland. Daisy has no desire to live in the spotlight, but relentless tabloid attention forces her join Ellie at the relative seclusion of the castle across the pond.
While the dashing young Miles has been appointed to teach Daisy the ropes of being regal, the prince's roguish younger brother kicks up scandal wherever he goes, and tries his best to take Daisy along for the ride. The crown--and the intriguing Miles--might be trying to make Daisy into a lady . . . but Daisy may just rewrite the royal rulebook to suit herself.

---
Happiness
From the dress I wore at midnight, leave it all behind

And there is happiness

Some love stories aren't meant to last.
Stella lives with depression, and her goals for junior year are pretty much limited to surviving her classes, staying out of her parents' constant fights and staving off unwanted feelings enough to hang out with her friends Lin and Katie.
Until Kevin. A quiet, wry senior who understands Stella and the lows she's going through like no one else. With him, she feels less lonely, listened to—and hopeful for the first time since ever…
But to keep that feeling, Stella lets her grades go and her friendships slide. And soon she sees just how deep Kevin's own scars go. Now little arguments are shattering. Major fights are catastrophic. And trying to hold it all together is exhausting Stella past the breaking point. With her life spinning out of control, she's got to figure out what she truly needs, what's worth saving—and what to let go.
---

If you enjoy Taylor Swift and YA novels be sure to check out these other reading lists: