New year! New books! New reading goals!
The first month of the new year has now passed, and with it, some fantastic YA books have been released, setting the bar high of what is sure to be a fabulous year of stories! From fantasy to history to contemporary – and some with a splash of each – LGBTQ+ romances and refreshing thrillers, there is a young adult book in the new year for everyone.
So if your New Year's Resolution is to read more books, this list of January young adult releases is sure to start your year off right!
January 2022 Releases
Vira is desperate to get out of her mother's shadow and establish her legacy as a revered queen of Ashoka. But with the country's only quarry running out of magic–a precious resource that has kept Ashoka safe from conflict–she can barely protect her citizens from the looming threat of war. And if her enemies discover this, they'll stop at nothing to seize the last of the magic.
Vira's only hope is to find a mysterious object of legend: the Ivory Key, rumored to unlock a new source of magic. But in order to infiltrate enemy territory and retrieve it, she must reunite with her siblings, torn apart by the different paths their lives have taken. Each of them has something to gain from finding the Ivory Key–and even more to lose if they fail. Ronak plans to sell it to the highest bidder in exchange for escape from his impending political marriage. Kaleb, falsely accused of assassinating the former maharani needs it to clear his name. And Riya, a runaway who cut all family ties, wants the Key to prove her loyalty to the rebels who want to strip the nobility of its power.
They must work together to survive the treacherous journey. But with each sibling harboring secrets and their own agendas, the very thing that brought them together could tear apart their family–and their world–for good.
---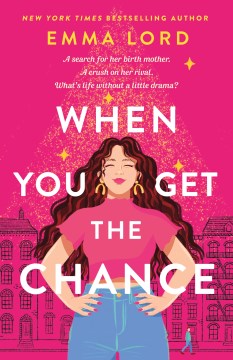 Nothing will get in the way of Millie Price's dream to become a Broadway star. Not her lovable but super-introverted dad, who after raising Millie alone, doesn't want to watch her leave home to pursue her dream. Not her pesky and ongoing drama club rival, Oliver, who is the very definition of Simmering Romantic Tension. And not the "Millie Moods," the feelings of intense emotion that threaten to overwhelm, always at maddeningly inconvenient times. Millie needs an ally. And when a left-open browser brings Millie to her dad's embarrassingly moody LiveJournal from 2003, Millie knows just what to do. She's going to find her mom.
There's Steph, a still-aspiring stage actress and receptionist at a talent agency. There's Farrah, an ethereal dance teacher who clearly doesn't have the two left feet Millie has. And Beth, the chipper and sweet stage enthusiast with an equally exuberant fifteen-year-old daughter (A possible sister?! This is getting out of hand). But how can you find a new part of your life and expect it to fit into your old one, without leaving any marks? And why is it that when you go looking for the past, it somehow keeps bringing you back to what you've had all along?
---
Edinburgh, 1817.
Hazel Sinnett is a lady who wants to be a surgeon more than she wants to marry.
Jack Currer is a resurrection man who's just trying to survive in a city where it's too easy to die.
When the two of them have a chance encounter outside the Edinburgh Anatomist's Society, Hazel thinks nothing of it at first. But after she gets kicked out of renowned surgeon Dr. Beecham's lectures for being of the wrong gender, she realizes that her new acquaintance might be more helpful than she first thought. Because Hazel has made a deal with Dr. Beecham: if she can pass the medical examination on her own, the university will allow her to enroll. Without official lessons, though, Hazel will need more than just her books – she'll need bodies to study, corpses to dissect.
Lucky that she's made the acquaintance of someone who digs them up for a living, then.
But Jack has his own problems: strange men have been seen skulking around cemeteries, his friends are disappearing off the streets. Hazel and Jack work together to uncover the secrets buried not just in unmarked graves, but in the very heart of Edinburgh society.
---
Growing up on the moon, Xingyin is accustomed to solitude, unaware that she is being hidden from the feared Celestial Emperor who exiled her mother for stealing his elixir of immortality. But when Xingyin's magic flares and her existence is discovered, she is forced to flee her home, leaving her mother behind.
Alone, powerless, and afraid, she makes her way to the Celestial Kingdom, a land of wonder and secrets. Disguising her identity, she seizes an opportunity to learn alongside the emperor's son, mastering archery and magic, even as passion flames between her and the prince.
To save her mother, Xingyin embarks on a perilous quest, confronting legendary creatures and vicious enemies across the earth and skies. But when treachery looms and forbidden magic threatens the kingdom, she must challenge the ruthless Celestial Emperor for her dream—striking a dangerous bargain in which she is torn between losing all she loves or plunging the realm into chaos.
---
All Luis Gonzalez wants is to go to prom with his boyfriend, something his "progressive" school still doesn't allow. Not after what happened with Chaz Wilson. But that was ages ago when Luis's parents were in high school; it would never happen today, right? He's determined to find a way to give his LGBTQ friends the respect they deserve (while also not risking his chance to be prom king, just saying…).
When a hit on the head knocks him back in time to 1985 and he meets the doomed young Chaz himself, Luis concocts a new plan-he's going to give this guy his first real kiss. Though it turns out a conservative school in the '80s isn't the safest place to be a gay kid. Especially with homophobes running the campus, including Gordo (aka Luis's estranged father). Luis is in over his head, trying not to make things worse-and hoping he makes it back to the present-day at all.
---
Joy Abara knows her place. A commoner from the lowly planet Hali, she lives a simple life—apart from the notoriety that being Kindred to the nobility's most infamous playboy brings.
Duke Felix Hamdi has a plan. He will exasperate his noble family to the point that they agree to let him choose his own future and finally meet his Kindred face-to-face.
Then the royal family is assassinated, putting Felix next in line for the throne…and accused of the murders. Someone will stop at nothing until he's dead, which means they'll target Joy, too. Meeting in person for the first time as they steal a spacecraft and flee amid chaos might not be ideal…and neither is crash-landing on the strange backward planet called Earth. But hiding might just be the perfect way to discover the true strength of the Kindred bond and expose a scandal—and a love—that may decide the future of a galaxy.
---
Further Reading