It's the most wonderful time of the year! And the penultimate day in 2022 seems like the best time to look back at this month and see the last of the books released this year before we turn our eye forward to all of the excellent books to come in 2023.
December 2022 Releases
Outsiders are always given a choice: the Forest or the lake. Either way, they're never heard from again.
Leelo has spent her entire life on Endla, coexisting with the bloodthirsty Forest and respecting the poisonous lake that protects her island from outsiders who seek to destroy it. But as much as Leelo cares for her community, she struggles to accept that her younger brother will be exiled by his next birthday, unless he gains the magic of enchanted song so vital to Endla.
When Leelo sees a young outsider on the verge of drowning in the lake, she knows exactly what she's supposed to do. But in a moment that will change everything, Leelo betrays her family, her best friend, and Endla by making an unthinkable choice.
Discovery could lead to devastating consequences for both Leelo and the outsider, Jaren, but as they grow closer, Leelo realizes that not all danger comes from beyond the lake—and they can only survive if Leelo is willing to question the very fabric of her society, her people, and herself.
---
A thief. An artist. A acrobat. An actress. While Josefa, Emilie, Hinnah, and Violet seemingly don't have anything in common, they're united in one goal: stealing the Rubaiyat, a jewel-encrusted book aboard the RMS Titanic that just might be the golden ticket to solving their problems.
But careless mistakes, old grudges, and new romance threaten to jeopardize everything they've worked for and put them in incredible danger when tragedy strikes. While the odds of pulling off the heist are slim, the odds of survival are even slimmer . . .
---
Queer actor Lily Ashton has found fame playing lesbian warrior Morgantha on the hit TV show Galaxy Spark. Lily knows how little representation queer girls have, so when the showrunners reveal that Morgantha's on-screen love interest, Alietta, is going to be killed off, Lily orchestrates an elaborate fake-dating scheme with the standoffish actress who plays her, to generate press and ensure a happy ending for the #Morganetta ship.
But while playing a doting girlfriend on and offscreen, Lily struggles with whether a word like "girl" applies to them at all. Their male online gaming persona, Frey, feels more authentically them than the curvy body they see in the mirror, and coming out as nonbinary to the crush they meet in an MMORPG makes them feel like they've got a shot at a real-world happily ever after. #Morganetta means so much to so many people, though, so Lily decides to keep presenting as female to the world and continue the dating charade. Even as they genuinely bond with their costar, they can't ignore how much it hurts to be something they're not.
Lily's always been good at playing a part. But are they ready to share their real self, even if it means throwing everything they've fought for away?
---
Lumara by Melissa Landers
The answers lie within.
Boarding school student Talia Morris has no idea her boyfriend, Nathaniel, is a Mystic, let alone second in line to the throne of a secretive, aspirational magical community―one no mortal has ever been allowed to step inside. Until now. Nathanial's cousin is about to be married in the biggest wedding the magical world has ever seen, and Nathaniel is allowed to bring a date. Talia is the lucky recipient of the golden ticket every Mystic wannabe in the world would kill for―only she doesn't want it. Talia thinks Mystic worship is lame and stupid and unnecessarily aggrandizes people for being born a certain way. When she finds out Nathaniel is "one of them," she almost jumps ship. But Nathaniel loves her, and she loves him. So when he begs her to give his family and their community a shot, she reluctantly agrees.
Enter the most fantastical world any mortal has ever seen, and the coolest magical wedding ever. After a few days of bonding with Nathaniel's family on the island, of seeing how beautiful their magic is and how peaceful their community, Talia's about to be won over―until the entire wedding party suddenly falls into an unexplainable coma and the community goes on lockdown. Talia, the outsider, is pegged as the culprit and has to do everything in her meager non-power to prove her innocence. As she embarks on a journey to find the truth, Talia soon discovers reality is not all it seems, and her past may put her in more danger than she ever imagined.
---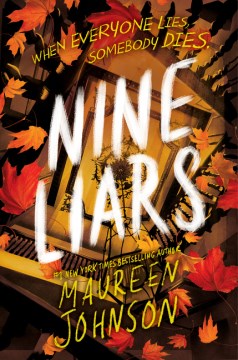 Senior year at Ellingham Academy for Stevie Bell isn't going well. Her boyfriend, David, is studying in London. Her friends are obsessed with college applications. With the cold case of the century solved, Stevie is adrift. There is nothing to distract her from the questions pinging around her brain—questions about college, love, and life in general.
Relief comes when David invites Stevie and her friends to join him for study abroad, and his new friend Izzy introduces her to a double-murder cold case. In 1995, nine friends from Cambridge University went to a country house and played a drunken game of hide-and-seek. Two were found in the woodshed the next day, murdered with an ax.
The case was assumed to be a burglary gone wrong, but one of the remaining seven saw something she can't explain. This was no break-in. Someone's lying about what happened in the woodshed.
Seven suspects. Two murders. One killer still playing a deadly game.
---
Once, Esta believed that she could change the fate of magic. She traveled to the past and stopped the Magician from destroying a mystical book that held the key to freeing her people from the Brink, an energy barrier that traps all Mageus who cross it.
But the Book was more than she bargained for. So was the Magician she was tasked to steal it from.
Hunted by an ancient evil, Esta and Harte have raced through time and across a continent to track down the powerful artifacts they need to bind the Book's devastating power. They've lost family, betrayed friends, and done what they'd both vowed never to do: fallen in love with the one person who could truly destroy them.
Now, with only one artifact left, their search has brought them back to New York, the city where it all began. But nothing in Manhattan is as they left it. Their friends have scattered, their enemies have grown more powerful, and as the deadly Brink beckons, their time is running out.
If they can't find a way to end the threat they've created, then the very heart of magic will die—and it will take the world down with it.
---
Further Reading