There's nothing quite like the friends-to-lovers storyline. It's about that person who knows you inside out, has been there for every major moment in your life, and loves every part of you. It's like they've always been there, but now we're kissing. The best part? No need to worry about scaring them off with your past or secrets because they already know everything. It's like a cozy cup of tea, reliable and heartwarming.
These books have all kinds of friends-to-lovers tales. Some characters go from friends to lovers in no time, while others take a longer journey or even become enemies before finding their way back. Whether you want a summer crush finally coming true, best friends saving the day and falling in love, or a fake-dating scheme that uncovers hidden feelings, there's a book here for you.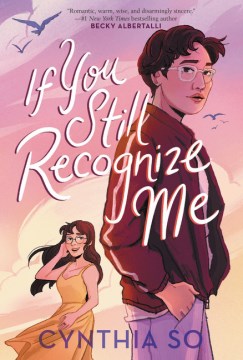 Elsie has a crush on Ada, the only person in the world who truly understands her. Unfortunately, they've never met in real life, and Ada lives an ocean away. But Elsie has decided it's now or never to tell Ada how she feels. That is until her long-lost best friend Joan walks back into her life.
In a summer of repairing broken connections and building surprising new ones, Elsie realizes that she isn't nearly as alone as she thought. But now she has a choice to make...
---
Saine Sinclair knows a little something about what makes a story worth telling.
Your childhood best friend refuses to kiss you during a pre-adolescent game of spin the bottle? Terrible, zero stars, would not replay that scene again. The same ex-friend becomes your new best friend's ex? Strangely compelling, unexpected twist, worth a hate-watch. That same guy--why is he always around?--turns out to be your last shot at getting into the documentary filmmaking program of your dreams?
Saine hates to admit it, but she'd watch that movie.
There's something about Holden that makes her feel like she's the one in front of the camera--like he can see every uncomfortable truth she's buried below the surface. Saine knows how her story's supposed to go. So why does every moment with Holden seem intent on changing the ending?
---
Nikki can't wait to leave Texas and follow her dreams of a music career . . . After a painful betrayal by her sister and a heated argument with their mother, Nikki is kicked out and finds herself homeless. She decides to go to California to pursue her singing career. When her best friend, Malachai, discovers her plan to flee Texas, he begs her to spend the remainder of spring break with him. He believes that over the course of a week, he can convince her to stay in Texas or to at least graduate high school. But their plans are interrupted when Nikki's little sister Vae goes missing. Nikki is forced to work alongside her difficult mother as they set off in search of Vae, with Malachai's support.
Will Nikki find a reason to stay in Texas, or will this spring break be the last time she sees them? Through her emotional journey, Nikki ultimately finds the love she's always been missing and discovers the power of her own voice.
---
Liya and Kai had been best friends since they were little kids, but all that changed when a humiliating incident sparked The Biggest Misunderstanding Of All Time—and they haven't spoken since.
Then Liya discovers her family's wishing lantern store is struggling, and she decides to resume a tradition she had with her beloved late grandmother: secretly fulfilling the wishes people write on the lanterns they send into the sky. It may boost sales and save the store, but she can't do it alone . . . and Kai is the only one who cares enough to help.
While working on their covert missions, Liya and Kai rekindle their friendship—and maybe more. But when their feuding families and their changing futures threaten to tear them apart again, can they find a way to make their own wishes come true?
---
You can't always go home again.
Ellis and Easton have been inseparable since childhood. But when a rash decision throws Ellis's life—and her relationship with Easton— into chaos she's forced to move halfway across the country, far from everything she's ever known.
Now Ellis hasn't spoken to Easton in a year, and maybe it's better that way; maybe eventually the Easton shaped hole in her heart will heal. But when Easton's mother invites her home for a celebration, Ellis finds herself tangled up in the web of heartache, betrayal, and anger she left behind... and with the boy she never stopped loving.
---
Inspired by Jane Austen's Persuasion, Seventeen-year-old Reyna has spent most of her life at her family's gorgeous seaside resort in Tobago, the Plumeria. But what once seemed like paradise is starting to feel more like purgatory. It's been two years since Reyna's mother passed away, two years since Aiden – her childhood best friend, first kiss, first love, first everything – left the island to pursue his music dreams. Reyna's friends are all planning their futures and heading abroad. Even Daddy seems to want to move on, leaving her to try to keep the Plumeria running.
And that's when Aiden comes roaring back into her life – as a VIP guest at the resort.
Aiden is now one-third of DJ Bacchanal – the latest, hottest music group on the scene. While Reyna has stayed exactly where he left her, Aiden has returned to Tobago with his Grammy-nominated band and two gorgeous LA socialites. And he may (or may not be) dating one of them…
---
Further Reading