Please enjoy this list of recently published young adult books that explore Black joy, love, fantasy, social justice, and uncomplicated existence. From Black queer and transgender representation to Black fantasy, Black writers are taking on the mantle of portraying young Black people as they are and continue to shift narratives and create a representation of all kinds of Black lives.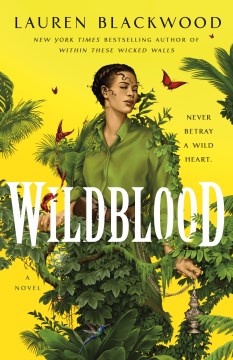 Wildblood by Lauren Blackwood
Eighteen-year-old Victoria is a Wildblood. Kidnapped at the age of six and manipulated by the Exotic Lands Touring Company, she's worked as a tour guide ever since with a team of fellow Wildbloods who take turns using their magic to protect travelers in a Jamaican jungle teeming with ghostly monsters.
When the boss denies Victoria an earned promotion to team leader in favor of Dean, her backstabbing ex, she's determined to prove herself. Her magic may be the most powerful on the team, but she's not the image the boss wants to send their new client, Thorn, a renowned goldminer determined to reach an untouched gold supply deep in the jungle.
Thorn is everything Victoria isn't - confident, impossibly kind, and so handsome he leaves her speechless. And when he entrusts the mission to her, kindness turns to mutual respect, turns to affection, turns to love. But the jungle is treacherous, and between hypnotic river spirits, soul-devouring women that shed their skin like snakes, and her ex out for revenge, Victoria has to decide - is promotion at a corrupt company really what she wants?
---
Ramona Lambert is a typical shy, artistic sixteen-year-old. She has a best friend whom she's known since they were in diapers; parents who love her; a love for cosplay; and a crush on the cute boy in her class.
The only problem? Her best friend moved away; her parents don't quite understand her love of cosplay; and she is pretty sure her crush has no idea she exists.
To escape her troubles, Ramona turns to cosplay and her original character, Rel, who gives her the confidence and freedom that she lacks in real life. Embracing this confidence, she decides to strike up an email conversation with her crush, Caleb Wolfe, from her cosplay account in the hopes getting to know him . . . and maybe win his heart. Then as Caleb and Ramona are swept up in their emails back and forth to each other, and Ramona falls even harder as he opens up about his hopes, insecurities, and his own geeky loves. However, as Caleb starts to grow closer and closer to Rel, he also strikes up a friendship with Ramona, who knows she can't keep the truth about Rel from Caleb but isn't sure she is ready to risk losing him. With an important cosplay convention coming up and the anxiety of her double-life weighing on her, Ramona has to decide if she'll hide behind her cosplay character forever or take the chance and let Caleb see the real her--because he might actually like her for who she is.
---
The prestigious Urban Promise Prep school might look pristine on the outside, but deadly secrets lurk within. When the principal ends up murdered on school premises and the cops come sniffing around, a trio of students—J.B., Ramón, and Trey—emerge as the prime suspects. They had the means, they had the motive—and they may have had the murder weapon. But with all three maintaining their innocence, they must band together to track down the real killer before they are arrested. Or is the true culprit hiding among them?
---
Aaliyah's home life has never been great, but she thought she'd survive her last years of high school with at least her friendships and cross-country stardom intact. That is, until junior year struck: she got outed by a church elder and everything came undone — including Aaliyah.
Now, senior year is about to start and she is determined to come back faster and wiser. No more letting other people define her. No more losing herself to their expectations.
Except... well, with new friends, old flames, nosy school counselors, and teammates who don't trust her yet, the route already feels rough. And what's with the new girl, Tessa, who gives Aaliyah butterflies every time she looks at her? Regardless, everything is fine. She'll be fine. Because this is the year to prove to everyone—and most of all, herself—that she's more than her mistakes. After all, even Aaliyah can't outrun everything.
---
In the game of life, sometimes other people hold all the controls. Or so it seems to VZ. Four months have passed since his best friend Ed was killed by a white man in a Brooklyn parking lot.
When Singer, the man who killed Ed, is found dead in the same spot where Ed was murdered, all signs point to Jack, VZ's other best friend, as the prime suspect.
VZ's determined to complete the video game Ed never finished and figure out who actually killed Singer. With help from Diamond, the girl he's crushing on at work, VZ falls into Ed's quirky gameiverse. As the police close in on Jack, the game starts to uncover details that could lead to the truth about the murder.
Can VZ honor Ed and help Jack before it's too late?
---
Delilah always keeps her messy, gooey insides hidden behind a wall of shrugs and yeah, whatevers. She goes with the flow—which is how she ends up singing in her friends' punk band as a favor, even though she'd prefer to hide at the merch table.
Reggie is a D&D Dungeon Master and self-declared Blerd. He spends his free time leading quests and writing essays critiquing the game under a pseudonym, keeping it all under wraps from his disapproving family.
These two, who have practically nothing in common, meet for the first time on New Year's Eve. And then again on Valentine's Day. And then again on St. Patrick's Day. It's almost like the universe is pushing them together for a reason.
Delilah wishes she were more like Reggie—open about what she likes and who she is, even if it's not cool. Except . . . it's all a front. Reggie is just role-playing someone confident. The kind of guy who could be with a girl like Delilah.
As their holiday meetings continue, the two begin to fall for each other. But what happens once they realize they've each fallen for a version of the other that doesn't really exist?
---
Further Reading