Almaden Branch Library – Tom Trudell
Tom Trudell has been a faithful volunteer at Almaden Branch Library. Not only has he served as the President of the Friends of the Almaden Library for four years, but he also served as Treasurer and trusty friend at our Bi-annual Book Sale. He has lead the charge on many Fridays, guiding teens and volunteers with the large dollies, pushing out boxes and boxes of books to our sale location. He has, as treasurer, manned the collection of money at the sale. He has also collected monies from our lobby sale and teen book sale. He has helped organize our Friends when he was President. He has served faithfully throughout the years: pre-covid, covid, and now post-covid. He has been an asset to our branch.
Get to know a little about Tom:
My first job... was working as a paper boy in Los Angeles and lugging the LA Times with a cart because the papers were so thick and bulky.
I am most proud... of my son, an aerospace engineer at NASA.
My role model is... my dad, who raised me and my sister as a single dad.
---
Alviso Branch Library – Anil Mangala
Anil started leading yoga sessions for Alviso's community ten years ago.  The last 3 years the class has been virtual and reaches beyond this community. Anil generously schedules the class into his work day.  His students regularly express their gratitude for his instruction, and he is happy to give advice for their personal fitness needs.  Alviso Library is very fortunate to have a dedicated volunteer.
Get to know a little about Anil:
My favorite book… my favorite reading is the Wall Street Journal newspaper.
If I had a superpower, it would be... a power to improve quality of life for the needy.
I volunteer… because it makes me happy to share the knowledge of yoga.
---
Bascom Branch Library – Brian Finerty
Brian Finerty has been an outstanding leader within the Bascom Friends of the Library group. He has taken a lead role in managing the incoming donations, organizing the Friends sorting room and coordinating book sales to help fund raised for library programs. Additionally, he takes great pride in the Bascom Branch and he regularly shares suggestions and feedback on improving operations.
Get to know a little about Brian:
As a child... I lived in my birthplace Canada, my parents' birthplace of Canada and in my last two years of high school Belo Horizonte Brazil.
My first job... camp counselor to 6 to 8 year olds at the UCSB Alumni Vacation Center.
I volunteer... to see what I can do to support my part of our city.
---
Berryessa Branch Library – Bill Henzel
Bill has been volunteering at the Berryessa Branch since 2018. In that capacity, Bill has helped our Friends of the Library with fundraising. Additionally, during and after the pandemic, Bill volunteered as a tutor for the San Jose Public Library's system wide Homework Club and the Berryessa Branch's Homework Club. In these programs, Bill brings his in-depth content knowledge, experience working with students, and patience to be a great tutor, and he is always willing to give his thoughts about programs that he may have knowledge about. Bill embodies the true spirit of volunteerism. He is definitely a wonderful asset to our Friends of Berryessa Library team!
Get to know a little about Bill:
As a child... I was always interested in science.
I am most proud of... my contributions that led to Advastin, the drug for cancer.
My biggest challenge... is climbing mountains.
---
Biblioteca Latinoamericana Branch Library – Enrique Cruz
Enrique is our lead volunteer for our Individual Technology Assistance (Asistencia Tecnológica Individual) program. This program is hosted in Spanish and as such Enrique is fluent in both English and Spanish. A few of Enrique's responsibilities include guiding patrons in accessing and using their email accounts, applying for jobs online, creating and accessing different online accounts including LinkedIn, Facebook, and their San José Public Library profiles. There is a high demand in the community surrounding BLA for Spanish tech help. Enrique came into his volunteer role eager to help the community in whatever way he best could. He is extremely patient with his participants and as such has been able to build relationships based on trust and understanding.
Get to know a little about Enrique:
As a child... I grew up in an apartment complex and had a lot of friends. Played all the time. Grew up in an immigrant family, two older sisters and two younger brothers. Huge family.
My first job… I worked with my dad. He was a chef at a catering company. We did events like parties for big companies, tech companies. I helped him with prep work, chopping vegetables, eventually learning about cooking. I learned the ins and outs of the kitchen, got my scars from it, some burns. It was a lot of hard work, but it taught me a lot and I am grateful for that.
If I had a superpower, it would be... to fly. I have these dreams where I'm about to fly, like a bird.
---
Calabazas Branch Library – Peishan Liu
In her 4 years with the Calabazas Friends of the Library, Peishan has become a steadfast anchor on the team. In addition to working on donation sorting and preparation for book sale events, she coordinates between different team members to direct materials to the appropriate sales channel, and organizes books for mini/bag sales. She also welcomes new team members to the Friends group and trains them on donation handling.
Get to know a little about Peishan:
My favorite movie… is LA LA Land. I like the way the director presents the story. The music is great and the setting is beautiful.
My fondest memory... is traveling with my family to different cities and countries. Every trip was an adventure to me.
If I weren't volunteering, I'd be… walking my dog in the park or watching K-pop with my daughter.
---
Cambrian Branch Library – Ethan
Ethan is an inspiring volunteer, dedicating at least two hours each week to the Cambrian Library, where he has made many friends. Ethan has worked as both a Library Services and Programming Assistant Volunteer. Ethan is enthusiastic and brings a ray of light to the Library whenever he works. Ethan could be relied on to assist with volunteer shelving, cleaning, etc....  He is always looking for new projects and he has a can-do attitude that is easily infectious for all staff. Staff often comments on how much help he is to the branch and enjoys his time at the library. Ethan's most positive contribution to the Library are the cleaner toys that are sanitized as required.  He is reliable and dependable and his absences are sorely missed!
Get to know a little about Ethan:
As a child... my family rented a big car to fit all of us and did a long road trip and visited lots of National Parks.
If I had a superpower, it would be... to steal other superpowers.
I volunteer… because it's fun and it's a good thing to do!
---
Dr. Martin Luther King, Jr. – KPRR – Tony Loeb
Tony is a very active volunteer at SJPL for the past 6 years and counting and has contributed over 300 volunteer hours. Tony has a can-do attitude and is always happy to lend a hand no matter how big or small the task. He had served a Plant Patents Manager at SJPL Works with meticulous attention to detail, has volunteered both virtually and in person for the annual LocalLit local authors festival as timekeeper, ensuring that the program runs smoothly and on schedule, and is currently a Tech Mentor providing excellent customer service and tech tips to all in need. Tony is a smart, skilled, and reliable and we are overjoyed to recognize him for all his contributions.
Get to know a little about Tony:
I am most proud of... my two kids. My wife and I raised them well and gave them the right stuff to become successful and independent adults.
My biggest challenge... making it age 80!
My community... neighbors are wonderful and the friends I've made since moving to the area in 2001 are fantastic.
---
Dr. Martin Luther King, Jr. – PAR – Barbara Coffman
Barbara Coffman has been a volunteer with Partners in Reading since March 2009 and has worked closely with two learners. She has shown a deep commitment to her learners, always seeking the best ways to teach them. Community service is an important part of Barbara's life. Beyond PAR Barbara volunteers with a women's group, a food distribution group, and in the Rose Garden. Most recently, Barbara has begun to volunteer in person with PAR and helps our staff plan, coordinate, and stock books for Together We Read, the PAR family literacy program, and for outreach.
Get to know a little about Barbara:
My fondest memory... was the year my uncle and his family of four children, two dogs, a cat, and a bird moved into our house for a month. It was Christmas and a rollicking time it was. You can imagine a Christmas morning with four 11 year olds, one 14 year old, and one 17 year old. What fun!
I'm proudest... of my children and their children.
My biggest challenge... was my children.
---
Dr. Martin Luther King, Jr. – Youth Services – Gina Seo
Gina Seo has been a Speech & Debate instructor for 3rd-5th graders with SJPL since Fall 2021, teaching and guiding children through social justice issues and the basics of Speech & Debate for three semesters. Gina is extremely patient and supportive of students, helping them understand difficult concepts and challenging them to expand their critical thinking skills. She is a natural teacher. She also excels at curriculum building and has been instrumental in keeping our articles up-to-date and at an appropriate reading level for the students. Gina has proven herself to be invaluable to our online programming efforts. She is a leader amongst her peer instructors with her collaborative spirit and communication skills, and through her commitment to treat everyone with respect.
Get to know a little about Gina:
My first job was... tutoring my neighbors in English. It gave me admiration for my parents and teachers who do this 24/7.
I am most proud of... getting a scholarship to study Arabic in Morocco. It gave me an opportunity to study Arabic more intensely and to meet people from across the US & in Morocco.
My community is... filled by my neighbors, my family, my friends, the adults I admire, and those who have mentored me. Their support has helped me mature and develop more as a person.
---
Dr. Roberto Cruz Alum Rock Branch Library – Mike Vistan
Mike brings enthusiasm and passion to everything he does. He has worked diligently to promote the library and events, seek grants, train new volunteers, get us organized and build moment.  He even reached out to the Mayor's office to try to get him to come to our Reimagining the Unhoused event.  Mike works hard to build up the existing membership and resources of our Friends of the Library and to support library staff in applying those resources to benefit our community.  His dedication to our community is absolutely exemplary, and we'd like to take this opportunity to celebrate him.
Get to know a little about Mike:
My first job… was working as a cashier at KFC.  It remains to this day the funnest job I've ever had, as I got to learn first hand about people in general - their likes, dislikes, and most importantly, why they even come to KFC.
My biggest challenge… is deciding what to wear every morning before I go out.  For that reason, I tend to buy the same color shirts, pants, socks, etc. just to eliminate the stress.
I volunteer… because I want to give back to the community that helped make me who I am today.
---
East San José Carnegie Branch Library – Venkat Gandikota
Venkat has been a volunteer with the East San Jose Carnegie Branch since 2016. His contributions at our location have included providing computer help to patrons as a tech mentor and reading to children. As it did with many other things, the COVID pandemic disrupted Venkat's plans to volunteer for the library, but with persistence and dedication, he has started a virtual Reading to Children program that kids can now enjoy by Zoom on Saturday mornings.
Get to know a little about Venkat:
My favorite book… As far as children's books, some of my favorite books are the Curious George series.
My role model… All teachers are my role models/heroes. Anyone who works for the betterment of people are my role models.
Libraries are… an essential part of any community, there's no doubt about it. San Jose Public Library has so much more than books, such as career guidance and the Mango Languages program I've been using to learn Spanish.
---
Edenvale Branch Library – Jia Gill
Jia has been volunteering as a Homework Club Coach since 2019. She was instrumental in bringing back the Homework Club in-person back in October 2022. She continues to play an important role in its success through her reliability, patience, and amazing work with children. Her charisma and energy help create a welcoming and fun learning environment for the students who visit the Homework Club at Edenvale.
Get to know a little about Jia:
As a child... I really enjoyed drawing just about anything. I was a doodler.
My role model... is my mom because she is hardworking. She introduced me to volunteering and its importance.
I volunteer... because I really enjoy talking with kids because they have a different perspective. I really like talking to people.
---
Educational Park Branch Library – Dale Bustamante
Dale Bustamante has served the Educational Park Branch Library and community since December, 2021. Dale volunteers as our library's Teens Reach Co-President.  Over her years of volunteer service, she has also helped support various family and kid friendly programs, like our Math Festivals, Petting Zoos, and Summer Learning Kick-Off events.  She continues to create and host Grab and Go Craft Prep opportunities for other teen volunteers that are looking to acquire volunteer hours to fulfill high school graduation requirements, add to their resumes, or add to their college and scholarship applications. Owing to Dale's continued volunteering with the Educational Park Branch Library, our Teens Reach program attendance remains strong and she continues to role model excellent volunteer behavior to her peers.
Get to know a little about Dale:
My fondest memory... was going on vacation with my family to Europe and visiting all the different sites.
I am most proud of... being the Teens Reach president.
If I had a superpower, it would be... Teleportation so I could go to all these different places for free.
---
Evergreen Branch Library – Christian Justo
Christian Justo began volunteering in 2021 as virtual Tech Mentor for the Evergreen Branch's weekly 1-on-1 Tech Assistance program for adults. In early 2022, he began providing computer assistance in the library, gracing customers with his patient and encouraging nature. Additionally, Christian took on a second role as an instructor for the library's monthly Saturday STEAM Lab program for children. His passion for helping people of all ages to improve their digital literacy skills and scientific knowledge is a great benefit to those in our community.
Get to know a little about Christian:
My fondest memory... involves seeing the Warriors play in person against the Celtics for the first time in 2010. We lost... but I still have the foam finger and ticket pinned to my bedroom wall.
My role model... is my mom. Hearing the various stories of her work as a nurse through her patients and coworkers inspired me to help others with the same level of passion.
If I had a superpower, it would be... to be able to understand and speak every language.
---
Hillview Branch Library – Joni Yabut
Joni took over as lead volunteer for the service group Furry Friends, and started hosting our Reading to Dogs program since 2017, but began volunteering even before then with the Furry Friends group ! She was ready and excited to return after being shut down due to the COVID-19 pandemic, and Hillview staff as well as the community were all so thrilled for their return. Joni consistently demonstrates commitment, patience, and kindness while working with all the children who attend our Reading to Dogs program. All of the attendees from this program love the work Joni and her dog, Hennessy, do for the community!
Get to know a little about Joni:
As a child... I had a big imagination and would create all sorts of pretend-scenarios while playing in my blanket fort.
I am most proud of... all my students that continue to not give up and persevere.
My community... inspires me to give back and help support those around me when I can.
---
Joyce Ellington Branch Library – Mila
Mila has led the Teen Book Club at the Joyce Ellington library since 2019. Mila writes engaging discussion questions and leads thoughtful discussion at the monthly book club. The book club began in person, but became virtual during the pandemic. For Mila and other teens, "finding continuous community through books was really special during stay-at-home." Mila is a vital part of making the Joyce Ellington library a welcoming, enriching, and social community space for teens.
Get to know a little about Mila:
As a child... I didn't want to learn to read because I thought all you had to do was look at the pictures. I'm glad I've moved beyond that!
If I had a superpower, it would be... to know exactly what should be done to address global problems like climate change, and the ability to help do that work.
I volunteer… as a Teen Book Club leader and Speech and Debate instructor for the library. I love discussing books with other teens, and care about teaching kids to lend their voices to social justice issues.
---
Pearl Avenue Branch Library – Aysha Soszynski
Aysha has a wonderful sense of humor, which makes her a great match for Pearl Avenue. She started volunteering with us in March 2022 as a story time assistant. She came in weekly, providing help and continuity to the Family story time no matter who was the presenter that week. She is proficient in reading stories, in helping with flannel stories, and doing the song actions. She also has a great eye for choosing appropriate pictures for coloring after story time.
Get to know a little about Aysha:
As a child... I loved to dress up and have imaginative play and put on performances for family and friends and even the neighborhood!
I am most proud of… working a lifetime with animals and advocating for animal care and welfare.
I volunteer… to serve, to meet people and realize people's circumstances and get new perspectives on other people's lives. I like to think that the souls that are called to serve are special folks whom you would want to have connections.
---
Rose Garden Branch Library – Wendy Brannan
Wendy Brannan has been a longtime member and facilitator of the Peninsula Rug Makers Guild at the Rose Garden Branch Library. The Rose Garden Branch Staff has chosen to honor her for her commitment to leading the Guild's monthly get-togethers. The meetings provide opportunities for people of all ages to socialize and learn fiber arts. We appreciate Wendy and are happy to honor her with the Volunteer of the Year Award!
Get to know a little about Wendy:
My role model... is my father and my grandmother with all their volunteer work.
If I had a superpower, it would be... to make everyone feel loved.
If I weren't volunteering, I'd be… hiking more!
---
Santa Teresa Branch Library – Gail & Max Felchle
Max and Gail have been reliable Library Service Volunteers for over four years.  They are a part of the Santa Teresa family and a bright spot in our week.  It's also been wonderful to see Max grow and mature.  We hope that both of them keep working with us for a long time.
Get to know a little about Gail:
My first job… was right here in the area volunteering at Buck Norred Stables after school and on weekends.
My fondest memory… are times spent with any of my three (now grown up) children, our occasional "adopted" children and my husband.
If I had a super power, it would be… Slowing time!
Get to know a little about Max:
My first job… was volunteering at a pet shop. My job was to play with the cats to help them get used to people.
My community… is spread out all over the place - my friends are now all over (from Southern California to Colorado) but I feel like I also have a community with the people I know at the library and people and teachers at school.
Libraries are… A place with a lot of interesting books, magazines, CDs and movies to look through and borrow. A place I enjoy coming to.
---
Seven Trees Branch Library – John Bertschy
John has been volunteering as an instructor of 'Virtual Math Tutoring' and 'Chess Club' since May 2019. The dedication and passion that John brings to his volunteer work is truly inspiring. His positive attitude, patience, and tireless efforts have made a a significant impact on our local youth and surrounding community. We are grateful for his hard work and are lucky to have such a talented and enthusiastic volunteer on our team.
Get to know a little about John:
My fondest memory... sailing on Pleasant Bay in Cape Cod.
I am most proud of... my family. We raised independent and self-reliant children.
I volunteer… to share my skills and help the community at large.
---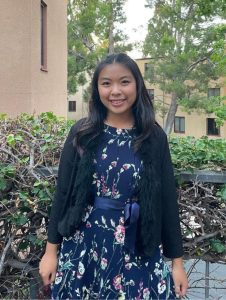 Tully Community Branch Library – Allison Huang
Allison Huang volunteered 671 hours at the Tully Community Branch Library. She regularly helped at our Friday Fun programs, a weekly arts and crafts program. In addition, she enthusiastically volunteered for our cultural and holiday programs, such as Easter, Lunar New Year, Santa Visit, etc.  During the summer, she served meals for Summer Lunch, and helped parents and children alike as a Summer Learning Ambassador. Allison has been a consistent and reliable volunteer, and a Teens Reach officer—serving as Treasurer, and later as President.  Her near limitless energy and enthusiasm has greatly helped the library with supporting its programs.
Get to know a little about Allison:
As a child... I have always wanted to be a teacher.
My role model... is Miss Honey from Matilda by Roald Dahl because she is compassionate, determined, and willing to help others.
My community... shaped me into a patient and empathetic person.
---
Village Square Branch Library – Yuki Okamoto
Yuki Okamoto has been volunteering at Village Square since August of 2021, and currently serves as Teens Reach Secretary. His leadership and organizational skills have been invaluable in serving our community. In addition to his work as Secretary, he also helps children in various craft projects at our community events. Yuki's efforts and growth as a person and leader are inspiring to see, and it is with pride that we recognize Yuki as Village Square's Volunteer of the Year.
Get to know a little about Yuki:
I am most proud of... Passing the piano certificate merit lvl 9, and placing 2nd at my piano recital.
My community... is a very positive place, and I'm happy here.
If I weren't volunteering, I'd be… learning new skills, probably learn more coding, or studying, playing basketball.
---
Vineland Branch Library – Aditri Phal
Aditri, who has contributed over 85 hours so far, began volunteering in June 2019 as a Summer Learning Ambassador, then became involved in Teens Reach and in assisting with children's programs.  She served as Teens Reach Vice-President during the library's closure, and contributed greatly to keeping Teens Reach active during our monthly virtual meetings.  Since the library reopened, she has continued her leadership role, helping to facilitate our in-person Teens Reach meetings and working with the group to help plan and coordinate our popular children's craft programs.  She is very conscientious and enthusiastic in her work with library staff, her peers, and library patrons of all ages.
Get to know a little about Aditri:
As a child... I loved reading books about human physiology and I had an interest in medicine from a young age. Since then, I've spent a lot of my free time drawing and creating art.
My biggest challenge... So far has been my current journey through the college application process. Although this challenge calls for lots of hard work and endless motivation, I am determined to reach my goals.
If I wasn't volunteering... I would likely spend that time scrapbooking, as it is my favorite hobby.
---
West Valley Branch Library – Maitreyi Bharath
Maitreyi Bharath is an instructor for the West Valley Branch Library's Virtual Math Olympiad Club. Maitreyi brings an earnest enthusiasm and positive attitude to every Math Olympiad Club session. She has a friendly, warm, and engaging way of interacting with the children that helps them feel comfortable participating and asking questions. Her teaching style demonstrates extraordinary sensitivity for the developmental needs of her young audience. Her program provides a valuable service to our patrons by helping kids improve their math skills and feel more confident taking the Math Olympiad contest.
Get to know a little about Maitreyi:
I am most proud of… writing my first original song! The inspiration for it was quite random, honestly; I was in my garden and we had recently bought several new rosebushes, so I thought I'd see if I could try and write lyrics based on a rose. After about 4 weeks, I ended up with my very first song.
Libraries are… absolutely amazing! Seeing books on a shelf gives me so much serotonin. I never know where to start looking, but once I do pull out books, I always want to take home at least twenty.
If I had a super power, it would be… Time Travel. I would love to see and visit ancient civilizations and see the Ancient wonders of the world.
---
Willow Glen Branch Library – Nell Aiello
Nell started as a Homework Club Supervisor and has continued supporting the library ever since. When there was a need for someone to step in as a volunteer lead for one of the library's 2 book club groups, the Willow Glen Library Book Club, Nell was happy to oblige. When the library pivoted during the closure to provide Virtual Homework Club help online, she adapted to the new program as well. Now that we are back to in-person programming and continuing to add new library programs, Nell continues to be willing to try new volunteer roles. Nell's next venture for the library (in addition to the book club and the homework club) will be as one of the volunteer leaders of a weekly Friday Fun program for kids.
Get to know a little about Nell:
Libraries are... Amazing. They've always been a big part of my life. Growing up I always went to the local library in Concord and when we moved I went to the library in Clayton… a cute little library.
My favorite book... I've got 4 or 5 favorite authors… I'm a big Margaret Atwood fan, Ann Patchett, Jodi Picoult… mostly women… and I'll pretty much read anything they write.
If I weren't volunteering, I'd be… reading! I read at least 10 books a month. I find that with book clubs I read really interesting things that I would not normally pick out.