The San José Public Library appreciates the tremendous contributions and efforts made by all our volunteers. Every year, each of our library locations and units selects an individual volunteer they want to recognize as their Volunteer of the Year. We are truly grateful that you choose to volunteer with the Library. Join us in congratulating the 2022 SJPL Volunteers of the Year.

Almaden Branch Library – Laurie Paul
Laurie Paul was the president of Teens Reach for last year. She ran virtual meetings the entire year with sometimes 30+ volunteers. She is also one of the leads for the Teen Book Committee who pivoted from book displays in the library to teen newsletters created from the reviews that teens wrote. Her passion for reading and for libraries is notable in how she steered both groups capably throughout the global pandemic.
Get to know a little about Laurie:
I am most proud of … being able to find a purpose, what to do with myself. Working in an artistic environment, I have discovered what I want to do with my life.
My favorite book … is Little Women. I chose my name Laurie from Little Women
I volunteer … because it gives me an opportunity to be a leader, experiment with new interests, because I enjoy the environment.
---
Alviso Branch Library – Anil Mangla
Anil Mangla has been consistently leading weekly Yoga classes with the Alviso Branch Library since 2013! Initially Anil taught two in-person classes per week. Once the pandemic shut our doors, Anil quickly transitioned to offering the class virtually, extending his reach to many more participants throughout the city and beyond. Those that attend his class have expressed their appreciation for Anil's class which has benefited both their bodies and their minds. The Alviso Branch is very fortunate to have Anil as one of our volunteers.
Get to know a little about Anil:
As a child... I grew up playing cricket as my favorite sport. We used to make our own bats!
Libraries are... a wonderful place for learning's and growth and building a community.
My fondest memory... is growing up in my home in India and playing with my brothers and cousins.
---
Bascom Branch Library - Steffi Mathew
Steffi has proven herself to be an invaluable asset to Bascom Branch Library. At the start of the pandemic, Steffi immediately took the initiative and successfully pivoted all her coding workshops from in person to online. She is an extremely knowledgeable and patient coding instructor, and she has been warmly received by both students and their parents for her excellence in providing high quality coding workshops in an informative, engaging, and interactive format. Staff have been equally impressed by Steffi's dependability, dedication, professionalism, and maturity. Steffi, along with her sister, Sheryl, founded their own non-profit coding organization, Nex Gen Coders.
Get to know a little about Steffi:
My favorite song is... either Jet Pack Blues by Fall Out Boy or Claire de Lune by Debussy.
I volunteer... because I truly enjoy working with kids. Volunteering with the San Jose Public Library has helped me discover my passion for teaching.
If I wasn't volunteering, I'd be... making music or watching anime.
---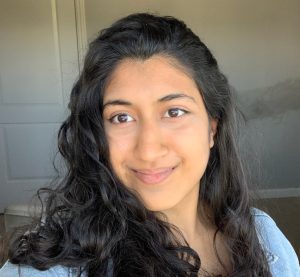 Berryessa Branch Library - Savitha Senthilkumar
Savitha has volunteered at the Berryessa Branch since 2018 in Library Services, Summer Learning, Homework Club, and Teens Reach. She has brought enthusiasm, hard work, and creativity as she was elected to Vice President and President of Teens Reach. As a Teensreach officer, Savitha wanted to focus on Mental Health at Teens Reach Meetings, and she is helping the Berryessa Branch to host its first Chalk Art Festival to build more of a sense of community.
Get to know a little more about Savitha:
My community... shapes my perspective on life as I interact with them, and I hope to continue to give back to my community through the library.
If I had a superpower, it would be... to be able to understand and speak all languages so that I could communicate with everyone and help create an even more inclusive space in my community.
I am most proud of... the way that I love learning about other cultures while also continuing to participate and appreciate in my own.
---
Biblioteca Latinoamericana Branch Library – Michael Wong
Michael Wong has been an exceptional volunteer since starting at BLA. We appreciate his hard work and commitment in providing a great English Language Learner Conversation Club to his students. He is responsible, respectful, and has shown a great passion to teach the English language. He creates lesson plans for each class and has an engaging teaching style. Michael also creates a great learning environment where people with different levels of English are comfortable and happy to participate. He is always positive and welcomes questions. Michael's program creates a positive environment that is enjoyed and appreciated by students and Library staff members.
Get to know a little bit more about Michael:
My biggest challenge... was being social again after going back to in-person classes
Libraries are … magical. A place to take a breath and get lost in another world.
My fondest memory… was of my first class that I taught English. The first class I taught was in Taiwan.
---
Calabazas Branch Library - Stephanie C. Lin
Stephanie C. Lin started working as a Library Service Volunteer at Calabazas Library in 2020. Stephanie is a self-motivated volunteer and progresses through her tasks with skill and efficiently. She takes great care to keep the shelves she is responsible for neat and tidy. In addition to her volunteer duties, Stephanie uses her second language skill, Chinese Mandarin, to help staff to communicate with customers as needed. Stephanie is a conscientious and dedicated volunteer committed to serving the community. Stephanie also recently became a Library staff member! She is currently a Page at Calabazas Branch.
Get to know a little more about Stephanie:
As a child... thought it would be fun to own a library or work in one. Luckily, I now get that opportunity as a Library Page. Someday, I might become a Library Knight.
My first job... was the functional testing of an augmented reality educational app along with a little bit of design and coding of the user interface as well.
If I had a superpower, it would be... to pull objects out of my imagination.
---
Dr. Martin Luther King, Jr. - Youth Services – Manju Shahi
Manju has been a shining and welcome presence at the San Jose Public Library since 2015. She first came to the library to receive tutoring and was so overwhelmed by the kindness of her Partners in Reading instructor that she wanted to give back to the library in gratitude. So, Manju signed up to be a Reading to Children volunteer. Watching her interact with the children while she shared the gift of literacy made it clear that Manju has much love to give. As soon as the library reopened its doors in August 2021, Manju gladly accepted the role of Wee Explore Attendant in the Children's Room as she wanted to make sure that the play space was clean and safe for the children. Every Thursday morning Manju is busily cleaning and sanitizing the space and always has a smile and kind word to share. We are very happy to award Manju the Volunteer of the Year award in Youth Services for 2022.
Get to know a little more about Manju:
My role model... is Madame Curie. She had a hard life, but she overcome it.
My community... is wonderful in fact. Where I live is a healthy environment and people have a smile, even unknown people smile.
My favorite book, movie, or song... I love the movie Sound of Music!
---
Dr. Roberto Cruz - Alum Rock Branch Library - Arlene Nguyen
Arlene started volunteering with the Alum Rock Branch Library in September of 2019 as a teen Library Services Volunteer and also attends Teens Reach meetings. She has been a reliable helper at the Alum Rock Branch shelving DVDs, CDs, and more. She also helps staff with special projects. After the branch shutdowns and it was safe to come back to the library, Arlene came back ready and willing to help.
Get to know a little more about Arlene:
My role model... is a K-Pop idol named Jay Park.
Libraries are... a safe and peaceful place.
My favorite song... is GANADARA by Jay Park.
---
Edenvale Branch Library – Irene Brown
Irene volunteers at Edenvale Library where she hosts a weekly person English Language Conversation Club. Irene has an established background in education and is passionate about providing excellent instruction. Irene is a person who cares deeply about her students and often goes above the call of duty. Apart from her scheduled sessions, she has been known to provide one on one instruction to her students. Irene has formed so many meaningful relationships with our community members. We at Edenvale Library are honored to have Irene as our volunteer.
Get to know a little more about Irene:
My fondest memory... going on a ranger-led hike at Angel Island with my mom & sister.
I'm most proud of... when I was teaching students & parents came to visit me years later to thank me.
My favorite book, movie, or song… "The Golden Rule" by Ilene Cooper- a children's book that reminds us how to treat others by showing this simple concept shared among various religion.
---
Educational Park Branch Library – Joan Winn
For the past three years, Joan has been a Friends of Educational Park Library volunteer. She intakes donations, organizes them, and displays them for the library's book sale. The care that she puts into her work and her engagement with patrons create such a positive experience for them and for future library-goers. The book sales help fund programs and community events that provide and promote education, connect people to resources, and bring the community together.
Get to know a little more about Joan:
As a child... I loved reading, visiting my local library which was half a block away from my home. I'd sit and enjoy reading in a nice quiet space.
I am most proud of... being able to have worked and saved enough money for retirement. In my retirement, I enjoy traveling, volunteering, and spending time with my family.
My favorite book, movie, or song... I enjoy listening to jazz. I love all books but am currently in the "Build a Better You" book club with librarian, Melissa Maglio.
---
Evergreen Branch Library - Shakthi Chandra
Shakthi is a Junior at Evergreen Valley High School. She started volunteering at the Evergreen Library in 2019. Over the years, she participated in many Library programs including Homework Club, Book Review, Summer Learning, and many more. Currently, she is the lead for the Evergreen Teen Book Club. In 2021, Shakthi logged one of the highest number of hours at Evergreen, meeting the needs of the community with her time and dedication. Shakthi is warm, thoughtful, and helpful in all her interactions with patrons, other volunteers, and staff. She is a joy to work with. She is truly dedicated to making her Evergreen community better through the programs in which she takes part.
Get to know a little more about Shakthi:
As a child... I wanted to be a veterinarian or a teacher.
I am most proud of… my change of mindset. I used to think academics are really important, they still are, but grades alone don't define me as a person.
If I had a superpower... it would be teleportation. That way I can be anywhere in the world instantly and avoid traffic.
---
Hillview Branch Library – Brenda Molinar Chacon
Brenda has blossomed from being a program participant to an amazing volunteer and program facilitator at Hillview. During the pandemic, Brenda asked if she could work with the library to create a program to help Spanish-speaking adults struggling with technology. Brenda immediately began to assess and research ideas to develop lessons, and tailor her program to cater to participant needs and interests. By engaging in this important work, Brenda was able to support the focus and mission of SJ Access.
Get to know a little more about Brenda:
As a child... I used VHS tapes to build houses for my Barbies.
Libraries are... a place where, besides books, one can find all kinds of resources. But the most important is that it is a place where you can find a support network!
My biggest challenge… was getting married and moving to two different countries without family and without knowing the language.
---
Joyce Ellington Branch Library and King Public Reference & Resources – Rick Spalding
Rick volunteers as a Tech Mentor at King Library and Joyce Ellington. Since 2018, he has volunteered over 350 hours. Rick is experienced, knowledgeable, thoughtful, and kind, tailoring his assistance to each person he is helping. He was one of the first volunteers to transition to virtual volunteering when we closed in 2020, and among the first to come back to in person volunteering in 2021, in addition to continuing virtual tech help programs.
Get to know a little a more about Rick:
My fondest memory... is retiring!
My favorite book, movie, or song... My favorite songs change all the time, although my favorite musical artist is Ray Charles.
Libraries are... really neat places to be. No matter what your question, you'll find an answer at the library.
---
Rose Garden Branch Library – Gwen Cox
Gwen has been a San Jose Public Library volunteer and Book Club Facilitator for over 12 years. She currently manages the Full Bloom Book Club at the Rose Garden branch, though she assists with a Willow Glen Book Club and also volunteers at the Camden Community Center and Happy Hallow. She said: "I am very lucky to live in San Jose where the libraries and community centers offer so many opportunities to meet many interesting people."
Get to know a little more about Gwen:
If I had a superpower, it would be... to fly above traffic.
My fondest memory is... of my Mom and me working together on my first prom dress.
My first job... was making milk shakes in an ice cream shop.
---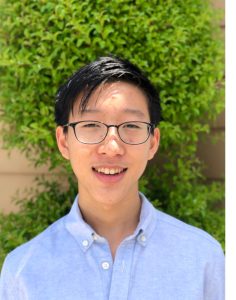 Seven Trees Branch Library – Hwan Cho
Hwan has been a wonderful addition to our volunteer led library programs since 2021 and an advocate of education and learning for our young kids and teens. As the leader of the Chess Club program, he has not only taught lessons and supervised the kids, but takes an active interest in their education and abilities to improve each week. He has built relationships with the staff, kids, and families, and we have all come to respect and rely on his continued involvement with the library and community.
Get to know a little more about Hwan:
I volunteer… because it makes me happy. Seeing the smiles and hearing the laughter from the children at my chess program has brought me sheer joy to continue and further expand my program's reach.
Libraries are… my second home. Libraries bring a sense of belonging and comfort as your imaginations and creativity can be freely expressed.
My role model is… Oskar Schindler and his sacrificial giving regardless of the environment he was placed in.
---
Tully Community Branch Library – Nhu-Y Tran
Nhu-Y stepped in as the new grammar teacher and the students love how patient and understanding she is. Her weekly virtual ESL Grammar Club has been going on since mid-2020 until now and she never missed a class. Her lecture slides are professional-looking and very well-prepared. She also took on the additional work of teaching multiple Vietnamese Digital Literacy courses which helped SJ Access reach the required number of learners to fulfill their grant requirement. Nhu-Y has been an extremely valuable volunteer to us and has helped so many in the community learn new skills and knowledge.
Get to know a little more about Nhu-Y:
My favorite book, movie, or song: The Call of the Wild by Jack London and Finding Dory.
Libraries are: welcoming and encouraging places that people can get lost in amazing adventures but also can find ways for their futures.
My role model: are my parents. My mom didn't know any English at all, but she kept studying until she passed her citizenship interview on her first try. My dad teaches me many useful things.
---
Village Square Branch Library – Jadzia and B'elanna Pho
For several years sisters Jadzia and B'elanna have worked as team in many capacities. It goes without saying that their skills exceed their accomplishments.  Conducting themselves professionally daily and following through with every task put in front of them, have proven just how reliable they are. Throughout their many years here at Village Square Branch Library, I have heard compliment after compliment regarding Jadzia and B'elanna's amazing work and how nice it is to have two accomplished volunteers.
Get to know a little more about Jadzia and B'elanna:
My first job... haven't had one yet, but my dream job is to be a curator or archivist for a natural history museum (Jadzia). I'd like to be a conservation researcher (B'elanna)
I am most proud of... our work in the Latino Student Union. We really managed to turn it around and expand its events, fundraising and collaborated with other clubs.
My fondest memory... Hanging out with friends downtown for the First Friday Art events.
---
Vineland Branch Library – Linda Gillam
Linda has been a volunteer for the Vineland Friends of the Library for just over 10 years! She has donated 3,000 hours of her time with the Vineland Library. Her dedication and love for the Vineland community is apparent in her work with the Friends. She has shown herself to be a true champion of volunteer service. This is exemplified in her tireless commitment to and support of the Vineland Library and the community it serves.
Get to know a little more about Linda:
My community... is diverse, friendly, and interesting. I love meeting people who have come here from all over the world.
My role model... my mom for persevering through many years of health problems, never complaining and always thinking of others before herself.
As a child... I loved to read books. I made many trips to the local library on my bike, coming home with a basket full of books.
---
West Valley Branch Library – Carol Schelling
Carol has been volunteering as a Friend of the Library since 2017 and is currently serving as President of the West Valley Branch Friends group. As both a member of the Friends and its President, Carol has been one of the West Valley Branch's most active volunteers. She has devoted many hours to sorting and organizing book donations as well as helping to plan, set up, and run library book sales. As President, she has exercised a gentle and conscientious leadership that has impressed her fellow volunteers as well as the West Valley Branch staff.
Get to know a little more about Carol:
My fondest memory: Bicycling self-contained from Oregon to Illinois with a friend, seeing some beautiful parts of our country.
If I had a super power, it would be: Not sure, but I wish I could "herd cats".
If I wasn't volunteering, I'd be: reading a book, geocaching or pulling weeds.
---
Willow Glen Branch Library – Elmer Garduno
"Mr. Elmer" as he is known to his students has been a valued volunteer of the Willow Glen Library since 2020 when he signed up to lead Coding with CS First classes at the library. Then the pandemic intervened. But with his typical enthusiasm and positive can-do spirit, Elmer was able to quickly pivot to teaching the program virtually online when everything else was closed. Since then (and scheduled between his already busy work as a Google engineer and busy home as a husband and father of four) Elmer has managed to teach six 8-week coding series for the kids of San Jose!