The San José Public Library appreciates the tremendous contributions and efforts made by all our volunteers. Every year, each of our library locations and units selects an individual volunteer they want to recognize as their Volunteer of the Year. We are truly grateful that you choose to volunteer with the Library. Join us in congratulating the 2021 SJPL Volunteers of the Year.

Almaden Branch Library - Dheerj Jasuja
Dheerj Jasuja, is our Teens Reach President, who has faithfully volunteered at the library as a Math Tutor, and Vice President last year of Teens Reach. Through the COVID-19 library closure, he has shown leadership, Black Lives Matter protests, and online school opening. He has led the virtual Teens Reach meetings during this time and helped make decisions regarding programming with teens. His input has helped us create our plan for programs, and he gives excellent feedback on what is of interest to teens. We are thankful to have Dheerj volunteer with the Almaden Branch and look forward to learning more about his future accomplishments.
Get to know a little about Dheerj:
I am most proud of... the efforts the executive board and I have made to transition Teens Reach to an online setting.
My role model... is Dave Eagleman because of his groundbreaking work in neuroscience.
My community... exemplifies inclusivity and civic engagement.
---
Alviso Branch Library - Michele Weiss
Michele began volunteering with the Alviso Branch as a Friend of the Library three years ago. She is now the Acting President and Treasurer. Michele also leads the monthly Alviso Book Club meetings. Michele's initiative and love of reading spurred her on to start the book club. When the pandemic hit, all programming went virtual. Michele met the technology challenge enabling her to facilitate virtually. We are lucky to have her as our volunteer!
Get to know a little about Michele:
I am most proud of... in addition to my family, one personal achievement has been writing and publishing six books. As a member of Sisters in Crime, an organization of women who write mysteries, I was encouraged to publish my books.
Libraries are... one of the most important things in my life/community. It has always been that way. From 5th grade to high school I was always taking books home. It's been the most important thing to me in my life.
If I had a super power, it would be... to help everyone with their reading because I think reading is a super power. I would also like to stop the unrest in the world right now.
---
Bascom Branch Library - Steve Kline
Steve Kline, President of the Friends Group for Bascom Branch Library, has not let the library's closure slow down his volunteer efforts. Some of his projects involve providing library resources to laundromats and residents of the Evans Lane Housing project. Steve also participated as Bascom Branch Library's "Virtual Santa," which was a big success. He also participates on the community advisory committee for Bascom's warming center; additionally, Steve serves as a board member for the San José Public Library Foundation.
Get to know a little about Steve:
My role model... are Harvey Milk, Martin Luther King, Jr., and Robert Kennedy.
Our community... needs to expand racial justice, and equity for those who need an opportunity to succeed.
I volunteer… because giving back to the community is the responsibility of every citizen of the world.
---
Berryessa Branch Library - Thien Bryan Nguyen
Bryan was a lead for the homework club and a site coordinator for Read, Write, Discover. Bryan has a "can do" attitude that includes a sense of calmness and competence. While volunteering, he has demonstrated outstanding leadership skills; he cares about his team and encourages collaboration and engagement. When we had onsite homework help, he showed up ready to set up for the program and was kind and respectful to students he assisted.
Get to know a little about Bryan:
As a child... I was faced with many learning difficulties and unwanted changes that were completely out of my control.
I am proud of... the commitment and longevity I put into anything I do.
My role model… has been everyone who has helped me in becoming the person I am.
---
Biblioteca Latinoamericana Branch Library - Virginia Tellez Ramirez
Virginia Tellez Ramirez (aka Vicki) has been volunteering at the Biblioteca Latinoamericana Branch since 2018. She is a teen volunteer who lives in the Guadalupe Washington Neighborhood which Biblioteca Branch is also part of. Having volunteered initially as a Summer Lunch Program Assistant and later as a Teens Reach member volunteer, Virginia has dedicated her time selflessly to help serve kids meals in the Summer at our branch. And she continues to participate in our regular monthly Teens Reach meetings with her brother, demonstrating maturity and growth in her development as a teen volunteer with us.
Get to know a little about Vicki:
My biggest challenge... is public speaking. Volunteering at the library has helped me start to grow out of my shell.
My role model... is my dad. He has taught me a lot about life and how to learn from my mistakes.
If I had a super power, it would be... teleportation because I would love to be able to travel whenever I want.
---
Calabazas Branch Library - Madhu Prasad
Madhu Prasad volunteers as a lead volunteer for Sahaja Meditation at the Calabazas Branch. She started volunteering at Calabazas Branch in 2019 and switched her services to virtual volunteering during shelter in place time. Mrs. Prasad loves to share her expertise by helping attendees keep inner peace and develop positive habits and behaviors. She actively listens to each participant and offers personalized support. We are grateful to Mrs. Prasad for her enthusiasm, generosity, and dedication to our community. The Virtual Sahaja Meditation program meets Friday from 4 - 5 PM.
Get to know a little about Madhu:
As a child... I got to live in and visit various places in India as my father was in the Air Force.
My first job… was a Fashion Designer in an Apparel Buying House in India.
My biggest challenge… I think all our challenges in life can be met through spontaneity. I believe in being spontaneous and living in the present and things take care of themselves.
---
Cambrian Branch Library - Simi Golani
Simi teaches a popular series on health and anatomy for students in grades 5-8 at the Cambrian Library. She is one of the founders of Med-ucate, a volunteer-led program to educate people about the importance of self-care and well-being and provide exposure to the medical field. Simi has been a patient and inspiring teacher for the past year. The class was initially held in our Community Room, but Simi and her team seamlessly moved the course online after the shelter-in-place began. Using a mix of activities and lectures, the classes are informative and a lot of fun. She is a student at BASIS Independent Silicon Valley. We are so glad that Simi chose the Cambrian Branch for her fantastic program!
Get to know a little about Simi:
As a child… I always loved learning and teaching, and once I was exposed to the wonders of human anatomy, I knew I had to take my knowledge one step further and share it with my community.
I am most proud of… the extent to which Med-ucate has been able to impact people's lives around the world (we're starting a new program in Liberia, Africa soon!).
I volunteer because… I love meeting new people and sharing things I'm passionate about with them.
---
Dr. Martin Luther King, Jr. - Youth Services - Catherine Tong
Catherine Tong brings an incredible skill to our community, teaching Speech and Debate to third to fifth graders for nearly two years. She understands that socially conscious children become adults that can make a positive difference in society. Time and again, parents praise her and the difference she has made in their children's lives as she inspires them to challenge themselves, apply critical thinking skills, and learn the art of speech and debate.
Get to know a little about Catherine:
As a child... I loved going to the library. I'd use my mom's farmer's market rolling cart to check out at least 30 books at a time from the library.
I am most proud of... the fact that the Speech and Debate: Global Citizenship kids said that they would talk to their friends about what they learned in class and that some of them are joining student council, starting research clubs with their friends, etc.
My role model… is SJPL Librarian, Bridget Kowalczyk.
---
Dr. Roberto Cruz - Alum Rock Branch Library - Patricia de Luna Muñoz
Patricia volunteers as a Resume and Job Search coach at the Dr. Roberto Cruz Alum Rock Branch. She started volunteering at Alum Rock in 2019 and pivoted to virtual volunteering during Shelter in Place. Patricia loves to help people and shares her HR and recruitment expertise to assist people with their job search process. She actively listens to each participant and offers personalized support. We are grateful to Patricia for her enthusiasm, generosity, and dedication to her community. The Virtual One-on-One Resume and Job Search and Interview Skills program meets Thursdays from 9 - 10 AM.
Get to know a little about Patricia:
My first job... was in HR at an automobile factory.
My fondest memory... is holding my newborn children in my arms.
I am most proud of... finishing college and earning my degree.
---
East San José Carnegie Branch Library - Manju Talekar
Manju Talekar is an inspiring, positive, skilled, and versatile volunteer. Manju began volunteering in person at the beginning of 2020, teaching English classes, yoga, and meditation. During the past year of Shelter in Place, she regrouped, then began to learn Zoom. By fall, she collaborated with East San José Carnegie Family Literacy Specialist Jeff Tibayan to implement a weekly English Language Learners Conversation Club. She has inserted some mini grammar lessons. Manju served over 60 volunteer hours in 2020, especially commendable given closure since mid-March. Although a retired physician, she has not retreated but has opted for continuing service to her community and personal growth while staying healthy through her mindful meditation and practices.
Get to know a little about Manju:
As a child... while watching my father (also a doctor), I imagined what it would be like if I could peek inside a patient's body. I imagined, "What if I could travel through a body with the red blood cells and talk to a person's organs to ask them what was the matter so we could help them."
I am grateful... for being alive, for my health, and for technology and the Internet that allows us still to connect.
If I could choose to be any animal... I would like to be a butterfly.
---
Edenvale Branch Library - Heather Ding
Heather has volunteered weekly with SJPL as a virtual yoga instructor, logging more than 30 volunteer service hours via Edenvale Library since March. Heather mixes passion, dedication, and sensitivity into her efforts as a virtual library volunteer, often getting rave reviews from her yoga class attendees and lots of repeat visits and social referrals from those impressed by her talents and teaching abilities. Heather also is always ready to promote SJPL, its programming, and community outreach efforts -- offering a helping hand and being a willing voice for the library throughout the local community in these unprecedented and challenging times. She has been an excellent volunteer and partner for the Edenvale branch during the past months and has voiced her willingness to continue her diligent work and valuable role as we progress through 2021.
Get to know a little about Heather:
My first job… was as a theatre assistant at Great America, cleaning up after the live shows.
I am most proud of… being willing to learn new things and having laughter in my life.
My biggest challenge… keeping healthy boundaries in my life.
---
Evergreen Branch Library - Kiran Ladwa
Kiran Ladwa volunteers at the Evergreen Branch Library, providing in-person and virtual yoga, meditation, and exercise programs for patrons. Kiran began volunteering at Evergreen in 2019. In her work, she has helped many adults and teens learn the many benefits of yoga, meditation, and exercise. Kiran regularly offered in-person yoga programs at the Evergreen Branch Library. When the COVID-19 stay-at-home orders were issued, Kiran realized many people would be feeling isolated, stressed, and cut off from regular exercise outlets. She contacted the branch and worked with staff to set up virtual yoga and meditation programs. A few months later, she offered an Energizing Exercise for Seniors virtual program which blended gentle exercise and meditation methods. Kiran's programs have been very well attended by the community. Participants said the programs help them feel more connected and calm during the stress of the pandemic. Many have expressed an appreciation for Kiran's calm and warm presence as an instructor.
Get to know a little about Kiran:
I am most proud... when I hear of acts of kindness done by people to help others. I am proud of these stories, of people in my community and it inspires me to reach out to others. It feels good hearing this good news when we hear so much other upsetting news.
My role model... is a founder of a company called ServiceSpace, Nipun Mehta. He's also in the Top 100 of most influential people. He and his family represent kindness and service to others.
I volunteer because... it gives me joy to serve and share my skills with the community and come together in the sharing of thoughts, and thus learning and growing together in a fun way.
---
Hillview Branch Library - Patricia Mena
Patricia has been a shining example of adaptability during the pandemic. She has worked enthusiastically with library staff to move her ELL Conversation Club into a virtual space. Patricia has shown the same level of passion and commitment both in-person and online. If we had a superpower, it would be to clone her for other programs because she is one of a kind!
Get to know a little about Patricia:
As a child... I lived in Arizona and enjoyed playing outside and going swimming.
I am most proud of... holding on to my family's and cultural traditions.
If I weren't volunteering... I'd feel unfulfilled. Giving back means a lot to me so I do what I can.
---
Joyce Ellington Branch Library - Sheryl Mathew
Sheryl has been volunteering with SJPL for well over a year. She started as an onsite coding volunteer at Joyce Ellington Branch Library with her on-demand Python and Java computer programming classes. When the branches temporarily closed in the middle of March of 2020 due to COVID-19, Sheryl quickly regrouped and almost immediately contacted the library to offer her services as a virtual volunteer. Since then, she quickly developed and taught three 8-class courses teaching children multiple coding languages at various levels of advancement through her Introduction to Java - A Virtual Coding Class program. Sheryl has made a tremendous difference to the children and teens that she has served at our library by becoming a role model and coding superstar.
Get to know a little about Sheryl:
My fondest memory... is watching a movie with my family.
I am most proud of... when I can see that one of my students understands what I'm trying to teach.
My role model... my grandmother.
---
King Public Reference & Resources - Ann Hillen
For all the perky early risers or those propped up with large mugs of coffee in hand, Ann Hillen facilitates the Virtual English Language Learners Conversation Club every Friday morning at 8 a.m. Her students are enamored of her style (she dresses in fashion in accordance with holidays and every dress pertinent topic under discussion) and her forthright earnestness. She loves to teach through minimal intervention and maximum care. The conversation flows freely unless the learners request education on grammar basics. Attracting learners from throughout the state, the country, and the world, Ann inspires confidence in a comfortable and relaxed environment. Her students steadily lose their inhibitions with the English language, feeling comfortable enough to narrate PowerPoint presentations of cultural celebrations and deeply poignant life events; participate in discussions, ponder idioms, battle with tongue twisters, and engage in song. Going from live to virtual, Ann was one of our volunteers' very first to make the transition from library study room to home living room. Every class is a new experience, and all end with the question - what would YOU like to do for our next session? Since June of 2020, Ann has welcomed 288 learners to her ELL Conversation Club. We are grateful to Ann for her energy, sparkle, adventuresome spirit, and love of community.
Get to know a little about Ann:
My first job... was in a laundromat. I was a teenager. folding people's clothes. Getting that first paycheck I realized that's how you get it - you work. I could now buy jeans! I knew that I could work.
My fondest memory... was my first international trip to Hong Kong, Singapore, and Australia. Everything was different. The world smelled differently, sounded differently,
My biggest challenge... trying to come up with an experience that is scalable and relevant for my ELL Conversation Club. Creating an experience where everyone learns something - one thing that is useful.
---
Partners in Reading - Jim Cunningham
"I want to share the joy of this gift with others!" – Jim Cunningham
The quote above was Jim's answer to, 'Why do you want to help someone improve their reading and writing?' And for over three years he shared his gift.
Partners in Reading has chosen to honor Jim as the 2020 Volunteer of the Year. Sadly, this award is being given posthumously.
Jim was a dedicated volunteer who worked with two learners. He was most notable for his consistent and concerted effort to stay up-to-date on the materials that would most help his learners succeed. This was a big challenge as the needs of Jim's first learner and the needs of his second learner were very different. Then he was hit with the COVID curveball and had to adjust to remote tutoring! Jim rolled with all the changes and always did his very best to serve his learners.
---
Pearl Avenue Branch Library - Jonathan Joseph
Jonathan Joseph has been a volunteer at the Pearl Avenue Library for two years. During that time, he has been the leader for several sessions of Beginning Python and Intermediate Python. Jonathan began by teaching the classes in person, but in the past year, Jonathan was one of our volunteers' first to suggest that he continue training online. He and one of his classmates, Soham Bhattacharya, started their class in Virtual Beginning Python in mid-May 2020, one of the new virtual programming classes. Jonathan proved to be a good leader and teacher in the new virtual paradigm, as we figured out the best ways to present his class online. He and Soham gave a lot of attention to the individual participants in the classes, always being very patient with their questions. He has done a great job learning how to be flexible and modify his content based on extraordinary circumstances.
Get to know a little about Jonathan:
As a child... I really liked to read and solve puzzles.
My favorite song is... Hands Away by Interpol, though there are many contenders for that spot.
If I had a super power, it would be... to pause time whenever I sleep, because then I have a lot more hours of the day to do things.
---
Rose Garden Branch Library - Ruth Ann Todd
Ruth Ann Todd enjoys giving back to the library in this small way. She feels the library is an essential part of our neighborhood community.
Although Ruth Ann's interview responses are not available, she was chosen for Volunteer of the Year for Rose Garden Branch because of her contribution to San José.
---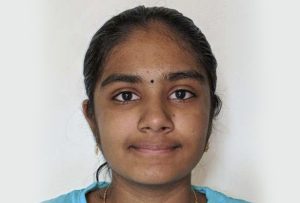 Santa Teresa Branch Library - Maheswari Bajji
Maheswari began volunteering in 2017 as a Teens Reach volunteer, Summer Learning Ambassador, and Library Service Volunteer. When COVID-19 struck, Maheswari responded with the Library volunteering virtually as a Teen Book Reviewer, Coding 5K Program Leader, and most recently as a Virtual Program Leader with her San Jose Math Club Junior program. She manages her online classes with patience, poise, and positivity to help children and their parents navigate coding activities and competition-level mathematics problems. Her classes always reach the maximum registration capacity, and parents ask for more. Maheswari's commitment to her community, focusing on making math and coding fun, and believing that all children have a right to quality education make her one of Santa Teresa's best volunteers!
Get to know a little about Maheswari:
As a child... I used to go to the public library weekly. I loved to read and I enjoyed telling and making up stories with my friends.
My biggest challenge... has been living through the COVID-19 pandemic. Everything is changed. I had to get used to distance learning and being at home all day. We all have to figure out this new world.
My favorite book, movie, or song... is the Menagerie trilogy. It is a mystery about magical creatures. My favorite movie is the Song of the Sea about a young boy, his sister and their magical journey.
---
Seven Trees Branch Library - Kevin Kyu Kim
The Seven Trees staff enthusiastically nominates Kevin Kyu Kim for our Volunteer of the Year award. He is dedicated, passionate, and committed to the core principles of what we thrive for when it comes to library programs. His Saturday SAT class is always very popular. It doesn't hurt that he bribes them with treats. Seriously, he is just an incredible mentor! The students and their parents appreciate how much work he puts into helping them succeed. His interactions with the students and staff are full of positive energy, politeness, and kindness. We are fortunate to have him at Seven Trees Branch Library.
Get to know a little about Kevin:
My fondest memory... at the library is when Sonia offered me some of the food made by the staff. That was one of the best lunches I've ever had! The staff at the Seven Trees Library are all excellent chefs!
My favorite moments are... when students come back and don't get the same or similar questions wrong. It shows me that they're growing and learning. If they can learn just one formula, one vocabulary word, one grammar rule, it makes me feel like we've succeeded.
I volunteer... because I've had mentors and tutors in my life that have helped me reach where I am today.
---
Tully Community Branch Library - Nhu-Y Tran
Nhu-Y volunteers with our Virtual: ESL Grammar Club. Nhu-Y's responsibility is to teach English learners the basic and proper grammar skills to start writing and speaking in English. She started volunteering at Tully Community Branch Library, shadowing our ongoing grammar class. If it were not for Nhu-Y, Tully would have had to cancel our grammar class due to staffing issues. Nhu-Y stepped in as the new grammar teacher, and the students loved how helping and understanding she was and still is. During Shelter in Place, she let me know that she is ready to start volunteering again virtually. She is always looking for feedback and takes suggestions very well. Without all her previous hard work at the branch and now virtually, we would not have been able to continue our grammar class/club.
Get to know a little about Nhu-Y:
My first job… was a behavioral interventionist, who taught children with autism.
I am most proud of... where I am right now.
Libraries are... welcoming and encouraging places that people can get lost in amazing adventures but also can find ways for their futures.
---
Village Square Branch Library - Linda Belba
Linda is the lead member of our Friends of the Village Square Library volunteer group. She is responsible for coordinating the group members to actively participate in Book Sales, library programs such as Gaming Hour with Village Square Library Friends and Staff, Holiday and Cultural programs, and Virtual Book Club.
She has been arranging and leading Book Sales at the library for four years. She strived to make sure that book sales are thoroughly planned and organized for the potential buyers. She introduced FOL to her community, and many of them have joined the FOL. Linda also led the Village Square Book Club, and due to the current COVID situation, she put her efforts into coordinating with library staff and lead this program in a virtual format.
Get to know a little about Linda:
My fondest memory... celebrating holidays with my immediate and extended family.
My biggest challenge... is that I over think when I work on a project/work and sometimes it takes longer than it needed to.
Libraries are... the life blood of our communities. As soon as I retired I got connected with the Village Square Branch Library and started to volunteer.
---
Vineland Branch Library - Lena
Lena has volunteered over 288 hours since 2017 and is a huge asset to Vineland! She's an efficient, accurate shelver, also assisting with merchandising and tidying the children's area. She is friendly and works well with families during children's programs and Summer Learning. Most recently, as a virtual volunteer, she has contributed numerous book reviews to the library catalog and many stories to Short Edition. We are thankful for Lena's dedication and all she has given to our community!
Get to know a little about Lena:
My fondest memory... was spending time in this mustard flower field with my sister in Saratoga.
My role model... is my 8th grade English teacher. She was a big inspiration for me and made me excited to read and learn more, to start writing, and make a positive difference.
I volunteer… because it allows me to give back to my community and be able to help a place where I spent nearly all my time growing up. It is very rewarding.
---
West Valley Branch Library - Aniket Mahajan
Aniket is an instructor for the West Valley Branch Library's Math Olympiad program. Math Olympiad is a weekly program for 3rd-5th graders that helps kids prepare for the Math Olympiad test. Before the library closure due to the COVID-19 pandemic, the program met weekly at the West Valley Branch Library. A few months after the library closed, the program resumed in an online, virtual form. During each program session, Aniket and his co-volunteer Rohan review sample problems with the children and answer their questions. Aniket shows the children how to solve problems in a clear, step-by-step fashion perfectly tailored to his audience's age and math skills. Aniket's reliability, dedication, and skills as an instructor make him one of West Valley's best volunteers. His program provides a valuable service to our patrons by helping kids improve their math skills and feel more confident taking the Math Olympiad exam.
Get to know a little about Aniket:
As a child… I used to go the library every Saturday morning. Back then, I loved reading the Magic Tree House books.
My biggest challenge... is continuing to do the things that I enjoy when everything has become online. However, I have tried my best to seek other methods and alternatives to many of my important activities with virtual Olympiad sessions and the virtual concert fundraisers.
If I weren't volunteering, I'd be… playing the saxophone or relaxing by watching Star Wars with my family.
---
Willow Glen Branch Library - Joy Matsumoto
Volunteer Joy is truly a JOY to work with (pun intended!) Patient, kind, flexible, and reliable are just a few reasons Joy has become such a valued library volunteer. Joy started volunteering at the Willow Glen Library in 2018 as a Tech Mentor, assisting library customers with learning how to use technology (computers, mobile devices, email, website searching, access library e-books, and other libraries e-resources, and more).
When the library closed down due to the pandemic in March, Joy was one of our first volunteers to pivot her volunteer role into an online presence with the library's Virtual Tech Assistance program. When the library put out a call to our volunteers for anyone willing to assist with a virtual Homework Club for kids Joy stepped up to the plate.
Outside of volunteering with the library, Joy also volunteers as a contact tracer. Thank you, Joy, for all you do!
Get to know a little about Joy:
As a child... I grew up in Long Island, New York, the 3rd of 4 siblings in a pretty typical middle class family. We always had dogs and lots of extracurricular activities like dance classes and piano lessons.
My role model... in my first professional job I was lucky to have a wonderful manager Marty - he was a great role model for what qualities a good manager should have. That was back in the early 1980's and we are still in touch.
I volunteer... because I've had a lot of support my whole life and career and I'd like to be able to be a resource for others. It feels good to be helpful.