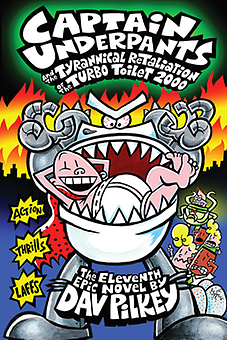 Dav Pilkey, The author of Captain Underpants, will be at Hicklebee's this September for Captain Underpants and the Tyrannical Retaliation of the Turbo Toilet 2000! Follow the mischievous adventures of George Beard and Harold Hutchins as they, and Captain Underpants of course, fight Melvin Sneedly! Will they be able to defeat Melvin using Wedgie Power? Or will their plans to save humanity be flushed away? Find out at Hicklebee's on September 7, 2014 at 2:00 PM! Join the staff, fellow book lovers, and Dav Pilkey for awesome butt-kicking action!
Location:
Hicklebee's
1378 Lincoln Ave.
San Jose, CA 95125-3010
Phone No.:
(408) 292-8880
Bird Box by Josh Malerman
In an abandoned house by a river, Malorie and her two children seek refuge against the violence that terrorized their town five years ago. Under the comfort of their house, Malorie and her family are safe, that is until their supplies start to run low. With the help of Tom, another refugee, Malorie steps outside and confront the unknown.
Those Who Wish Me Dead by Michael Koryta
When he was thirteen, Jace Wilson witnessed the Blackwell Brothers brutally murder someone. Now the brothers are after him. To hide from them, Jace dawns a new identity and hides in a wilderness skills program for troubled teens. The only thing stopping the brothers from getting Jace are Ethan and Allison, who own the camp, and miles and miles of mountains. But the brothers are closer than you think. Will Jace survive or will the Blackwell Brothers bring him to his grave?
Big Little Lies by Liane Moriarty
you would expect a school Trivia night to be the most uneventful night ever, right? You are wrong. One parent is left dead during Pirriwee Public's annual school event. The public is call it a tragic accident; however, the police are calling it cold-blooded murder. The murderer can be anyone, a school official, another parent, or even a student. Nobody is safe, but everybody is a suspect.
Don't have time to read a 300 page novel? Then try these short stories insead! They'll give
you the same sense of adventure and action as a regular book, but in a couple of chapters!
Four Houses by Victoria Scott
Victoria Scott, author of the Dante Walker and Fire & Flood series, is re-relasing an extended version of her short story, Four Houses, on July 22, 2014! Rediscover the suspense and thrill of this dark YA short story and find out if the house you choose is the right one.
The Demigod Diaries by Rick Riordan
In The Demigod Diaries, Rick Riordan brings you three short stories about Percy Jackson and all his friends! Follow Percy and Annabeth as they try to face a fire-breathing giant! Join Piper, Leo, and Jason as they chase a runaway table that is bound to get into trouble, and find out if Thalia and Luke ever make it to Camp Half-Blood!
Dare to be Scared: 13 Stories to Chill and Thrill by Robert D. San S
ouci
Want some scary stories to tell around the campe fire? Then prepare to be scared with these 13 stories. Get ready for some creepy crawlies, ghosts, and some haunted fun!