What is VISTA?
Volunteers in Service To America or VISTA is an AmeriCorps national service program run by the Corporation for National and Community Service.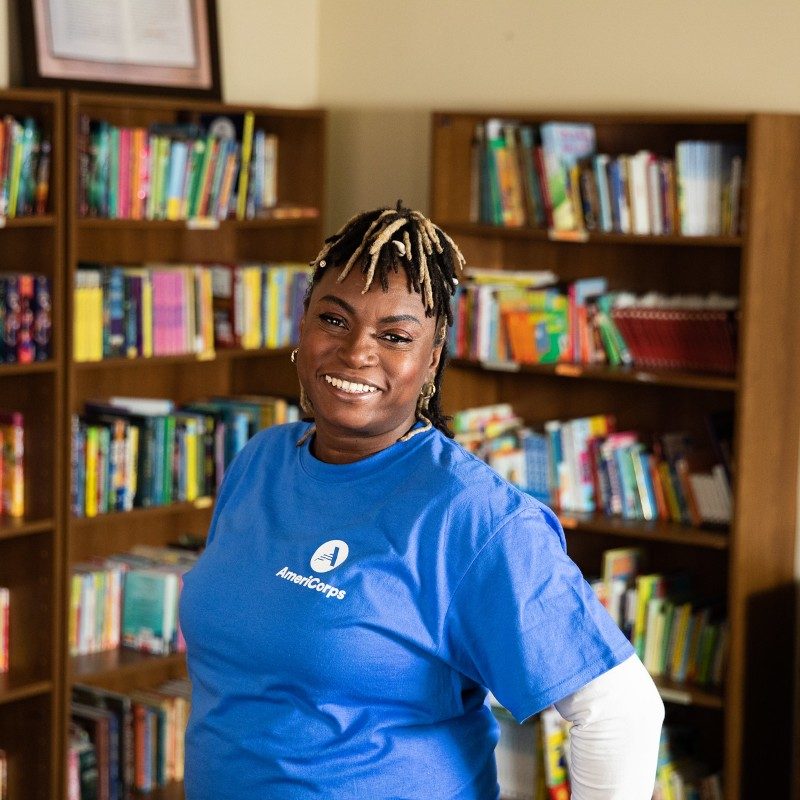 AmeriCorps VISTAs at SJPL
SJPL VISTAs support critical Library programs through fundraising, grant writing, research, and volunteer recruitment. AmeriCorps members in the VISTA program serve for a calendar year. VISTAs gain valuable work experience while also receiving a living stipend and an education award at the end of their service year.
The Library VISTA Project Initiated in 2019 and since then the Library has engaged 11 total VISTA members. Collectively these VISTAs have recruited over 100 new community volunteers, secured $76,000 in cash resources, and secured $73,100 in non-cash resources supporting high impact programs and services at the Library.
VISTA Benefits
The benefits of being a SJPL VISTA include:
$1,027 stipend every 14 days of service
Choice of Education Award or End of Service stipend of up to $6,185
Health benefits
Child Care Benefits
Student loan deferment and interest.
A complete explanation of VISTA benefits can be found on the AmeriCorps Website.
SJPL VISTA Alumni Stories
Julianna Black served as an AmeriCorps VISTA at SJPL for the Alum Rock and Hillview branches in 2020, researching partnerships and outreach opportunities, as well as organizing a Virtual Resource Fair. Julie was recently hired as a full time Literacy Programs Specialist in the Equity and Inclusion Services unit, with a focus on serving individuals facing chronic and episodic homelessness.
"Becoming a Library staff member has given me a foundation with which to build my career all while centering creative and innovative ways to re-imagine library spaces for our most vulnerable community members. I feel so lucky!"
Through their work as a VISTA with Early Education, Treasure Nguyen was awarded the Gen2Gen Innovation Fellowship through encore.org. After completing their second service year as an AmeriCorps VISTA in the Early Education Unit in 2020, Treasure was hired as a full time Literacy Programs Specialist making Early Education outreach more equitable and effective.
"My time as a Library VISTA was an incredible hands-on learning experience for me that jumpstarted my professional growth."
How to Join the SJPL VISTA Team
SJPL will be recruiting for the next class of VISTAs in October 2023 for the 2/12/24 - 2/11/25 service year. Library VISTAs will work full time (40 hours a week) in one of the following Library units:
Interested applicants will need to complete an AmeriCorps application, submit a resume and cover letter, and attend a virtual interview. The ideal candidates will have experience or an interest in community organization or service as well as a college degree.
Steps to Becoming a SJPL VISTA
Find out if the SJPL VISTA Program is a good fit for you.
Complete an AmeriCorps Application for the City of San José: Library VISTA Opportunity (10/13/23).
Submit your cover letter and resume to volunteer@sjlibrary.org
Select applicants will be invited to attend a virtual interview (date TBD).
Desired Skills:
Community Organization
Fund raising/Grant Writing
General Skills, Education, Leadership, Team Work, Public Speaking, Communications, Writing/Editing, Recruitment.
Requirements:
Age: 18+
Education: college graduate
Language: bilingual skills in Spanish or Vietnamese highly desired.
Hold one of the following citizenship or legal residency statuses: US citizen, US National, Lawful Permanent Resident (i.e. Green Card status), and persons legally residing within a state. Examples of persons legally residing within a state may include those holding the following classifications: refugee, asylee, temporary protected status throughout VISTA service, and holding Deferred Action for Childhood Arrivals (DACA) status.