Who We Are
We are a couple of librarians who take television as seriously as books. If there is a good show out there that can be watched for free, trust us to tell you ALL about it. Because readers advisory is our profession, but viewers advisory is our calling. We love good TV and we simply must share. In real life you might call us Appleberry and Lowell, but together, in the vast blogosphere we are called Viewers Advisory.
What We're About
Lowell:
Appleberry: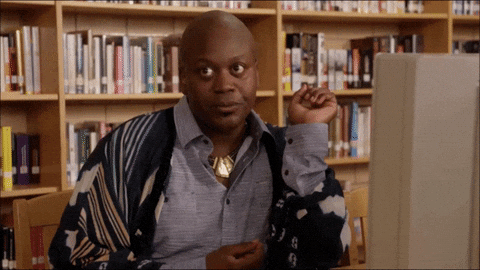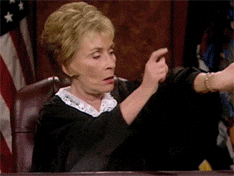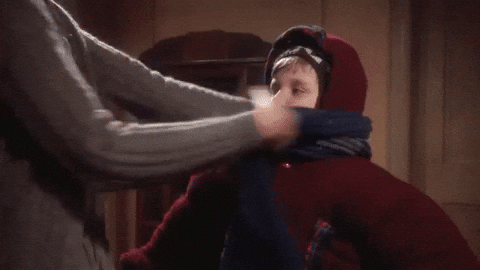 Alison Brie
December is often a time of reflection. It is a time for us to consider all that we have accomplished and all that we have failed to accomplished. Oh to be Alison Brie, reflecting upon the many accomplishments of 2017. She's starred in the movies The Little Hours, The Disaster Artist, The Post, as well as the Netflix series BoJack Horseman and GLOW, for which she received a Golden Globe nomination for lead actress in a musical or comedy. This blog installment features a couple of Alison Brie offerings for you to ring in the new year with (courtesy of SJPL). It's our gift to you.
One Reason You Should Watch Community
Lowell: I was a fan of Community from beginning to end, even season 6 after it was picked up by Yahoo Screen and fizzled out. The one reason why I watched Community was the familiarity. I attended community college and also worked in a library-like, room-type-thing for a 2-year school. In my opinion, this level of academia has always been ripe for storytelling but remained pretty much untapped until this gem of a show came along. That might be the one reason why I watched Community, but you should watch Community for the outstanding cast. There are some really great comedians on this show; the biggest name at the time of its release was probably Chevy Chase. But, some really great comedic actors were by and large discovered on this show: Alison Brie, Donald Glover, Yvette Nicole Brown (John Oliver is even in 18 episodes). The show revolves around a study group of eclectic individuals, but at its center is a suspended lawyer (played by talented comedian Joel McHale) who has returned to community college after his law degree was revoked. The show is loaded with funny thinkers, and their delivery is superb. And now I see I have left out Jim Rash who plays Dean Pelton, the character who might have made me laugh the hardest when on screen. I often felt there were almost too many jokes per episode for me to fully appreciate, which makes this show great for re-runs.
Appleberry: I was also into Community from the get-go. I remember feeling really excited after the first few episodes because it was so different from most other sitcoms. It is funny, inventive, and well written. The jokes are packed in and the storylines are super creative and contain a billion pop culture references, including episodes that parody Ken Burns documentaries and Law & Order. That being said, my one reason to watch Community is Jim Rash's portrayal of Dean Pelton. I could not get enough of this weirdo. He's the funniest character on this show and maybe even every show. That might be hyperbolic but it really feels true to me in this moment. Troy and Abed's relationship is a close second on the "reasons to watch" list. Another great television bromance.
My Wait-For-It Episode
L: My wait-for-it episode is the pilot. I pretty much think if you do not like the pilot, you won't like the show. And, if you don't like the show I won't like you (Joking. librarians like everyone, equally). Basically, I think the show starts off really, really strong and continues to deliver until that final season on Yahoo. In this episode you will witness a re-enactment of an iconic Breakfast Club monologue. You will also witness the character Abed receiving his very first text message, ever (it's a special time)!! You will be given an opportunity to laugh along with cast members as they openly mock Ben Affleck for winning an academy award in anything. Oh, there's also a great use of Busta Ryhmes played over the PA system at the perfect, inappropriate moment. If all of that sounds like hot rubbish, then this show is probably not for you.
A: This show starts out really strong. Considering my feelings about Dean Pelton and the fact that he is in the very first scene of the very first episode, you may be surprised to find out that my wait-for-it episode is not the pilot but episode 2, "Spanish 101". So I do really like the pilot episode but I chose episode 2 because with the backstory/exposition out of the way, the show can really get down to funny business. This episode that introduces Señor Chang, an insane Spanish teacher played by Ken Jeong. Also, Troy and Abed's nonsensical Spanish rapping over the credits is the first time we really see the chemistry between the two characters.
For Your Information
Alison Brie's character Annie Edison was modeled after Tracy Flick from the movie Election. Do yourself a favor and check that out.
Jim Rash, the actor who plays Dean Pelton, is an Academy Award winning screenwriter. Along with his writing partner Nat Faxon, he won an Oscar for the movie The Descendants starring George Clooney.
There has been talk of a Community movie for a few years. The show's creator, Dan Harmon, has confirmed that it's still a possibility as recently as November of 2017.
One Reason You Should Watch Teachers
A: Teachers was a bit of a slow burn for me. The show was developed from a web series with super short episodes - from thirty seconds to about two and a half minutes. A lot of the premises from those short videos are used again in the show. Another change from the web series is that each character on the show is a "type". They start out feeling a bit one-note but once they're established, they do become more well-rounded. There were definitely some really funny moments in the first few episodes, especially from the kids. But what really compelled me to keep watching was Ms. Feldman (Cate Freedman). She is a real oddball and was a stand out character for me from the first episode when she inadvertently teaches her students how to bully each other.
L: The Kadydids. This is an improve group of six women, who all happen to share a version of the name Katherine. They wrote and produced Teachers as a web series first, and were eventually discovered by current comedy queen, Alison Brie. It took me a while to get into the rhythm of the show. At first I felt the characters were a bit one-dimensional but as I continued the series the various characters and their manias grew on me. I also think the one-dimensional vibe I was getting could be due to the Kadydids' collective experience as improvisors. I think the show has a lot of potential for growth, and I am hopeful that with Brie's help (and connections?) it'll grow. I definitely feel that some of the funnier episodes come later in the season. If you are feeling so-so watching the first couple episodes of this show, consider that this is a group of comedians who have built their brand the hard way. It is definitely no easy task to turn a web series into a successful TV show. Stick with it. This is my sleeper pick for TV series staring a bunch of ladies with the same name.
My Wait-For-It Episode
A: There's plenty of funny stuff in the early episodes, for example, Ms. Feldman's drawn on eyebrows in episode two. I think by episode 6, the show has really hit it's stride and starts to feel more cohesive. A highlight of this episode is guest star Rob Corddry who plays Sam the janitor. But be warned: there are mature themes in "Hall of Shame"! Ms. Snap and Sam have a secret relationship, and she's embarrassed when everyone finds out about them. A solid episode.
L: "Duct Duct Tape", episode 7. Oh man, the physical comedy in this episode! I am in awe of any master of physical comedy, and doubly in awe if they happen to be a woman. What can I say? I'm a woman: mad props. The Kadydids really nailed this episode. But, because of the physicality, it is almost impossible for me to describe the most funny parts. I'll do my best. The synopsis is as follows: superintendent of schools is scheduled to visit and chaos ensues. To kick off the chaos, one young student climbs into the ceiling. Meanwhile, Ms. Snap decides to shoot her audition tape for The Bachelor on the day of the visit. The slapstick is top notch. The moment Ms. Feldman runs into a closed door trying to follow her AWOL student above her as he rapidly crawls through ceiling vents. The moment Ms. Snap stages a cat fight with another teacher and head-bashes her against a white board. Oh, and the home video remixes of the classroom disasters that are sprinkled throughout the episode. I was legit rolling.
For Your Information
The Katydids names are Katy, Cate, Caitlin, Kate, Katie, and Katie. What are the odds?!
According to IMDB, the episodes aired in a different order than they're in on Hoopla. Duct Duct Goose and Hall of Shame, our wait-for-it picks, were episodes 3 and 4, respectively.
The creators of Teachers were inspired to write the show after reading studies that cited teaching as one of the most adulterous and gossip-ridden professions.
...in a moment of raw emotion, Lowell tells all her coworkers that Harry Potter is completely over-rated. And Appleberry brings home a lost dog and learns the true meaning of Christmas.