Who We Are
We are a couple of librarians who take television as seriously as books. If there is a good show out there that can be watched for free, trust us to tell you ALL about it. Because readers advisory is our profession, but viewers advisory is our calling. We love good TV and we simply must share. In real life you might call us Appleberry and Lowell, but together, in the vast blogosphere we are called Viewers Advisory.
What We're About
Lowell:
Appleberry: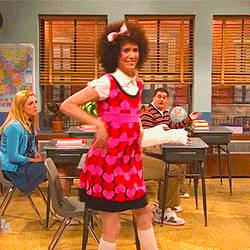 Sketch Comedy
This time around we're talking about sketch comedy. Two of the best sketch comedy shows in recent years are Portlandia and Key & Peele. These shows are very different but they do have a few things in common: both shows have won a Peabody Award, both star a diverse comic duo, and they both have so many amazing wigs. Also, they're both hilarious.
One Reason You Should Watch Portlandia
Lowell: I mean, Fred Armisen. Carrie Brownstein is awesome, but Armisen is in a whole weirdness league of his own. And, I think he would take that as the compliment it truly is. I don't know what happens when he is in character, but it's like a full-fledged transformation.
Appleberry: If you've ever visited or lived in Portland (or some other hipster paradise), then you will know that this show is so on the nose. Most -- if not all -- of the characters in the show take themselves VERY seriously, which makes them easy to laugh at. They're almost caricatures of punks or feminists or hipsters or whatever, but they're pretty grounded in something very honest and very recognizable. It's funny because it's true.
My Wait-For-It Episode
L: The very first episode of Season 1 is as long as you'll have to wait in order to experience Portlandia in all its glory. As stated, the show -- in its entirety -- pokes fun at hyper-hipster cities like Portland, so this first episode lays it on pretty think in order to set the tone. Reoccurring characters Peter and Nance drill a waitress with questions about humanely-raised meat on the menu. Their interest in the chicken leads them to a farm somewhere in the outskirts of Portlandia, where a guest appearance from Jason Sudeikis awaits. We are also treated to another great guest appearance in this episode when the women from Women and Women First book store enforce a strict bathroom policy and force one unfortunate character, played by Steve Buscemi, to make a purchase.
A: I also love the first episode but, for the sake of variety, wait for episode 4, "Mayor is Missing." When the Mayor of Portland (played by Kyle McLachlin) goes missing, Fred and Carrie try to track him down. They end up having to sign all three of them up for a family phone plan so that they can track the mayor's cell phone and locate him. Kumail Nanjiani is great as the salesperson. Other sketches include friends who are very competitive about what they've read; a couple micromanaging their house sitter, played by Aubrey Plaza; and a woman trying to find her way around the office on her first day of work.
For Your Information
Throughout the show, the Mayor of Portland's assistant is played by Sam Adams, who was the actual Mayor of Portland from 2009-2012.
Before Portlandia, Fred and Carrie released sketches on the internet in 2005 under the title ThunderAnt.
The name for the show is taken from the statue seen in the opening credits, "Portlandia," which sits above the entrance of the Portland Building on Fifth Avenue in downtown Portland.
One Reason You Should Watch Key & Peele
A: Watch this show because it is a great balance of extremely smart and extremely silly. Keegan Michael Key and Jordan Peele often use that intelligence and silliness to explore racial themes like code switching, racism, the intersection of black culture and nerd culture, and racial stereotypes and tropes in media. They also produce great material based on relationships, politics, and pop culture.
L: The in-between banter. Key and Peele are really funny and I love their myriad characters. For some reason I really dig the intro dialogue per each block of sketches -- almost more than the actual sketches! It's kind of like we get a sneak peek into their creative process. I can see them hanging out, talking about something mundane and figuring out how to deliver it in a way that is unbelievably hilarious. In that respect their stand-up bits feel Seinfeldian.
My Wait-For-It Episode
A: Episode 1, cleverly titled "Series Premier", includes one of my favorite sketches from the entire series in which two friends trade stories about putting their wives in check, but not until they're sure their wives are out of earshot. Also, a commercial parody for an ancestry service reveals a common lineage among black customers and the introduction of Luther, Barack Obama's anger translator and one of the show's most popular characters.
L: Season 1, episode 2: "Black Hawk Up." It is appropriately named after the greatest sketch in the episode, featuring Brock Favors, a substitute traffic reporter. Key plays the role and truly shines as a reporter conflicted with an extreme phobia of flight and his responsibility to cover Los Angeles freeways on live television. There's some great wig action in this episode (Meegan shooting selfies in a bar during a robbery) as well as great "inbetween banter" about Z Cavaricci pants, which Key admits to wearing in the 80s. There are lots of introductions to reoccurring characters (the aforementioned), including Peele's super cool impression of Obama.
 
For Your Information
Keegan Michael Key appeared in character as Luther with President Obama at the 2015 White House Correspondent's Dinner.
Jordan Peele was the first black winner of a Best Screenplay Oscar for his directorial debut, Get Out.
Key and Peele are also in the first season of Fargo, the FX crime drama. They guest star as an FBI agent partnership that is woefully incompetent.
...With Appleberry's support, Lowell follows a dream and auditions for a radio acting company. And Appleberry traces her lineage all the way back to Thomas Jefferson.