Who We Are
We are a couple of librarians who take television as seriously as books. If there is a good show out there that can be watched for free, trust us to tell you ALL about it. Because readers advisory is our profession, but viewers advisory is our calling. We love good TV and we simply must share. In real life you might call us Appleberry and Lowell, but together, in the vast blogosphere we are called Viewers Advisory.
What We're About
Lowell:
Appleberry: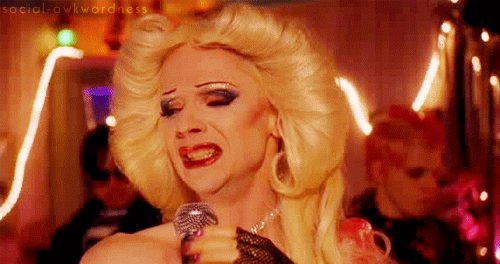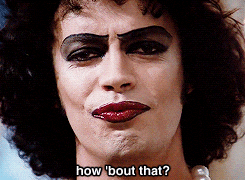 Television Musicals
Live theater is celebrated every year in the month of June via the Tony awards. For those of us who have never stepped into a Broadway theater, we can cling to small screen musical offerings and pine for the day when such wonders will be experienced in person. If you do not know where to look for a good television musical, allow us:
Appleberry: There are a lot of good reasons to watch Crazy Ex-Girlfriend - don't let the name deter you from watching, it's not what it sounds like. It's a dark romantic comedy also happens to be a musical. The songs are catchy and funny the show is weird and fun and intense but the thing that really grabbed my attention when I first watched the show was the diversity. I'm talking about different races, sexual orientations, body types - just all kinds of people around like it's totally normal. I hate that it's still so unusual to see that kind of representation on television but I always appreciate it when I do see it.
Lowell: I know this show is about the leading lady (created and played by Rachel Bloom), and not the boys. But, the chem is seriously good between Rebecca and Josh's friend Greg! So, to catch ya'll up to speed, Josh is Rebecca's ex-boyfriend and Greg is Josh's best friend. Why I think this show works (aside from the over-the-top-Broadwayish-style song and dance numbers) is that viewers are constantly pulling for Rebecca to snap out of it and fall in love with Greg. She is truly her best self when she is with Greg because she isn't trying to impress him. Show creators successfully string us along with poor Greg, employing his enlightened, and self-deprecating style of humor. The lingering hope of these two finally getting together is what I love most about this show. And also, I really enjoy watching Rebecca's journey to find her self and stuff.
My Wait-For-It Episode
A: I'm choosing episode 3, "I Hope Josh Comes to My Party", but it's more an endorsement of a song than of the episode (but it is a good episode). Paula sings a song called "Face Your Fears" and it totally cracks me up. Rebecca is scared to throw a party and Paula tries to encourage her with advice about facing your fears. Don't run away from bears, look them in the eye and stand your ground. Stare at the sun and quit school because school is stupid. Face your fears.
L: Episode 4, "I'm Going on a Date with Josh's friend." This episode is perfect example of what I love about this show. There is a dance number in black and white and it's very Fred Astaire and Ginger Rogers-esque. It is the first real date between Rebecca and Greg. There is drama. Iconic Crazy Ex-Girlfriend material in this one.
For Your Information
If you think Greg's voice sounds familiar but you can't place it, perhaps you have heard it a million times singing "Love is an Open Door". He was the voice of Prince Hans in Frozen.
Rachel Bloom auditioned for SNL as Katharine Hepburn auditioning for Space Jam. She released it on Twitter and I encourage everyone to find it and watch it.
Crazy Ex-Girlfriend is the lowest-rate show on broadcast television to ever be renewed for a third season.
L: The music. Bret McKenzie and Jemaine Clement refer to themselves as the fourth most popular folk duo of New Zealand. They make fun music. It's not your typical musical numbers, there are synthesizers and always guitars. Everything they produce feels low key and is typically pretty funny and smart. Take for instance the song, "Prettiest Girl in the Room," in which Jemaine sees a girl at a party and breaks out in song, "you could probably be a part-time model." The observations are completely sincere, and Jemaine's excitement to be dancing with the prettiest girl (in the room) is nearly contagious.
A: Band meetings with Murray, the deputy cultural attache at the New Zealand Consulate who moonlights as the band's manager, are my favorite part of every episode. Every band meeting starts with a roll call for three people and some of the saddest/funniest agenda items you can imagine. In the first episode, Murray has to inform the guys that their gig at the aquarium is a no-go. They were looking for "sand" not a "band" but he'd misread it because of the font. I'm a sucker for a sweet weirdo and Murray is very that.
My Wait-For-It Episode
L: Season 2, Episode 3 "Tough Brets" is my favorite Flight of the Conchords episode ever, and my favorite song, "Hurt Feelings" is also featured in this episode. In summary, Bret needs protection after insulting local rappers in his own song lyrics and as a result forms a gang. To add extra heat to this episode, their agent Murray runs into his share of gang violence at his day job when the boys from the Australian consulate start harassing all New Zealanders in the building. The tension comes to a head in a beautiful, slightly-geriatric piece of choreography entitled "Stay Cool Bret" ("West Side Story" fans can expect dramatic finger snapping and toe kicking).
A: In episode 3, "Mugged", Murray offers advice for staying safe in New York City: wear a t-shirt that says New York, carry around an open map of the city in case you get lost, and avoid crowds by sticking to the back alleys. Needless to say, the band quickly gets mugged. In a surprise turn of events, Jemaine ends up bonding with one of the muggers. A very funny bit involves a camera phone which Bret has made for Jemaine - ruining both the camera and the phone in the process.
For Your Information
If you recognize Jemaine's voice and can't place it, perhaps you have heard it a million times singing "Shiny." He was the voice of Tamatoa, the greedy crab from Moana.
Flight of the Conchords was a radio series on BBC Radio before it became a hit HBO series.
Recently, Jemaine and Bret revealed the reason that they never made a third season: it wasn't fun. Fair enough.
...Lowell breaks down the brilliance of Disney's 1992 musical film "Newsies" to a couple of underwhelmed children who allegedly share her DNA. And Appleberry is slightly embarrassed to admit that the soundtrack to "The Greatest Showman" is pretty dang catchy.