Who We Are
We are a couple of librarians who take television as seriously as books. If there is a good show out there that can be watched for free, trust us to tell you ALL about it. Because readers advisory is our profession, but viewers advisory is our calling. We love good TV and we simply must share. In real life you might call us Appleberry and Lowell, but together, in the vast blogosphere we are called Viewers Advisory.
What We're About
Lowell:
Appleberry: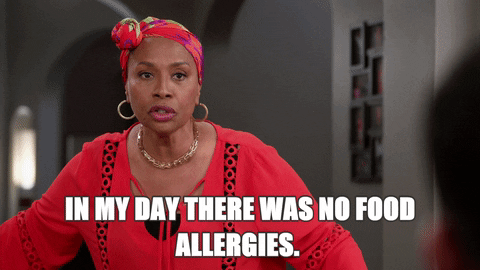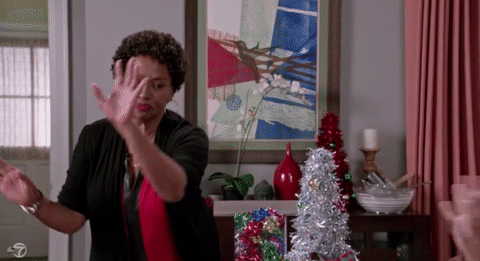 Mommy Dearest
This installment has been in development since before this blog was even a real thing. We have always felt if there was a prize for Best Worst Moms Ever Lucille Bluth from Arrested Development and Ruby Johnson from Blackish (see "What We're About" gifs above) would share it. To our chagrin, Blackish is not available on DVD! Is there a hashtag about this?? We have consumed a lot of television this month in an attempt to pair Lucille with a deserving mother of unique charm. Minutes before deadline, we agreed the award truly belongs to Lucille and Ruby. So, we are free-styling this month and providing honorable mentions in the category of Televisions Best Worst Moms Ever. Happy Mother's Day, y'all!
Lowell: The show represents some of the smartest and detailed-oriented comedy ever written for television. I guarantee that re-watching episodes of AD will result in one new discovery after another. In my opinion, the writers definitely gambled when they wrote this series, because it is brimming with hidden jokes and subtle foreshadowing. I could say that it was before its time, which is true in the sense that the episodes are much more palatable as a binge-watch, but that would take the sport out of watching this show. When it aired years ago on Fox, watching AD was something I looked forward to with my family members (in the OC).
Appleberry: You guys... this show! It's the best! This is a show for smart people about dumb people. Don't feel too bad for laughing at them though, because they're also wealthy. And not very nice. I think Gob Bluth is really the gold star not nice dummy on the show. He's a Segway-riding magician with an inflated ego and just absolutely zero integrity, he's petty and jealous and childish and he's probably my favorite character on the show. Will Arnett delivers Gob's catchphrase, "I've made a huge mistake," brilliantly every time and it still makes me laugh.
My Wait-For-It Episode
L: There is comfort food and there is comfort TV. Episode 3 of season 1, "Bringing Up Buster" is therapeutic television for me. When I need a laugh, it is one of a sacred few specific episodes from various shows that I que up and watch. This episode centers around Byron "Buster" Bluth. Buster is the youngest of the Bluths and is so much of a "mama's boy" that he finds himself dating his mother Lucille's best friend/rival -- also named Lucille (a.k.a Lucille 2). He suffers from crippling anxiety and generally behaves like a child despite being a full-grown man. Buster is all of these things, but he is by far the sweetest and most sincere Bluth, and therefore endearing. In this episode, he spends a day shadowing his older brother Michael, who is suddenly put in charge of the Bluth company on account of their father's sudden incarceration.
A: I love episode 2, "Top Banana." The episode opens with the Bluth banana stand on fire and then goes back to show the events that led up to it. Gob really shines in all his spoiled brattiness. Watch him attempt to angrily hurl a letter into the ocean... oh my stars. George Michael becomes "Mr. Manager" of the banana stand and he and Maeby immediately prove themselves to be highly incompetent embezzlers. And Michael ultimately learns what "there's always money in the banana stand" means, but a little too late.
For Your Information
Ron Howard is the show's narrator, and if that isn't enough of a fun fact this should be: when the crew had a difficult time casting Lucille 2, Howard asked his childhood babysitter Liza Minelli to play the role!
Alia Shawkat's (Maeby Funke) first kiss was on-screen with co-star, Michael Cera (George Michael Bluth) -- which resembles a subplot within "Bringing up Buster."
Every episode ends with a fake beginning for the following episode.
Netflix is dropping the highly anticipated Season 5 of Arrested Development on May 29!
The critically acclaimed SJPL Blog Viewers Advisory references the show in their logo.
Television's Best Worst Moms Ever: Honorable Mentions
L: Lucy Ricardo (Lucille Ball) from I Love Lucy. Lucille had the nerve to show up literally pregnant to play Lucy's fictitiously-pregnant character. There are limits to what viewers can take. An actual mother about to burst with unborn baby is a bit too suggestive for an audience who would rather pretend not to know where babies come from. By the final season, an older and wiser audience knew that the real Lucy was practically divorced from fake Lucy's husband. Lucy is the worst and therefore deserves honorable mention, no matter how dishonorable she was. In all seriousness, she was the mother of female comedians on television and I have always loved Lucy!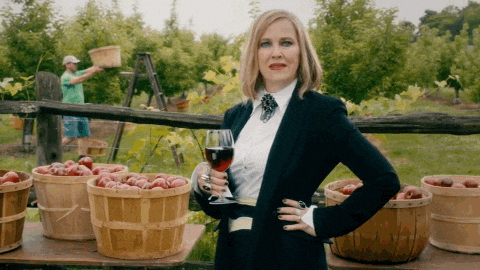 A: Moira Rose from Schitt's Creek. Moira is played by the extremely funny and talented Catherine O'Hara. Moira is a former daytime soap star and very dramatic. She has a hilariously affected speaking voice, she has names for all of her wigs, and she sleeps in 3-piece pajamas with a brooch. Dramatic. She's not malicious, but she's way too self-absorbed and aloof to focus on her children. In early episodes, it's revealed that she used to rub her son David's back when he was little but made him giver her half of his allowance and that she doesn't know her daughter Alexis' middle name.
...In an act of defiance, Lowell joins the wine club of her dreams minutes after agreeing to a monthly grocery budget. And Appleberry decides to get in shape but instead just sits in her car and eats a whole thing of candy beans.