Who We Are
We are a couple of librarians who take television as seriously as books. If there is a good show out there that can be watched for free, trust us to tell you ALL about it. Because readers advisory is our profession, but viewers advisory is our calling. We love good TV and we simply must share. In real life you might call us Appleberry and Lowell, but together, in the vast blogosphere we are called Viewers Advisory.
What We're About
Lowell:
Appleberry: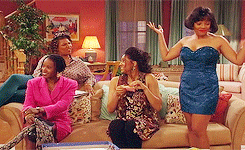 Happy Galentine's Day
This installment is special, not only because we get to commemorate Galentine's Day with our working, watching and writing boo(s) - but because we kick it off with the show that began it all! Kimmy Schmidt is the first show we discussed. This show made us feel like we had both read the same great book. As it turns out, bonding over a great show is just like bonding over a great book and as librarians we are honor-bound to help such joy grow. Voila, Viewers Advisory!
Lowell: For the love of Kimmy Schmidt! How can I pick just one reason to watch this show? I think what I like most about this show, and the one reason I would recommend this show to others, is the writing. Tina Fey is the creator, and the writers room seems to be full of really smart, funny people. I'm a huge fan of word play and obscure pop culture references. Both are dependable vehicles for humor since the show takes place immediately after Kimmy Schmidt is rescued from a doomsday cult, where she spent 15 years in an underground bunker. After appearing on a morning news show as an "Indiana Mole Woman," Kimmy decides to carve out her own path in NYC. Viewers are introduced to Titus Andromedon, who matches -- if not surpasses -- Kimmy on the likability scale. Together Titus and Kimmy chase their dreams, Broadway for Titus and high school GED for Kimmy. There are other great supporting characters, but at the core is Kimmy and Titus and their wacky dialogue (and spontaneous song and dance numbers).
Appleberry: TI-TUS AN-DRO-ME-DON. Titus is, in my opinion, the breakout star of of the show. And that's saying a lot because the show's regular and guest cast are all fantastic (some of the guest stars include Amy Sedaris, Fred Armisen, Tina Fey, Martin Short, and you'll never guess who plays doomsday cult leader Reverend Richard Wayne Gary Wayne). Titus is played by Tituss Burgess, who got his start on Broadway and whom you might recognize from 30 Rock - he played D'Fwan, a member of Tracy Jordan's wife's entourage. Burgess is so skilled at changing directions on a dime, from sweet innocence to righteous indignation to sassy outrage and of course, his voice is phenomenal. I fully agree with Lowell that the writing is top notch and so dense with jokes that you can watch every episode multiple times and catch something new.
My Wait-For-It Episode
L: Episode 6 of season 1 was my favorite episode when I first discovered Kimmy Schmidt and in reviewing the whole first season it remains my favorite. It's titled Kimmy Goes to School. Kimmy enrolls in adult school to complete her GED and that's where she meets Dong (wait until he tells Kimmy what her name means in Vietnamese: hello word play!). Titus introduces Kimmy to the well-known Latin term "quid prom quote" and brokers a deal to shoot his music video in a mansion she is supposed to be house-sitting. There's music, costume changes, and even more hilarious word play throughout the production of his music video. It's iconic Kimmy Schmidt.
A: I chose episode 4, Kimmy Goes to the Doctor, as my wait-for-it-episode. In this episode, Kimmy considers plastic surgery after taking her first selfie and we meet Titus's nemesis, Coriolanus Burt, when Titus auditions for the musical Spidermen 2: Too Many Spidermen directed by the third Affleck brother, Myron. Favorite scenes include Titus making a composite headshot in an arcade photobooth, his Spidermen 2 audition, and every time that Titus and Coriolanus cross paths. Listen through the credits for an extended version of Titus's audition song.
For Your Information
One Reason You Should Watch Broad City
A: Do you like to laugh? These two ladies are really funny. If you liked movies like Bridesmaids or Girls Trip, this show is 100% for you. It is raunchy and silly and smart and super fun. The chemistry between Ilana and Abbi is absolute magic. They are best friends, fully and unapologetically smitten with one another - one a little more intensely than the other perhaps - but the love is definitely mutual. Another thing I really love about the show is how they do not glamorize life in New York City. In fact, they make living there seem like the worst. Probably not their intention, but as someone who is not charmed by The Big Apple, it feels somewhat validating.
L: Because it's Galentine's Day and this is the ultimate show about gals! The way I have described this show to some of my friends is as Girls done right. Both shows focus on female leads who are taking the emerging adulthood stage to a whole new level. Abbi and Ilana's world basically consists of trying to make it in NYC, and coping with NYC. There's an element of cringe comedy, only waay less cringy than Girls. The characters share the actors' actual names, and I think their friendship off screen shines through to viewers. Abbi Jacobson and Ilana Glazer first met when they were taking courses through the Upright Citizens Brigade, an improv/sketch group. The antics of Abbi and Ilana are hilarious and probably relatable to the average "baby adults" in the world also dealing with exorbitant housing costs and fickle job markets. The struggle is real, right?
My Wait-For-It Episode
A: Episode 3, Working Girls, is an early season favorite of mine. Abbi promises to help the neighbor on whom she has a major crush by signing for a package - which she misses, naturally - and Ilana temps for a desperate temp agency manager and makes a complete mess of things. Abbi's trip to North Brother Island to pick up the package is eerie and weird and her encounter with the distribution center's sole employee, Garol, is even more bizarre. And Ilana ends up visiting a veterinarian (Janeane Garofalo) after accidentally poisoning an Afghan Hound nicknamed Judith Light.
L: I make it a point in general to always agree with Appleberry. On this I'm compelled to intentionally disagree -- mostly because our readers deserve another descriptive account of a Broad City episode. While Working Girls does a great job bottling up the Broad City magic, The Last Supper (episode 10, season 1), is its true crowning glory, and therefore also my wait-for-it episode. I know, it is the final show of the first season! But hey, if you're not into the show at first I say just go ahead and jump right to The Last Supper. Only at that point can you tell me you don't like Broad City. The majority of the episode takes place in an up-scale restaurant. While I consider Ilana and Abbey two classy broads, suffice to say upscale eateries are not their typical jam. I was immediately self-conscious for Abbi and Ilana when they are overtly eyed down by all the diners. Per their usual level of awareness, they don't really care. Ilana continues to not care if people stare, even as she starts visibly reacting to all the shell fish she has been eating, fully aware of her own alergy. She knows her body, and will use her Epipen when she can no longer tolerate the swelling and rashes. Amy Poehler also makes a guest appearance in this episode as a chef engaged (behind the kitchen doors) in a full fledged domestic dispute with the girl's food server. It's a fast paced episode and I have a hunch this one showcases all of their improv skills.
 
For Your Information
Broad City started as a web series and was picked up by Comedy Central in 2014.
Amy Poehler is an executive producer, along with Abbi and Ilana.
Abbi Jacobson is an artist and has created coloring books of New York City and San Francisco.
...Lowell makes good on a promise and loses her mind after telling her children to put their shoes on one more time. And Appleberry puts her marriage to the test when she brings two suitcases of books home from a conference.