Reading In Spanglish: The Rooster Who Would Not Be Quiet!
Reading In Spanglish: The Rooster Who Would Not Be Quiet!
Para leer este blog en español, por favor haga clic aquí.
Welcome! ¡Bienvenidos!
Welcome to Reading in Spanglish! The monthly blog series that explores popular bilingual, multicultural and Spanish children's literature. In this blog we will feature different books that will help either strengthen a home language skill, introduce a second language or expose your child to multicultural characters and topics. This month we will be discussing "The Rooster who would Not Be Quiet by Carmen Agra Deedy, Illustrated by Eugene Yelchen.
The Rooster Who Would Not Be Quiet!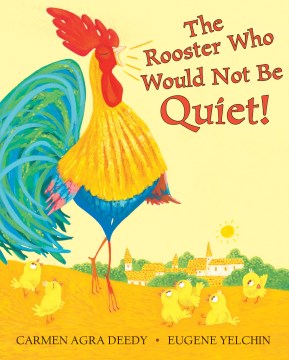 The Rooster Who Would Not Be Quiet! Was recently recognized by the Center for the Study of Multicultural Children's Literature as one of the best books of 2017. It tells the story of a small town of La Paz which is a happy, but noisy town. To combat the loud noise, the villagers decide to elect Don Pepe as their mayor, a man who promises them a little peace and quiet. Little by little, Don Pepe enacts new rules to make the town quiet. Soon enough, singing of any kind is outlawed. Everyone is afraid of making any noise. Even the teakettle is afraid to whistle! But then one day, a noisy rooster moves in next to Don Pepe and he doesn't seem to care about the mayor's silly rules. The rooster does what roosters are supposed to do. He sings: Kee-kee-ree-KEE! Will the roosters singing spirit be a match for Don Pepe's rules? Read to find out.

Why You Should Read It
Carmen Deedy's crafts a wonderful allegory with this picture book and Eugene Yelchin's Bright illustrations use mixed-media paintings to bring the story to life. This book contains a sprinkling of simple Spanish words such as La Paz, Por Favor, iBasta! and Gallito throughout. It also includes the Spanish version of a roosters call: Kee-kee-ree-kee! Which makes for a great opportunity to talk about how different cultures interpret animal sounds. There is also a Spanish version of the book available.
More books about being yourself
Other books by Carmen Agra Deedy
Other Best Books of 2017 from the Center for the Study of Multicultural Children's Literature