Each and every one of us is doing our best to adhere to new government orders of sheltering in place, keeping our distance from those we don't live with, and washing our hands more than ever before to help flatten the curve of the novel coronavirus/COVID-19. And, for a lot of us parents, we're also learning how to work, parent, teach, and live all under one roof. It's all been overwhelming and stressful to say the least.
I will be honest with you: I've had a rough go of it so far and, like many, I have my good days and my bad days. I have a newly minted 2-year-old at home and a set of aging parents who are her primary caregivers during the day. In order to manage exposure with my parents, my daughter is home with us now for most of the week. Working from home is nothing new to me, but the work is way different than it was before, not to mention I am a different person, too: I'm attempting to provide/support library services from my home office, and coordinate vastly different work schedules with my partner so that our daughter is cared for by a human being and not the furry (albeit lovable and helpful) residents of Sesame Street. Add to that, of course, a layer of increased general worry: am I washing my hands enough (and related: now my hands are cracked and dry – did I remember to moisturize?) When was the last time I sanitized the doorknobs, microwave/oven/washer/dryer/toaster buttons, faucets, TV remotes and game controllers – what about my computer keyboard, track pad, and PHONE?! Then there are those unavoidable what-if's that rear their ugly beautiful faces you can't help but stare at.
My partner is always telling me "you must put on your own oxygen mask on before assisting others". It's silly to hear that outside of an airplane, but it's an important message. If you can't breathe, there ain't no way you can take care of anything, let alone manage your workload, homeschool your child, meal plan for the week, and track down that last bottle of hand sanitizer you KNOW you bought weeks ago. In addition to practicing self-care and scheduling a phone session with my therapist, this is what has been helping me gather myself so I can be there for my family.
I came across this new title about a month ago: Breathing Space for New Mothers: Rest, Stretch, and Smile – One Yoga Minute at a Time (2019). Clinical psychologist and yoga instructor, Alison Rogers, and her co-author, Erin O. White, have developed a yoga practice that addresses the various points of transition and growth found in the first 6 months after birth. Now, you may not be a new mother and by all accounts neither am I, but as addressed in the introduction, this book isn't strictly for mothers of newborns and could be just as useful at any stage of motherhood.
Each chapter ends with a 1-minute yoga practice that culminates in the end of the book with a full 10-minute practice, if the reader so choses. Along the way, Rogers and White provide their own experiences with motherhood and how yoga has helped both of them build greater compassion for themselves and has given them the tools to approach most obstacles in their lives. Rogers uses her clinical psychology background to provide solid grounding, which would appeal to those who might find this all to be a little too woo-woo. For me, their 5-step GRACE exercise, which can be done with or without the yoga poses, is easy enough to tack on to the end of a busy day: gather, rest, ask, compassion, engage. It has been incredibly helpful to dive into this book and find some peace in their kind and affirming words. As I'm very much a beginner when it comes to yoga and mindful meditation, Rogers and White's practice is incredibly approachable for those new to yoga practice, while still engaging for experienced yogis.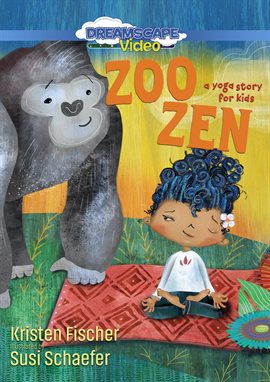 Zoo Zen Kristen Fischer
Hoopla Digital is free with your library card (or e-library card, if you don't already have an SJPL library card), and their catalog has numerous yoga and meditation videos for beginners and advanced practitioners. If you're looking for a flow-style yoga, or even hot yoga, or meditation with a side-helping of yoga, there is something to fit your tastes. Plus, you can get the whole family involved - there are even a few yoga videos with introduction to the practice for children. One of my favorites is Zoo Zen, which is a pose-along storybook featuring a young girl exploring the zoo and different yoga positions with each animal she meets.
A parent friend of mine also linked to a resource called GoNoodle. GoNoodle is a collection of free videos produced by a group of childhood development experts partnering with dance choreographers, athletes, and mindfulness experts to create fun and engaging videos for children and their families. In addition to finding their videos on a variety of platforms, their YouTube channel has a playlist of free calming mindfulness exercises that can be done as a family to help everyone in the house re-center together. Exercise is self-care, too, and GoNoodle also offers plenty of fun and engaging get-up-and-move videos, too!
What has helped you?
We all have our own ways of finding peace in a chaotic world. What have you found that has helped you? Comment below!
Blog Category
Adult Nonfiction
Kids
Parenting
Comments
Your Comment
Sarah - thank you so much for your comment and thank you for sharing what you're feeling. I do want to apologize for recommending a book that isn't immediately accessible as an ebook in our collection. Just as a follow-up, you can find out more about Alison Rogers's Yoga of Parenting on her website: https://theyogaofparenting.com/. She's published some practices for parents, and her blog has regular updates, too. I hope you find something helpful and useful. Be safe and well - you've got this.
Add new comment