Have Yourself a Superhero Summer
Have Yourself a Superhero Summer
San Jose Public Library's Summer Reading Challenge is in full swing and will continue through July 31!
To celebrate, I will be covering some upcoming and recent superhero movies and events, along with some super reads you can check out during the challenge!
Guardians of the Galaxy
Guardians of the Galaxy Vol. 2 was released earlier this summer, if you haven't joined the party yet, what are you waiting for?! The reviews for it are great, and my friends and I loved this movie as well. We couldn't stop laughing and I almost fell out of my seat. While this movie is both visually stunning and action packed, it also has a heartwarming message at it's core. And like all Marvel movies, make sure you stay during the credits for a some extra scenes, GotG2 has FIVE of these so make sure you stay put! Overall, I gave this movie a 4.5 out of 5.
Don't forget to watch the original Guardians of the Galaxy and jam out to the wonderful Awesome Mix Vol. 1 soundtrack. You can also check out the Guardians of the Galaxy Collection by Abnett & Lanning, which is the comic run that heavily inspired the Guardians movies we have today! Looking for something cute for the kids? Night Night, Groot is an adorable picture book, perfect for bedtime.
Additionally, Disneyland's California Adventure also unveiled their new Guardians of the Galaxy ride, Mission: BREAKOUT this summer. This ride is also said to be the start of a Marvel themed land within California Adventure that will grow over the next few years.
Wonder Woman
"If you need to stop an asteroid, you get Superman. If you need to solve a mystery, you call Batman. But if you need to end a war, you get Wonder Woman." -Gail Simone
The highly anticipated Wonder Woman feature film came out earlier this month, and it is by far the best reviewed film of the DC Extended Universe movies, receiving praise from over 90% of critics. I was there opening weekend, and Great Hera, I was a big fan! Gal Gadot was perfect as Wonder Woman. This movie was a great origin story, full of curiosity, courage, and fighting for what you believe in. I may have also cried during an action scene, if you've already seen the film, you know the one. Overall, I gave Wonder Woman 4.5 out of 5!
Directed by Patty Jenkins, this movie and it's success is also very significant because women account for only 4% of directors and 11% of writers in the top 100 grossing films. With Wonder Woman still crushing the box office, one can hope major films studios will give more female directors opportunities.
You can also check out more Wonder Woman in our collection, and some of these amazing reads below! Learn more about the history and significance of Wonder Woman, some unique takes on her origin story, and the different Amazonians who have donned the Wonder Woman mantle. For some fun shows and movies, check out the original Wonder Woman television series with Lynda Carter, which launched the super heroine icon and is great for all ages. The 2009 animated Wonder Woman movie showcases the talents and abilities of the Amazon princess and is best for teens and adults.
Spider-man Homecoming
The new Spider-man reboot officially swings into theaters this Friday, July 7th! Reviews are coming in, with a strong 90% on RottenTomatoes. As a preview, you can check out Tom Holland, the new friendly neighborhood, Spider-man in Captain America: Civil War. Watch him play with Avengers action figures. You can also watch his amazing Lip Sync Battle, which instantly gave Tom Holland my stamp of approval as the new Spider-man.
Don't forget to check out some fun Spider-man reads below!
The LEGO Batman Movie
Yes, The LEGO Batman Movie came out last February, BUT it was just released on DVD! Meaning you can soon watch one of the best Batman films from the comfort of your own home (and as often as you want). This movie is perfect for everyone, the jokes are funny for both children and adults and every type of Batman fan can appreciate this movie whether you're a casual fan or you've been reading his comics for decades. Hilarious, heartfelt, and a pure joy to watch; I gave The LEGO Batman Movie a 5 out of 5.
You can check out The LEGO Batman Movie soon, and meanwhile you can watch Lego Batman's debut in The LEGO Movie or any other LEGO Batman materials. If you're interested in seeing how this movie was brought to life, check out The LEGO Batman Movie: The Making of the Movie.
Graphic Novel Making Contest
Do you enjoy comics? Do you enjoy drawing or creating your own stories? Then consider entering San José Public Library's Graphic Novel Making Contest!
The contest is open to all ages, and you have a chance to win some great prizes including gift cards and artist supplies! All participants are invited to the award ceremony, and this year we will be having an award winning graphic novel writer speak at the ceremony!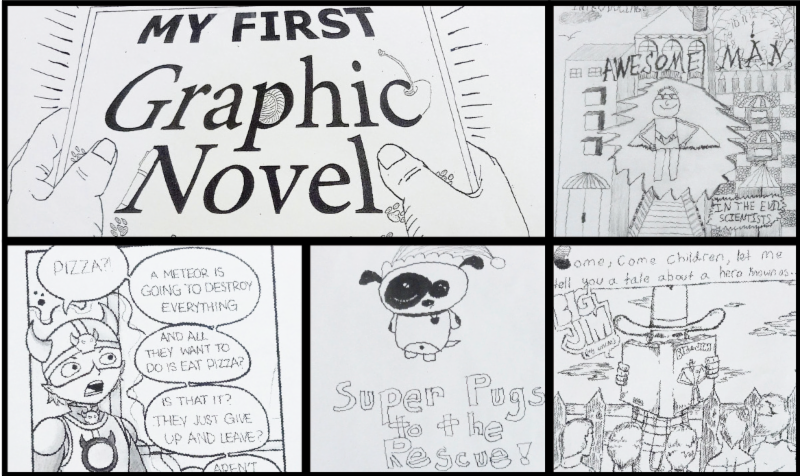 Silicon Valley Comic Con
Last spring, San Jose hosted Silicon Valley Comic Con! Here are some of my highlights from this year's con!
Guest Spotlight: The Mythbusters
Adam Savage, Kari Byron, and Tori Bellechi from fan favorite Mythbusters were special guests this year at SVCC.
Some noteable quotes from Adam:
Adam even spent some time on the convention floor as Totoro and Chewbacca.
One of the biggest takeaways from their talks was the importance of STEAM activities. When I asked Tory Bellechi what he recommended for kids interested in sciences, he enthusiastically said, "Just start building! Tinker away, take things apart, figure out how they work, feed that curitosity." Additionally, Adam stressed the importance of maker spaces, and how all children should have access to places they can build.
And SJPL feels the same way! We want our patrons to take advantage of our STEAM programming and maker spaces. You can always check out SJPL's upcoming STEAM programming at sjpl.org/steamstacks. Maybe our Maker[Space]Ship is landing at a location near you? Teens can also take advantage of our Teen HQ Makerspace to get started on their first or next build!
Also, Tory's favorite book as a kid was Danny and the Dinosaur. Adam currently enjoys reading the works of Michael Chabon.
Geek Fashion Show
New fashion trends and designs influenced by comics and geek culture. Below are some of the fun clothing items featured this year!
San Jose Public Library at SVCC!
San Jose Public Library took part in the con too! Many of you stopped by to enjoy our activities, over 5,000 visitors in fact! SJPL offered a comic photo booth, a create and destroy cardboard city, button making, 3D printing and more!
Check out the rest of our photo booth and activities on our Flickr page!
More Coverage
Don't forget to check out Fangirls Unleashed comic-con experience! They covered Grant Gustin (The Flash) and Tom Felton's (Draco Malfoy from Harry Potter) magical appearance, The Walking Dead's Steven Yeun, a dog cosplay contest in the park, and more!
You Made It to the End (Longest Post Ever)!
Any upcoming cool comic related events you'd like to share? What comics are you reading this summer? What was your favorite superhero movie this summer?