The Grand Slams of Tennis
The Grand Slams of Tennis
American Football has the Superbowl.
Baseball has the World Series.
NHL has the Stanley Cup.
NBA has the Finals.
Tennis has Wimbledon. Also, the Australian Open. As well as the French Open. And don't forget the U.S. Open!
Four Chances to be the Best in Tennis
In some professional sports, there are tournaments or competitions that are held at the end of the season to crown the champion of that season. For tennis, there is no one particular event. However, given that tennis is predominantly an individual sport, a tennis player has not one but FOUR major tournaments where they can try to play and become a champion of tennis in a given season.
The Men's circuit (Association of Tennis Professionals, or ATP) and Women's circuit (Women's Tennis Association, or WTA) operate in tandem to host and facilitate small to major tournaments throughout the tennis season (11 months out of the year). Of those tournaments, four are considered the Majors OR Grand Slams where players stand to gain the most ranking points and prize money of all the other tournaments.
Below are brief descriptions of these four Grand Slams. We will go over the when and where of each tournament, what makes them standout, provide insight on present and past champions of each tournament, as well as suggested reading/watching materials available with your library card!
First Grand Slam: Australian Open
This first major tournament of the year is nicknamed the "Happy Slam" (probably because the abundance of sunlight and highlighter-colored clothing) and is played at Melbourne, Australia, during January. Played on hard-surfaced courts, this is the first chance for tennis pros and amateurs* to play for a grand slam title in the year. This grand slam is also known to be the hottest in terms of weather (Australia's summer runs from December to February).
* the Open Era, which began 1968 and continues today, marks the time in which amateur and professional tennis players can compete in the same tournament
When it comes to Australia and tennis, one player that may come to mind is Rod "The Rocket" Laver. A lefty who won all grand slams in a calendar year two separate times—a feat yet to be matched! You can read more about Rod Laver in his autobiography Education of a Tennis Player. In it, Rod Laver provides details into his Grand Slam sweep of all four majors in 1969, as well insights on how you can improve your own game!
Second Grand Slam: French Open
The French Open or Roland Garros (named after a French pioneer aviator) is played at Paris, France, in late May to June. What makes the French Open unique for tennis (when compared to hard court or grass) is that it is played on clay. The significance of the clay surface is that it slows the bounce of the ball, increasing its hang time, thus allowing players to initiate long, physical rallies. This factor of slower bounce also gives a slight advantage to players who typically like to play defensively and move their opponent around instead of seeking immediate winning shots.
Rafael Nadal is considered the French Open's greatest champion: 11 titles won. Rafael Nadal is still an active player but does have an autobiography out titled Rafa. In this autobiography, Nadal provides insight on some key matches in his career, his "modern" approach to the game, background on his upbringing, and how he developed his hunger to be a champion.
Third Grand Slam: Wimbledon
Of all the majors, Wimbledon is considerably the most prestigious and certainly the most tied to its historical roots. Played in July on grass in London, England; Wimbledon is seen as the most traditional of all of the majors.
One of the most notable features of Wimbledon is the attire of the players: all white clothing. This tradition has been sternly upheld for generations. Some players, like Roger Federer and Serena Williams, have expressed that the dress code is too strict. An example of one of the rules states that a player can have color as a trim/lining on their clothes but can't exceed 10 millimeters. Despite the strict dress code, Wimbledon is certainly a special tournament for the players, especially with occasional visits from royalty.
For Wimbledon, we suggest checking out Strokes of Genius to read. In this book, sports writer L. Jon Werthheim provides a smorgasbord of information regarding just one, exciting match: the 2008 Wimbledon Gentlemen's Final between Roger Federer and Rafael Nadal (this guy again!). The significance of this match is that many experts considered this to be the greatest tennis match of all time! To provide context, when this match occurred Federer was ranked #1, Nadal was #2; Federer is a righty, Nadal a lefty. Federer's playing looks controlled and deliberate while Nadal's is intense and brutal. It's also important to note that both players were considered to be in their prime at the time of this match and had vastly different playing styles. Overall, everything you would want in a great tennis match is delivered in this one particular final.
Last Grand Slam: U.S. Open
Often described as "electric", the US Open is the last grand slam of the year and is held in New York City, New York. Similar to the Australian Open in that it is played on hard court and does allow for night matches; what makes the US Open stand out is the tiebreaker in the deciding set and the fans. The commentators who attend all the grand slams and provide commentary during the matches often point out that the US audience truly stands out in terms of energy, noise, and overall hunger for competition.
Additionally, the US Open does open itself up to entertaining the audiences a bit more than the other grand slams. In recent years, musicians such as Lenny Kravitz, Shania Twain, and Josh Groban have performed in the opening of the tournament.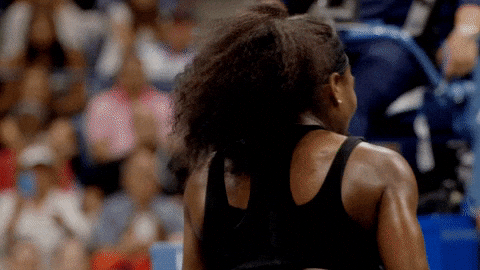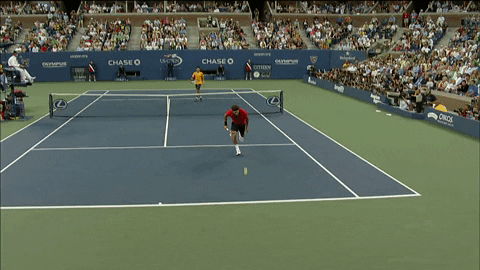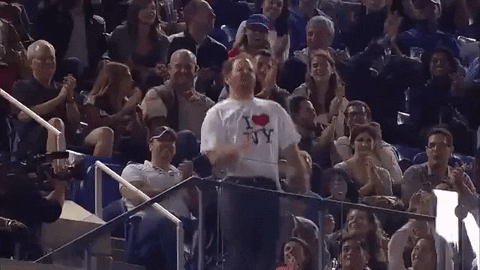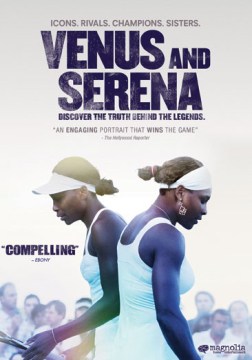 When it comes to the audience, celebrities can often be found among them enjoying the tournament. Some notable celebrity audience members in recent history have included Jay-Z and Beyonce, Justin Timberlake, Leonardo DiCaprio, Jimmy Fallon, Josh Groban, and Sean Connery, who is somewhat of a regular spectator.
When asked who they came to see, many often point to the Williams sisters. The Williams sisters have been an enormous part of tennis as players, as well as ambassadors of the sport behind the scenes (big influence on equal prize money for both men and women). Check out the documentary Venus and Serena available as DVD with your library card. In this documentary, we get some good insight on the relationship of Venus and Serena, as well as see them get back into training after struggling with medical issues they both individually faced.