Best Graphic Novels for Halloween
Best Graphic Novels for Halloween
Halloween is fast approaching and it's time to get in the spirit! When your usual reads just aren't scary enough, what should you check out? Here are my top holiday and horror reads for this haunting season.
For Children
Everyone has heard of the tales of Baga Yaga, the evil witch in the woods who will eats the misbehaving children. When Masha's father plans to remarry and spends all of his time with his new family, she decides that living with an evil and magical witch is better than living alone. But first Masha must past a series of challenges to get the job. Can she complete the tests, or will Baga Yaga eat her for supper?
Catrina and her family have moved to the coast of Northern California for the sake of her little sister, Maya, who has cystic fibrosis. Cat is even less happy about the move when she is told that her new town is inhabited by ghosts, but Maya sets her heart on meeting one. From favorite children's graphic novel creator Raina Telgemeier, author and illustrator of Smile and Sisters.
Available through Link+

One night, a man only known as Jack murders a family, orphaning the toddler who manages to escape. This toddler makes his way to the graveyard where he is taken in by ghosts, werewolves, and other cemetery denizens. Years later, Jack is still on the lookout for Bod, and wants to finish what he started. Can a boy raised by ghosts face the wonders and terrors of the worlds of both the living and the dead?
For Young Adults
Imagine living in the woods, and each member of of your family goes missing each day. What if something was wearing your brother's skin and no one else noticed but you? Journey through the woods in this sinister, compellingly spooky collection that features four fairy tales gone seriously wrong. Illustrated by Emily Carroll, you will fall in love with these beautiful and haunting illustrations.
Anya just wants to be normal American teenager. She just wants to fit in high school, skip gym class, not eat the greasy Russian foods her mother cooks, smoke cigarettes in the woods, and could use a real friend. One day, she falls into a well occupied by a 100-year old skeleton and it's ghost. But when the ghost follows her home, is this a new BFF or something more sinister?
When Jacob was a boy, his grandfather regaled him with stories of his fantastic life at Miss Peregrine's home during the Second World War, sharing photos of the remarkable children with whom he resided. As Jacob grew up, though, he decided that these photos were obvious fakes. But after a horrific encounter with monsters, Jacob embarks on a mission to disentangle fact from fiction in his grandfather's tall tales.
For Adults
After the Locke family moves back into the family homestead of Keyhouse, things quickly veers into creepy territory as the youngest Locke discovers a doorway with decidedly spectral qualities, along with a well that houses someone or something that desperately wants out and will use any means available to gain freedom. A captivating series that will keep you guessing and up all night! 5 out of 5 persuaded friends agree, this is a must read.
When the Rooks family moves to the remote town of Litchfield to escape a haunting trauma, they're hopeful about starting over. But something evil is waiting for them in the woods just beyond town. Watching from the trees. Ancient...and hungry. Everything you thought you knew about witches is wrong. Incredibly dark and creepy, this will have you immediately hooked and afraid to turn off the lights.
When strangeness threatens to engulf the world, a strange man will come to save it. Sent to investigate a mystery with supernatural overtones, Hellboy discovers the secrets of his own origins, and his link to the Nazi occultists who promised Hitler a final solution in the form of a demonic avatar. Also made into two film adaptations by Guillermo del Toro.
Bonus: Best Animated Features
We all love and adore It's The Great Pumpkin, Charlie Brown and The Nightmare Before Christmas, but here are some animated treats you may not have seen!
What if you could talk to ghosts, including your dead grandma, dog, and the roadkill down the street? What if everyone at school thought you were freak? Norman just wants to be a normal boy, until one ghost warns him about an awakened evil that only he can stop. With amazing animation, story, memorable characters, and countless references to classic horror movies, this will become your next timeless favorite. Brought to you by the same studio that brought the film Coraline to life.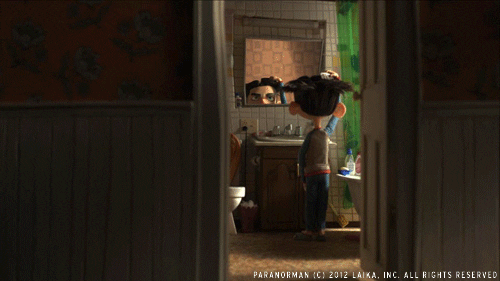 Brought to you by the creative minds behind Adventure Time, two brothers Greg and Wirt get lost in a magical forest and can no longer find their way home. As they travel throughout an unknown land, they meet and help many whimsical forest folk while avoiding a creature that has been wrecking havoc known only as "The Beast." Can the brother's survive the woods and find their way home? With spectacular atmosphere and music right out of a fairy tale, this charming, mysterious and haunting series will put you right in the mood for fall.