"Books I've Read Recently" is a series where I, Penelope Gomez, will do a monthly wrap up of the books I've read throughout the past month. In this series I will give a brief synopsis of the story and then give the book a rating of :
Thumbs Up

Thumbs Down

Just Okay
I will then give a brief description of why I chose to rate a book a certain way.
So without further delay lets get into the "Books I've Read Recently," and as always leave a comment down below and tell me which of these books you've also read, or plan on reading next.
Books I've Read Recently
This book went by so quickly... I finished it in a total of 3 hours! I just want to say that I feel incredibly accomplished after reading this book. This book is written in short verses and is based on real life events. This is as close as I'll ever get to reading a non-fiction book. This book is based on the real life of Sophie Scholl. In case you didn't learn about her in history class Sophie and a few of her siblings/ classmates/ professors started an anti-Nazi pamphlet and anonymously distributed them throughout Germany. This was considered "TREASON" and eventually when they were caught distributing the pamphlets, they were (SPOILER) sentenced to death. This book will not have a happy ending, unfortunately one can not rewrite history. Anyway the reason I am going to give this book just an "okay" rating is because I felt that this book was just missing a lot of information. Kip Wilson did a lot of research when writing this book. She scoured through countless letters written by Sophie to her boyfriend/ family members. A lot of the book was dramatized, but NOT ENOUGH in my opinion. Kip Wilson put actual letters in the novel but "made up" everything else surrounding the letters. I think she could have expanded a lot more of those scenes. There was a really great love story in this novel that could have been expanded upon. The Trial could have been expanded on. The anticipation of the death sentence could have been expanded on! I felt like because she didn't expand/ dramatize/ build suspense in certain aspects of this novel, this really tragic ending didn't quite KICK like it should have! ...like I should have been in tears after reading this novel! This was such a tragic event in history and I just felt like Kip Wilson didn't give the story of Sophie Scholl the justice that it deserved. I want to say it was just an "okay" attempt of telling her story... but I will say that I thought that this book was beautifully written I am a huge fan of anything written in short verse.
Can I just say how beautiful the cover of this book is! This cover is what first caught my attention. I had no idea it was a graphic novel when I first placed this item on hold, but I was happily surprised. Honestly this book was so good. The main character Freddy is in love with Laura Dean, the most popular girl in school, the only problem is, Laura Dean is a PLAYER! Laura Dean has broken up with Freddy a total of 3 times! Freddy knows she's a habitual cheater, but keeps running back. They are left in a complicated / heartbreaking cycle of repetitiveness. Her friends are over it, and have given up trying to talk any sense into Freddy. They know she will always take Laura Dean back. Reading this book I couldn't help but cheer for Freddy, I couldn't wait for her to WOMAN UP, take her POWER back and DUMP Laura Dean! Tamaki and Valero-O'Connell did a wonderful job of depicting a 'toxic relationship.' Not every toxic relationship is going to be the same. Not every toxic relationship has hitting, or fighting, or name calling, some toxic relationships are subtle. Freddy's character knows something is really, really wrong in her relationship, but she's in 'love' and is mindlessly getting dragged along in an endless cycle of breaking up and making up. I really appreciated this novel for its honesty and I think a lot of people are going to be able to relate to the main character Freddy. Also in this novel Freddy reaches out to an advice columnist to get her opinion, and I have to say that the advice she received was STUNNING! That was relationship advice everyone deserves to hear! I loved this novel and the artwork was amazing. I really liked the fact that this book was in black and white and PINK! It just kind of gave it a little something extra and this book was also a great LGBT+ book. Big thumbs up for this graphic novel, and it's great advice and plot.
I honestly really liked this book and it was about a topic that I've always been curious about. The main character Emoni is a teen mom. It's her senior year of high school and as if applying for colleges isn't stressful enough, imagine having a toddler, a part time job and baby daddy drama on top of it! Dating is the last thing on Emoni's mind, but when a new student named Malachi peaks her interest, she does everything possible to keep him away. I really liked this novel because it really delved into mind of a teen mom. As a reader you experience Emoni's fears of dating again, after having a child and having a bad relationship experience with her baby's father. As a reader you experience what it would be like to go through a teen pregnancy, the judgmental words of adults, and the mean stares from classmates in the school's hallway, etc. It was honestly just so interesting to read about. The main character Emoni, was such an inspiration too, because even though she's had a hard life, she is hardworking and determined and believes in herself and her capabilities. To be honest if I was in Emoni's shoes, I don't know if I would be able to keep such a positive attitude, and keep on top of my goals as well as she has in this novel. I think Emoni was a great character, Elizabeth Acevedo did such a great job with character development. I even loved all of her side characters throughout the novel. I don't think I've ever read anything from a 'Teen mom's' perspective, so it was definitely a very unique perspective to read about and one I really enjoyed. Also in this book Emoni has a talent for cooking and there are actual recipes throughout this novel giving this book a little something EXTRA. This book honestly felt so short. I wish there was more, Emoni was just such a great character, and Malachi seemed like such a great guy. I really loved the romance and the dynamic between those two characters.
So this was actually book # 2 in the Luxe Series and I have to say that this book did not disappoint! If you think book 1 had a lot of scandals then your in for a treat with book 2. I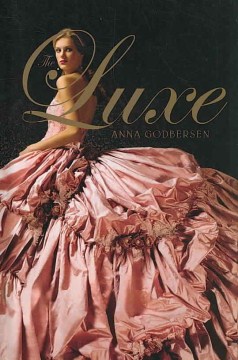 have to say that this book had a lot more romance, and scheming then the first book had, which I LOVED! Anna Goodbersen did a wonderful job of expanding the story from the first novel. (Check out my review of book 1.) If you haven't read book one then this review will have quite a bit of SPOILERS STARTING NOW! So getting on into the plot, this book picks up right after Elizabeth's funeral. If you read book 1 then you know that Elizabeth is not dead and has merely faked her death to runaway to California, where she is happily engaged and not really a huge part of book 2. She went from the main character, to not really even in the book anymore, which is fine because she was never my favorite character. Then Penelope whom I LOVED in book one for all her boldness and scheming, has completely changed personalities with Elizabeth and is acting the part of a 'polite and demure socialite,' trying to win Henry's affection. She has taken Elizabeth's place completely in society. I was honestly really disappointed with Penelope's character in book 2 because she just doesn't bring the scandal like she used to! So this time around somebody had to bring the schemes and I was shocked to find that Lina's character had stepped it up! After years of being Elizabeth's maid, Lina has learned a thing or two about fashion, manners and prestige and even though she comes from nothing, she is about to go broke pretending she is an aristocrat on vacation. She now goes by the name Carolina and has some schemes to make sure she's never a maid again! I personally hated Lina's character book 1, but she just won me over completely. Then of course there's a lot more romance between Henry and Diana in this novel. All around I was thoroughly entertained, there was NEVER a dull moment in this novel. Anna Godbersen only gets better as a writer and I can't wait to see what kind of scandals she has to write about in book 3. 5 star read for sure! Check out Book 1
I was extremely on the fence on how I should rate this book. Basically this book is about Layla, a Muslim American girl who is forced into a concentration camp by the 'Make America Great Again' President. They don't outright name the President... but with that slogan we can make some assumptions on which President Samira Ahmed had in mind while writing this novel. This book was extremely eerie, because it is written in a way that suggests, 'this could happen tomorrow.' I feel like Samira Ahmed did a vast amount of research while writing this novel. She makes a lot of references to strong rebellious women like Kip Wilson and Malala Yousafzai. Women who were scared but stood up for what they believed in anyway. It was these types of women that really encouraged the character Layla to 'resist' and fight for her and her fellow Muslim American's freedom inside the internment camp. Now the reason I was on the fence about this book, is because it was very slow in my opinion. It took a big chunk of this novel to make some allies and plan some peaceful demonstrations inside the internment camp before things really started to pick up towards the end of the book. The last chunk of the book, is what really won be over though. Things really picked up and as a reader I began to fully grasp just how much danger Layla was truly in. There was one scene in particular in which Layla is being interrogated, that was just so well written! I want to say that the last chunk of the book was just really emotional and made me tear up a couple of times because I was just so scared for Layla's character. The last chunk of the book was just really intense and an emotional rollercoaster. I really ended up loving this novel in the end. It was just so heartfelt and about a really unique topic. I felt like this book was really relevant in today's modern society and one everyone should be able to relate to.